CellarPro 1800XTS-ECX Cooling Unit #1294




1886 SENSIBLE BTUH @ 55F.
CellarPro's 1800XTS-ECX wine cooling units (1/5 Ton Nominal) were engineered to provide maximum cooling performance for small wine cellars up to 400 cubic feet.*.

Performance testing shows that this compact unit maintains optimal cellar temperature and humidity conditions more effectively than similar units from competing brands. 1800XTS-ECX units use energy-efficient EC fans and are quieter than comparable units from other brands. Visit our Learning Center for data tables, performance charts and product comparisons among different brands.

CellarPro 1800XTS-ECX units are sized to replace Breezaire 2200 and Wine-Mate 2500 cooling units. Please confirm equivalent dimensions and airflow prior to purchase.

Our cooling units are designed to be used in properly-constructed wine cellars that are adequately insulated, airtight and sealed with a vapor barrier. In improperly-constructed cellars, the cooling unit will create excess condensation, leading to damage and premature failure of your cooling unit (not covered by warranty).

(61)
Read / Add Reviews
Price: $1,895.00
Shipping Information:
FedEx / USPS / Saver
Availability: On Backorder


Usually Ships w/i 1-2 Weeks
Back in stock: 3/31/2023
Free Shipping! Receive free curbside delivery in the lower 48 states for a limited time. Simply add to your cart and checkout.
NOW WITH ENERGY-EFFICIENT EC FANS!
CellarPro's 1800XTS-ECX cooling unit is the most powerful in its class, with maximum BTUH and cooling capacity for wine cellars up to 400 cubic feet*. 1800XTS-ECX units are 30% more powerful than CellarPro 1800XT units, and also louder.
All air-cooled refrigeration equipment requires fresh air intake to dissipate the heat generated by the cooling unit. The fresh air intake CANNOT come from the wine cellar space - it must come from space outside the cellar. Designed for indoor use only, 1800XTS-ECX units can operate in environments ranging from 95F to 40F out of the box. To operate the unit in colder temperatures, please see modifications listed on the
Options & Upgrades
tab.
*Assuming R19 insulation throughout the cellar, 55F inside the cellar and 85F outside the cellar.
Now with energy-efficient EC Fans on both the cold and hot sides, save $39.02 in annual energy costs vs AC fans (assumes 75% runtime and $0.15/kWh)
This unit offers a choice of top or rear hot exhaust. If the unit's location does not provide sufficient room for airflow, you may need to purchase a rear duct kit.
Adjustable humidity control combines a high-output compressor with flexible fan cycles to maintain a recommended level of moisture inside your cellar.
Extra-large coils generate maximum cooling power.
Commercial-grade Electrofin coating protects the evaporator coils from leaks and corrosion.
Intuitive LED display panel mounted on the evaporator with digital programmable thermostat is simple and easy to use. Remote thermostat is available as an upgrade.
Energy-saver mode, quick-chill mode, and auto-defrost cycle provide convenient solutions to common cellar needs.
Temperature set point range is 47F to 62F when the cooling unit is properly sized.
Unit operates with minimal vibrations and less noise than comparable units from competitors.
Audible and visual alarms and maintenance-needed indicator protect the cooling unit and the wine cellar.
8-foot power cord exits from the rear and plugs into standard 110V receptacles.
Common dedicated 15-amp circuit is required to power the unit.
3-amp electric receptacle is provided to run a small lamp.
Removable steel case provides access to the internal components for servicing and repair.
CellarPro's 5-Year Standard Warranty, the most thorough in the industry, protects the unit against manufacturing defects.
An optional Enhanced Warranty (#1835) is available for additional protection.
ETL Tested and Certified to rigorous UL Standards for safety.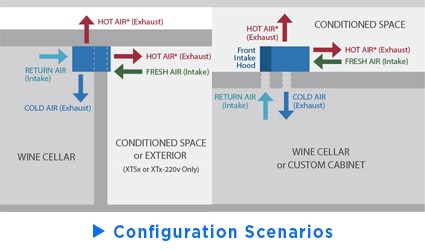 Configurations
On the hot side, this unit intakes from the rear, and offers a choice of top or rear hot exhaust.
On the cold side, this unit intakes from the front and exhausts from the bottom (thus the front 8 inches of the cooling unit must be inside the cellar.)
The 1800XTS-ECX requires fresh air intake at the rear of the cooling unit. If sufficient space does not exist to provide sufficient airflow to the rear of the cooling unit, you may need a rear duct kit
1800 Series cooling units can be installed completely inside the wine cellar when used with our rear duct kit , which allows you to duct the supply and return airflows from the rear of the cooling unit up to 100 equivalent feet (50 feet per duct).
Please note: The cold side of the 1800 Series cooling units cannot be ducted, and the hot side can be ducted with 6-inch ducting (no reductions) plus auxiliary fan support, which is included with our our rear duct kit.
You must locate this unit within the cellar, with the following exception: these units can be installed directly above the wine cellar when used with our front intake hood.
For installation in environments below 40F, our compressor heater modification is required.
For installation in environments below 20F down to -20F, we recommend our Fan-Cycling Switch (P/N 6972) combined with our compressor heater.
A CellarPro cooling unit must always be used in the upright position, and should never be operated on its side or upside down.
| | |
| --- | --- |
| Click on one of the following links for more information: | |

Cold Temperature
Compressor Heater #1727: protects the unit when installed in environments that drop below 40F down to 20F.
Fan Cycling Switch #6972: supports the unit in temperatures below 20F and as low as -20F when combined with our compressor heater.

Ducting
Filters & Grills
Use our filter & grill guide to find the cooling unit filter or duct filter and/or duct grill that is appropriate for your cooling unit.

Remote Control & Probe
Remote Display #1603: lets you place the digital panel wherever you want, whether inside or outside the cellar. Includes 10 feet of wiring.
Bottle Probe #1434: this remote thermostat with a 10-foot cord overrides the thermostat on the face of the cooling unit, and allows it to monitor air or liquid temperatures at various locations inside the cellar.

Other Options & Upgrades
Condensate Drain Line: strongly recommended for wine cellar installations (but not required for wine cabinets), a drain line allows excess moisture to drain from the bottom (#7431) or rear (#1606) of the cooling unit.
Condensate Drain Line plus Heating Element: combined with a drain line, we add a 100W heating element to burn of excess moisture. Available with bottom (#7432) or rear (#1709) drain lines.
Power Cord Modification #1098: normally the cord exits from the rear of the cooling unit, which generally is outside the cellar; this modification moves the cord to the front of the cooling unit, so that it can be plugged into an outlet inside the cellar.
Mounting Clips #1095: attached to the front of CellarPro 1800 Series cooling units, these clips are designed to be bolted to the ceiling inside the wine cabinet / cellar.
DID YOU KNOW?
Nobody protects your wine cellar better than CellarPro Cooling Systems! In the event your cooling unit fails and the failed components are covered by our warranty, we'll send a replacement cooling unit to you per the terms of our
Replacement Unit Program
CellarPro Replacement Unit Program
If your CellarPro cooling unit fails and the parts that failed are still covered by warranty, we'll send a replacement cooling unit to you, as follows:
Your cooling unit must be registered at CellarPro
Your cooling unit must have been properly sized, installed and maintained
Your cooling unit may not have been permanently modified, damaged or disfigured
Please note:
Replacement units are factory-refurbished cooling units with a similar build date as your original unit
You are responsible for the shipping cost to send the replacement unit to you and return the original unit to us, and the cost (if any) to remove the original unit and install the replacement unit
In order to send a replacement unit, we require a deposit, which will be refunded minus shipping costs upon the return and pending the inspection of the original unit
If the original unit failed due to improper installation or use, the failure is not covered by warranty and we will deduct the cost of the repairs from the refund of your deposit
What is "Sensible BTUH"?

A: You should always use Sensible BTUH* when comparing different brands of cooling units, and when sizing a cooling unit for your wine cellar. Every cooling unit produces a certain amount of Total BTUH, which is the sum of Sensible BTUH (lowers the temperature) and Latent BTUH (lowers the relative humidity). Because our goal is to cool wine cellars while preserving humidity, wine cellar cooling units should have high Sensible BTUH and low Latent BTUH. The relationship between Sensible and Latent BTUHs is know as SHR (Sensible Heat Ratio), which is calculated as Sensible BTUH/Total BTUH. The SHR for CellarPro cooling units is greater than 90%, which means that CellarPro units provide maximum cooling power without stripping out humidity from the cellar environment.

*CellarPro Sensible BTUHs are calculated assuming 55F cellar temperature, 60% relative humidity and 95F ambient for all units except 1800 units (85F ambient).

How cold can the temperature be where the cooling unit is installed?

A: For installations in environments below 40F down to 20F, we recommend adding our compressor heater (P/N 1727), which is included as standard equipment on all outdoor units. Below 20F, in addition to the compressor heater, we recommend adding our fan cycling switch (P/N 6972)

How do I choose between top exhaust versus rear exhaust? What about the fresh air intake?

The fresh air intake will always come from the rear of the cooling unit, and must pull air from OUTSIDE the wine cellar space - it must never be installed to pull air from inside the cellar. On 1800 Series cooling units, the hot air exhaust can exit from the top or the rear. Choose whichever configuration directs the exhaust to a space that is sufficiently large to accept the exhausted air, as long as the exhaust goes OUTSIDE the cellar and will NOT intermingle with the fresh air intake. If you plan to duct the hot side of the cooling unit, then the hot air will need to exhaust from the rear.

Can the cooling unit be located in a remote location and ducted to/from the wine cellar?

A: These cooling units can be installed above the wine cellar when used with our front intake hood.

Does the unit really need a dedicated circuit?

A: First, the background. Unlike our competitors, we build our cooling units with precision expansion valves, not cap tubes, which means that our cooling units aren't limited to a 30F differential between the desired cellar temperature and the ambient temperature. Cooling systems with expansion valves are much more precise than cap tubes, and much more sensitive to low voltage conditions, which is why our units require dedicated circuits. When we say "dedicated circuit", we mean that the circuit shouldn't have any items that require heavy draws of electricity - eg other appliances, vacuum cleaners, big-screen TVs, blow-dryers - on the same circuit as the cooling unit. Lighting, computers or other low-draw items shouldn't be a problem on the same circuit.

What if I don't have sufficient space behind the cooling unit for the hot air exhaust to dissipate?

A: The rear of the cooling units can be ducted to another location by using our rear duct kit (P/N 1439), which allows rear supply and return airflows from a temperature controlled environment OUTSIDE the cellar to be ducted up to 100 equivalent feet (50 feet per duct).

Do I need the condensate drain line?

A: If you are using the cooling unit in a sealed cabinet, you probably don't need the drain line. If you are using the cooling unit in a cellar, we recommend the drain line, which can be drained inside (bottom) or outside (rear) the wine cellar. Choose the 100W heating element to reduce drainage as it helps to burns off excess condensate before it reaches the drain line.
CellarPro 1800XTS
What a nice unit. Works great, looks great and we couldn't be happier. Our new wine cellar is now complete.
Nancy Rogerson
Coeur d'Alene, Idaho
2/8/2022
CellarPro 1800XTS-ECX Cooling Unit
This machine is truly a plug and play unit I had my last unit for 12 years ...(not bad) just keeps on performing ! Great device!
Tim Lawlor
Plymouth Ma.
1/18/2022
Nice unit
Looks good and works great. Just installed in our new wine cellar
Lloyd Tosoff
Qualicum Beach, BC
12/27/2021
This made a fine impression on a cellaring novice
Finally made the decision to properly store our wines and this team made a huge difference. Great support in helping me through the decision making process.
ReuelW
Los Gatos, CA
11/16/2021
Replacement cooling unit
My original unit failed after 10 years, which is a longer life than I expected and the Cellar Pro team helped me replace it. The Cellar Pro team gave me truly, exceptionally high quality service! The new unit was competitively priced and with the white glove service I received, I could not be happier! Thank you CP team!
Steve F
San Francisco Bay Area
9/28/2021
Replacement unit
The service and assistance from the staff was good if not needed. I read the web site and picked the unit that matched my needs and placed the order however due to the staff at Cellar Pro it was 10 days before my unit arrived. I understand the need to ensure i chose correctly but 10 days to get it ids a bit long.
Great service
My 5 year old unit failed and they threw in fedex. As my cellar was down. Unit is quieter than old one and wines are fine! Thanks cellarpro
Michael Boice
Sandia park. NM
5/4/2021
1800 XTS
This was a replacement unit. CellarPro staff were very accomodating. Plus, the unit came faster than expected which was good because my old unit was only partially cooling my wine closet.
Brian O'Neill
Savannah, GA
4/20/2021
1800 XTS
great service and communications with prompt delivery especially during the pandemic and wildfire. Managed to get the same exact one which fits perfectly.
Replaced after 10 years ..
Smooth transaction .. my former unit lasted 10 years and thus new one took over cooling the cellar seamlessly . Now back at 58 degrees and effortlessly keeping it there!
TD
Cincinnati , Ohio
9/22/2020
Much better than a Breezaire
From the purchase process to the actual unit, very easy to install, this product is excellent. I used to have Breezaire and I am way more satisfied with my cellar performance now.
Happy
... and very much relieved. Our 2nd XTS unit working even better than the first. Our unit broke down during an extremely warm week with no backup available. Unbelievable customer service: contacted Cellar Pro on a Sunday regarding problems with existing unit; Ben responded with instructions to 'fix'; had a quote on Monday; had a new unit on Thursday. We are so grateful THANKS to all.
VaBarb
Bristol, VA
7/17/2020
CellarPro 1800 XTS unit #1294
This is my 3rd unit, the 1st one went bad and they quickly replaced it. It's been 6-1/2 years on the 2nd one and ran without flaw! Temperature maintains a great 56 -58 without any issues...waiting to check out my electric bill to see if the unit is any more efficient but it much quieter than my previous unit! Even during these COVID times, customer service has been quick and well managed. THANK YOU!
RBC
Southbridge, MA
6/30/2020
new CellaPro 1800 XTS unit # 1294
The unit arrived and sat for a few days prior to installation. Was impressed with the packaging. A few of the "fins" on the back we not in perfect straight condition, frustrating,, but not worth sending back. The unit installed easily on a shelf we custom built. The price of $75.00 for the rear drain plug and hose seems a bit high for what it is. But, I did not want to retro fit or have draining issues. So far, running well.
B.B.
Washingtom, D.C.
2/10/2020
My favorite brand for cooling systems
We have been designing and building wine cabinets and wine cellars at Sommi Wine Cellars for the last 5 years. CellarPro is our go-to brand and all the reviews you will read are evident. They are the best in the industry and the customer service is top notch. In the last few years, we've had to swap out their competior's cooling system with a CellarPro due to noise and reliability complaints. CellarPro, by far, designs and manufactures superior cooling units. You will not be disappointed.
Sommi Wine Cellars
Portland, OR
1/28/2020
So far so good
The unit is up and running. So far so good. Customer service during ordering was solid as I did have a few questions on the install that were promptly answered. The drain line kit as an added expense seemed a little expensive for what it actually is. But all in all the unit is doing its job. I'd probably give 5 stars if the drain kit was not an add on.
Jim E
Portage, MI
10/23/2019
Working as it should!
This is a replacement unit for a 9 year old CP-XTS which was running non-stop andbnot cooling enough. After a few phone calls with customer service I opted to bite the bullet and order a brand new replacement unit. The unit is pretty heavy and bulky so I asked my teenage son to help me remove all bottles from the top rack, take off the old one and install the new unit. Probably took around 4 hours to get it all done including putting all the bottles back on the top rack. One thing I noticed right away is that the new cooling system is much quieter than the old one so that's a good improvement. Now, for the price these things go for, let's hope it lasts at least 10 years. We'll see....
Lou F.
Del Mar, CA
9/3/2019
REPLACEMENT 1800 XTS
RECEIVED A REPLACEMENT UNIT UNIT ABOUT TO WEEKS AGO. IT HAS BEEN OPERATING WELL. I LIVE IN MIAMI AND CURRENT OPERATING TEMPERATURES ARE ABOUT 84 DEG F AND 89 DEF MID DAY EXAUST TEMPERATURES AR RUNING ABOUT 15 DEG F ABOVE ROOM TEMPERATURE. THIS DIFFERENTIAL IS A GOOD INDICATION OF COOLING EFFICIENCY. SERVICE IS ALWAYS VERY GOOD. TECHNICAL SUPPORT IS GREAT
Luis Gonzalez
MIAMI
8/20/2019
Outstanding Customer support
Not something I planned, but my 5 year old unit went out on a Sunday the day before I was flying to MN. To my surprize I was able to work with technical support on Sunday to determine I needed a replacement in time to make my flight. Ordered it on line and was at their facility and back on the road with a new unit at 9:30 AM Monday. New unit installed and operating so I could make my 2 PM flight. What you hope for when you need help!!!
Jim Franklin
Kenwood, CA
8/13/2019
What a beast
I picked the 1800XTS for my Wine Cellar Impression Cellar, the install was easy peazy, and less than 24 hours later the temp was spot on, it's such a beast as far as cooling, it's not as loud as I thought, I am so impressed that I bought another unit for my other cellar as I know my Breezaire is struggling
George Tershakovec
Miami, Fl
6/24/2019
Works as advertised
Unit works well, quick delivery, good manual, especially with the online supplements. Customer service not great, I had an overheating problem, called in, they took a message, said they would call back, then just sent an email which was a copy of the manual section. I figured it out myself eventually,
Bob Struble
Rancho Santa Fe, CA
11/5/2018
Replacement Unit Assistance - THANK YOU!
Thank you for your solid assistance and useful suggestions while I was ordering a replacement cooling unit for one of our wine cabinents. You not only helped me to save some money on the unit I ended up purchasing, but you worked very closely with me to ship the unit to our home during a very tight window of availability. BRAVO!
Robert Sindelar
Arizona
10/26/2018
Thanks for nickel-and-diming me to death on the drain line!
My hatred for this company is currently so, so profound. They don't tell you, but if you plan to use a drain you have to order the $75 drain kit (about $3.00 worth of parts, including plastic tubing and a threaded nipple). If you don't, YOU CAN'T USE THE DRAIN AT ALL! That is, of course, unless you order the drain retrofit kit, which is $100 plus $13 in shipping. That includes a big thread tap because, being nickel-and-dimey bastards, they don't pre-thread the drain hole for you. No, no, no! You must pay for that! So you spend the $100 on the drain retrofit kit, which includes a thread tap, and it comes. Great, let me just install that... Hmmm... Step 2: install tap into tap wrench and turn clockwise... Here, let me just get my 1/2" tap wrench I have lying around because, you know, who doesn't have a 1/2" tap wrench lying around. So another hurdle to getting this dumb thing installed. I've now had this unit for a couple weeks and my contractor can't install it because Cellarpro is a bunch of nickel-and-dimey #*@#s that can't be bothered to thread the drain hole as a matter of course. Then, when you order the retrofit kit -- which, by the way, doesn't include a hose clamp to make sure the tubing doesn't come off the nipple and leak -- they don't even send you the tap wrench. I will never, ever, ever buy another Cellarpro product in my life. I suggest you think long and hard before doing so because if you ever need anything thing, expect to be nickel-and-dimed to death.

Reply from CellarPro
Thank you for your review. We understand your frustration, and we are sorry that you feel the way you do. The reason why we don't automatically thread the opening and include the drain line on every unit is that the vast majority of our customers purchase the 1800 Series for wine cabinets, which don't need drain lines,, and we didn't want to increase the cost of our units unnecessarily. All of our larger units include the drain line as standard equipment, and we've made every effort to disclose what is and is not included in our product descriptions.

If you decide that you want to return the drain line or the entire cooling unit, please let us know and we'll do everything possible to accommodate you.
I Hate Cellarpro
Wherever
7/28/2018
Good replacement
I have had a Winemate for 12 years and it never worked well The first Cellar Pro was faulty and I had to return it . The replacement unit seems to be functioning well. I was happy with the customer service
Keith Sale
Hilton Head SC
7/17/2018
Great cooler - keeps my investment safe
This is my second 1800 xts. The first one ran great for 7 years. Very fast shipping - easy to reach customer service group. keeps 600 bottles cooler at a steady 55 degrees. Just wish they had recharge access ports for easier service.
Excellent Company! Excellent product! Excellent People!
OMG What a dream! After trying to deal with Vinotemp (garbage) to try to get them to honor a warranty I was so frustrated! I had 500 bottles of wine in an uncooled cellar! I fired up the google machine and confirmed that vinotemp is garbage as it their customer service, Cellar Pro was the way to go! I called on a Monday, received the unit on Wednesday and took 20 minutes to replace it on Thursday! By Thursday evening the cellar was cool again, by the next morning it was at 55 degrees! What a pleasure to deal with an excellent company that guided me to what I needed and understood that it was important to protect my wine!
Michael
Oakland, CA
6/15/2018
Amazing Service
Bryan Adams was Great! He directed me to the best cooler for my needs. He followed up to be sure my installation was a easy as possible and that I had all the parts and knowledge necessary for a simple install!
Ron Hill
Lemoore Ca
11/29/2017
cellar pro its
Recently received a new its 1800. The unit is working fine and the exhaust temperatures are running about 100 deg F lower than the 1800xt it replaced. The 1800 xt ran for 7 years without difficulty. I expect the 1800 its to run at least 10 years w/o problem. The cooling unit is operating in a garage in Miami. During the summer the garage temperature can go as high as 89 deg F
LUIS GONZALEZ
MIAMI, FLORIDA
11/7/2017
cellar pro 1800 xts
just installed my unit 1 week ago. worked as brochure outlined. maintaining temperature. bought condenser line and warranty. hopeful it works as all other positive reviews listed on site
Abe V
mequon, wi
10/19/2017
Cellarpro 1800XTS
I have had this unit for about a year now, I wanted to wait until I have some traction with it before I write this review. I have to say, it still works the same way as it did on day one. No issues. I have it ducted on the back, and sometimes I see the unit is pushing hot air, sometimes ambient air, I am not sure what the reason it, but it certainly does not seem to be a malfunction as it keep the cellar cool steadily.
Hakan
San Francisco
10/16/2017
upgrade
I had the cellar pro for 1800 for 7 years. it never broke. the service at Celler Pro is fantastic. I did replace it with the 1800xts model which is 30% stronger and has two fans. love the machine. much more powerful. great product great staff
jerry angel
san rafael, ca
10/3/2017
cellar pro 1800 xts for 2500 vino temp
There is no comparison. The vinotemp was repaired 3 times in 4 yrs. Should have known there was going to be problems when it stopped running after 4 days. Could not trust it to run properly. The cellar pro fit in the space is much quieter and cools well. The people I dealt with were very professional
Dave Greene
New Port Richey, Fl
9/13/2017
CellarPro 1800 XTS Upgrade
Replaced a 10 year old Breezaire in my Le Cache 3100 Vault. The IWA support and guidance was outstanding. Installation is simpler if instructions are read in their entirety before beginning. The only difficulty came in the final placement of the new unit in the rack. This is cumbersome and requires a second person to pull the power cord taut from the rear to keep it from binding. Ive dealt with IWA several times over the 10 years of ownership and each occasion has been quite good.
Daves Steed
Macon, GA
6/21/2017
CelalrPro 1800XTS
Ordering was easy, the company followed up with questions to ensure the unit would work in my cellar and it arrived in just a few days. I was actually surprised at the short delivery time. The unit was easy to install and it got the room and wine to temp and has been working great ever since.
Steve V
Eire, Colorado
5/30/2017
Wine cellar cooler
Just got our new unit installed into the wine cellar. Everything is working great!
CellarPro 1800 Xlts
My CellarPro has been wonderful. It keeps the cellar at 55 degrees effortlessly. Our bedroom is directly above it and it does not make enough noise for us to notice, and it is a 1965 house.
Paul M
Greenville, SC
9/24/2016
1800 cellar pro
great service, fast and easy. I would recommend doing business with this company
Richard B
Tucson, AZ
8/4/2016
1800XTS Review
Thank you, the unit is working very well.
Kendall Jackson Winery
Geyserville, CA
4/22/2015
1800XTS Review
Recently purchased and had this unit professionally installed in my basement cellar. Took a few days for the cellar to stabilize the temperature once all the wine, which had been sitting in a room at 72 Degrees for a few days. The unit was easy to install and is performing well. Runs quietly too compared to other units I've seen. I bought the drain line, bottle probe thermometer, magnetic air filter and the mounting clips as well. Some reviewers gripe about the nickel and dining and I certainly see their point. Cellar Pro could group them into a package and sell it, but the a la carte pricing works fine, buy only what you need. Their customer service was good. Shortly after placing my order, someone emailed me with a few questions related to my cellar needs. They were proactively ensuring I had ordered the right system for my cellar, limiting frustration and bad reviews post facto. In the end, when (not if) I expand my cellar, I will definitely be buying a larger system from CellarPro.
James Sorey
Belmont, NC
4/22/2015
1800XTS Review
Had to replace my 1 yr old 1800 XTS, after a fan stopped working. Since there are two fans, it was hard to tell that one wasn't working. The indication was I would get an HA2 alarm that the compressor was heating up. Had to keep a outside fan on the back to keep it from heating up until the replacement unit arrived. Their support service was excellent, fast and kept me informed. Back up and running with no problems.
Richard Posey
Danville, CA
4/22/2015
upgrades
It would be very convenient if the drain tube and rear filter where standard issue with the unit. Those particular components should be considered part of a basic installation. Maybe even consider including a couple of those hanging clips so there is at least an out of the box option to mount the unit. Nickle and Dime can be frustrating.
Classic Heating
Chicago, Illinois
9/4/2014
Damaged unit
I don't know whether the unit works because IWA sent me a unit that is damaged on three sides and is refusing to address the issue thus far, despite the photos and other details I provided. Can you please suggest some alternative suppliers to me for the 1800XTS, as I will be returning the damaged unit to IWA shortly? Thank you.

Reply from IWA
Carol, we're sorry for the delay. As we mentioned, we were unable to ropen your .eml attachments and requested jpg files to review the damage. Upon review of these files, we shipped a replacement cooling to you, along with a return shipping label to return the damaged unit. Please let us know if you require any additional assistance.
Carol Dunahoo
Washington DC
9/4/2014
Step up
I had replaced a competitors units about every three years four times. The 1800 XTS fit exactly in the space available in my cellar and was cooling in no time. We are one month in and I am very happy.
Robert Moline
Missouri
9/4/2014
Solid and dependable unit
Replaced a competitor's unit with the 1800 XTS since the old one was running all the time and not working effeciently in wine cabinet. The 1800 XTS works great by comparison. It is much quieter and more reliable so far. Highly reccomended.
Charles K
California
9/4/2014
1800 XTS and Clips
I finally achieved the correct installation after having the HA2 alarm go off after 5 minutes. I am venting this unit into an attic space and I had to make more room for the unit to vent. I also made a hot air diverter so the exhaust would not be pulled in to the intake. I called for help on the weekend and two people called me back, even though they are not open on the weekends The customer service is outstanding. One gripe is the clips, which should be included with the unit. In my opinion, this is a blatant rip-off, these clips don't cost more than .50 cents to make.10.00 is ridiculous! Also, no clip installation instructions. The unit is quiet and does a super job.
High temp alarm
Unit is as described but high temp alarm goes off if door is left open for more than 30 seconds
Cooling unit and clips
The cooling unit works as described. I just installed the unit a month ago, so I will do a further review after summer. Using the clips are a pain in the butt. The clips do work. Most of the weight is in the back. 1st full instructions would help. Slide in cooling unit. (If replacing a Breezaire unit, of the same size, it is a tight fit but it will fit. Remove the front screen if needed. Loosen the screws that hold the lip that the clips will mount to. 2nd Slid in the clips. Retightens the screws. Reinstall the front screen if removed. 3rd (If you can; block up the unit to the roof.) Mount the clips to the roof. Use a strong molly type or mount through the roof to the top with a plate on the top. (remove block if used) The clips should be included with the unit. What do they cost? $2.00 for both? Breezaire unit include the clips. Breezaire unit clips will also work. The rest of my thought are the same as the other 4 + stars.
Ron Heymann
Brentwood, CA 4/22/2014
4/22/2014
Not quite the performance that I expected
I did a lot of research before I purchased this unit. In the end, it is noisier than I thought, not as good as I hoped at recycling humidity and the machine kept setting off an alarm for overheating after only a few minutes of operation. My cellar is not very big at 100 cu ft but has about 40 sq ft of glass. i ended up having to get a replacement unit on warranty for which I paid paid $120 each way for shipping. I ended up selling the replacement unit,at a loss because i did not trust the capabilities of the 1800xts and I ended up buying a Wine Guardian cooler which was more expensive but has been flawless.
Cellar Pro Cooling Unit
This is my 3rd wine room but my first Cellar Pro Cooling Unit. I have just recently installed it, so time will tell. At this time it appears to be cooling extremely effectively, but is noisier than past units and exhausts a lot more heat. This would not be a problem if it was exhausted into unconditioned space, which should have been expressed more clearly at the time of purchase or within the installation instructions. I just installed the unit a week ago, so I will do a further review in a couple of months.
David
Nashville, TN
2/18/2014
Cooling unit
Love my unit, I works great
David Lynn
Redding, ca
2/4/2014
Mr.
I have had this unit installed for almost a year, and it has work flawlessly. It is super quiet and does a great job of staying within the two degree range of the setting. This unit is by far the best cooling unit I have used in the twenty plus years of my walk in wine cellar.
Brian Campbell
Fremont, California
1/5/2013
so far so good
Pre-sales advice, follow up, invoicing was excellent. Installation to replace a vino temp unit went w/o major hitch. Unit seems to be operating well and maintaining temp. Real issue will be next summer when outside temps here in NC reach high 90's -- Tks for the service, quick delivery and follow up.
Dick
Charlottte, NC
11/7/2012
So far so good
I received excellent pre sale help picking out the correct model. It was shipped promptly and arrived in a very solid box, well packaged. Installation went very smoothly - the manual is well written and clear. It has been running for three days now cooling down my cellar - lots of bottles and lots of concrete. I expect it to cycle soon once it has reached equalibrium. Seems to be very made and very solid. A pleasure to buy American - it feels more substantial than Chinese (they can make some decent stuff too - but that doesn't seem to be the rule.
Steve
Kentfield, CA
9/7/2012
Unit Works as Intended. Highly Recommended for smaller cellars
I began the arduous task of building a wine cellar on my own. I should mention first and foremost that the most important part of creating your own walk in cellar is to make sure you have it completely sealed and well insulated. I created an effective R value of 10 on my floor (with 2" foam) R25 on my walls and ceiling (batts of insulation covered with several layers of 3/4" foam board. I then used frp to finish off the entire cellar. The door is also insulated with a foam core. This of course has all been surrounded with a vapor barrier. All this is EXTREMELY IMPORTANT! I may have gone overboard with the walls and ceiling, but why not. I do have a southern facing outside wall so I wanted to be sure. When it came time for me to choose a cellar refrigeration unit, I was looking at a specialized application. I don't have a lot of extra room outside my cellar for a pass through type unit that would vent exhaust air in to a living space, so I needed either a mini split system, or a remotely ducted unit. I found the cost was far too excessive with the mini splits, including the cost of an HVAC tech to install. And most ducted systems are in the 3-4k range. So I saw the CellarPro 1800xts with it's remote duct kit interesting. The unit itself was quite well packaged. It is self enclosed and the rear duct kit option, while at 299.00, is worth every penny to those that do not want to vent hot air into a living space. All told, the unit, with the condensate drain, remote exhaust kit, mounting clips, tax and shipping was a bit more than 1500.00 shipped to my door. I opened the unit and ran it for 12 hours to ensure its proper operation before installing it. It gave me a chance to play with the controls and make sure everything operated properly. I was pleasantly surprised that it was pretty quiet. I've been in freezers and such in restaurants, and have noticed how loud they are. This unit was really designed well. Once I installed it, I made sure to have an air gap for the condensate line, and connected the booster fan to the hot air side. Then I plugged it in and shut the door. I monitored it for a few hours to ensure proper operation and see how low I could get the cellar down to. I set it for 53 degrees and it was holding that temp all night long. I also changed the temperature differential setting from 4 to 2. It runs about 30 percent of the time as I created a tight seal with rubber weatherstripping on my insulated door. All in all, my basement normally ranges from 64-70 degrees from winter to summer, and this unit will allow me to have a much smaller variation on the cellaring of my wine. I have been very pleased with the operation of it so far, and look forward to reviewing it after the winter, and during the summer months here in Chicago.
Gerald
Chicago - Suburbs
10/3/2011
Great Chiller!
First one I found that actually works very well in Texas. Will update how it does over the summer, but so far, the best! Very happy at this point. Thank you Cellar Pro. I would recommend to anyone.
J Hobbs
Austin, Texas
3/15/2011
We are pleased
We needed to replace our cooling system for our 300 CU FT wine cellar and after an online search and a call to CellarPro we chose the 1800XTS unit. It has been in for over 2 months and we are very pleased with the temperature it is keeping the cellar as well as the minimal sound outside the wine cellar. It is always on the set temperature when I look in the window to check on it. We are very pleased and appreciated the professional manner in which our transaction was handled. The voice on the phone line couldn't have been more helpful to me.
QUIET AND EFFICIENT
I bought this unit in early spring but due to divorce delays (got my wine 2 years after leaving) lasting until Sept 25, 2010 I did not run the unit until Sept 21st. It is far quieter than my previous Whisperkool unit at my ex-cellar (which cooled well but seemed to run 75% of the time with R19 above and R13 in the walls). My insulation is total overkill now (R-50 everywhere except the doorway wall, R19) so the unit runs very infrequently and took less than half a day to get down to 55 degrees inside. I built a 6.5 inch thick door with R35 value.
Mark
Bloominginton, IL
9/27/2010
Very Happy So Far
This is a popular unit with the associated backog to get. Unfortunately, I was not informed about the back log until 2 weeks after my order and was given an expected ship date another 2 weeks out. After explaining my sistuation (a lot of wine sitting out), Keith helped resolve this and they shipped me a new, but repaired unit the next day. This was awesome service and the unit looks new (aside from the solder point on the condenser) and works fine (cooling 370 cft). The exhaust is also pretty quite, compared to the BA that I had, so I'm very happy with it and the service provided, not to mention the price can't be beat!
Very Impressed
Just built a wine cellar for a client. Installed the 1800 XTS. Relatively quiet. Cooled the room in no time (about 320 cubic feet). Very Impressed plus it has a great warranty compared to cheaper units. I highly recomend this unit.
Joe
Southampton NY
5/18/2010
Thank you!
Thank you for making my purchase a breeze, I really enjoyed the vast knowledge of your staff and the prompt responses for any questions I had. Thanks Again !
Hill Built Construction
Ben Lomond, CA
12/4/2007