CellarPro 1800XT-ECX Cooling Unit #1086




1456 SENSIBLE BTUH @ 55F.
CellarPro 1800XT-ECX cooling units (1/6 Ton Nominal) are suitable for small wine cellars (up to 250 cubic feet), commercial applications and wine cabinets located in garages (in temperatures ranging from 50-95F).



Performance testing shows that this compact unit maintains optimal cellar temperature and humidity conditions more effectively than similar units from competing brands. 1800XT-ECX units use energy-efficient EC fans and are significantly quieter than comparable units from other brands. Visit our Learning Center for data tables, performance charts and product comparisons among different brands.



CellarPro 1800XT-ECX units are sized to replace Breezaire 2200 and Wine-Mate 2500 cooling units. Please confirm equivalent dimensions and airflow prior to purchase.



Our cooling units are designed to be used in properly-constructed wine cellars that are adequately insulated, airtight and sealed with a vapor barrier. In improperly-constructed cellars, the cooling unit will create excess condensation, leading to damage and premature failure of your cooling unit (not covered by warranty).

(104)
Read / Add Reviews
Price: $1,695.00
Shipping Information:
FedEx / USPS / Saver
Availability: On Backorder


Usually Ships w/i 1-2 Weeks
Back in stock: 3/31/2023
Free Shipping! Receive free curbside delivery in the lower 48 states for a limited time. Simply add to your cart and checkout.
CellarPro 1800XT-ECX Cooling Unit (P/N 1086).
NOW WITH ENERGY-EFFICIENT EC FANS!
CellarPro engineered the 1800XT-ECX cooling unit for spaces that need
extra BTUH and cooling capacity
because of warm environments and/or the demands of a commercial establishment. 1800XT-ECX units are more powerful than CellarPro 1800QTL and 1800QT units, but also somewhat louder.
All air-cooled refrigeration equipment requires fresh air intake to dissipate the heat generated by the cooling unit. The fresh air intake CANNOT come from the wine cellar space - it must come from space outside the cellar. Designed for indoor use only, 1800XT-ECX units can operate in environments ranging from 95F to 40F out of the box. To operate the unit in colder temperatures, please see modifications listed on the
Options & Upgrades
tab.
Now with energy-efficient EC Fans on both the cold and hot sides, save $26.02 in annual energy costs vs AC fans (assumes 75% runtime and $0.15/kWh)
This unit offers a choice of top or rear hot exhaust. If the unit's location does not provide sufficient room for airflow, you may need to purchase a rear duct kit.
Adjustable humidity control combines a high-output compressor with flexible fan cycles to maintain a recommended level of moisture inside your cellar.
Extra-large coils generate maximum cooling power.
Commercial-grade Electrofin coating protects the evaporator coils from leaks and corrosion.
Intuitive LED display panel mounted on the evaporator with digital programmable thermostat is simple and easy to use. Remote thermostat is available as an upgrade.
Energy-saver mode, quick-chill mode, and auto-defrost cycle provide convenient solutions to common cellar needs.
Temperature set point range is 47F to 62F when the cooling unit is properly sized.
Unit operates with minimal vibrations and less noise than comparable units from competitors.
Audible and visual alarms and maintenance-needed indicator protect the cooling unit and the wine cellar.
8-foot power cord exits from the rear and plugs into standard 110V receptacles.
Common dedicated 15-amp circuit is required to power the unit.
3-amp electric receptacle is provided to run a small lamp.
Removable steel case provides access to the internal components for servicing and repair.
CellarPro's 5-Year Standard Warranty, the most thorough in the industry, protects the unit against manufacturing defects.
An optional Enhanced Warranty (#1835) is available for additional protection.
ETL Tested and Certified to rigorous UL Standards for safety.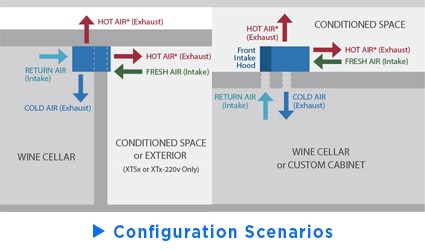 Configurations
On the hot side, this unit intakes from the rear, and offers a choice of top or rear hot exhaust.
On the cold side, this unit intakes from the front and exhausts from the bottom (thus the front 8 inches of the cooling unit must be inside the cellar.)
The 1800XT-ECX requires fresh air intake at the rear of the cooling unit. If sufficient space does not exist to provide sufficient airflow to the rear of the cooling unit, you may need a rear duct kit.
1800 Series cooling units can be installed completely inside the wine cellar when used with our rear duct kit, which allows you to duct the supply and return airflows from the rear of the cooling unit up to 100 equivalent feet (50 feet per duct).
Please note: The cold side of the 1800 Series cooling units cannot be ducted, and the hot side can be ducted with 6-inch ducting (no reductions) plus auxiliary fan support, which is included with our our rear duct kit.
You must located this unit within the cellar, with the following exception: these units can be installed directly above the wine cellar when used with our front intake hood.
For installation in environments below 40F, our compressor heater modification is required.
For installation in environments below 20F down to -20F, we recommend our Fan-Cycling Switch (P/N 6972) combined with our compressor heater.
A CellarPro cooling unit must always be used in the upright position, and should never be operated on its side or upside down.
| | |
| --- | --- |
| Click on one of the following links for more information: | |

Cold Temperature
Compressor Heater #1727: protects the unit when installed in environments that drop below 40F down to 20F.
Fan Cycling Switch #6972: supports the unit in temperatures below 20F and as low as -20F when combined with our compressor heater.

Duct Hoods
Filters & Grills
Use our filter & grill guide to find the cooling unit filter or duct filter and/or duct grill that is appropriate for your cooling unit.

Remote Control & Probe
Remote Display #1603: lets you place the digital panel wherever you want, whether inside or outside the cellar. Includes 10 feet of wiring.
Bottle Probe #1434: this remote thermostat with a 10-foot cord overrides the thermostat on the face of the cooling unit, and allows it to monitor air or liquid temperatures at various locations inside the cellar.

Other Options & Upgrades
Condensate Drain Line: strongly recommended for wine cellar installations (but not required for wine cabinets), a drain line allows excess moisture to drain from the bottom (#7431) or rear (#1606) of the cooling unit.
Condensate Drain Line plus Heating Element: combined with a drain line, we add a 100W heating element to burn of excess moisture. Available with bottom (#7432) or rear (#1709) drain lines.
Power Cord Modification #1098: normally the cord exits from the rear of the cooling unit, which generally is outside the cellar; this modification moves the cord to the front of the cooling unit, so that it can be plugged into an outlet inside the cellar.
Mounting Clips #1095: attached to the front of CellarPro 1800 Series cooling units, these clips are designed to be bolted to the ceiling inside the wine cabinet / cellar.
DID YOU KNOW?
Nobody protects your wine cellar better than CellarPro Cooling Systems! In the event your cooling unit fails and the failed components are covered by our warranty, we'll send a replacement cooling unit to you per the terms of our
Replacement Unit Program
CellarPro Replacement Unit Program
If your CellarPro cooling unit fails and the parts that failed are still covered by warranty, we'll send a replacement cooling unit to you, as follows:
Your cooling unit must be registered at CellarPro
Your cooling unit must have been properly sized, installed and maintained
Your cooling unit may not have been permanently modified, damaged or disfigured
Please note:
Replacement units are factory-refurbished cooling units with a similar build date as your original unit
You are responsible for the shipping cost to send the replacement unit to you and return the original unit to us, and the cost (if any) to remove the original unit and install the replacement unit
In order to send a replacement unit, we require a deposit, which will be refunded minus shipping costs upon the return and pending the inspection of the original unit
If the original unit failed due to improper intallation or use, the failure is not covered by warranty and we will deduct the cost of the repairs from the refund of your deposit
What is "Sensible BTUH"?

A: You should always use Sensible BTUH* when comparing different brands of cooling units, and when sizing a cooling unit for your wine cellar. Every cooling unit produces a certain amount of Total BTUH, which is the sum of Sensible BTUH (lowers the temperature) and Latent BTUH (lowers the relative humidity). Because our goal is to cool wine cellars while preserving humidity, wine cellar cooling units should have high Sensible BTUH and low Latent BTUH. The relationship between Sensible and Latent BTUHs is know as SHR (Sensible Heat Ratio), which is calculated as Sensible BTUH/Total BTUH. The SHR for CellarPro cooling units is greater than 90%, which means that CellarPro units provide maximum cooling power without stripping out humidity from the cellar environment.

*CellarPro Sensible BTUHs are calculated assuming 55F cellar temperature, 60% relative humidity and 95F ambient for all units except 1800 units (85F ambient).

How cold can the temperature be where the cooling unit is installed?

A: For installations in environments below 40F down to 20F, we recommend adding our compressor heater (P/N 1727), which is included as standard equipment on all outdoor units. Below 20F, in addition to the compressor heater, we recommend adding our fan cycling switch (P/N 6972)

How do I choose between top exhaust versus rear exhaust? What about the fresh air intake?

The fresh air intake will always come from the rear of the cooling unit, and must pull air from OUTSIDE the wine cellar space - it must never be installed to pull air from inside the cellar. On 1800 Series cooling units, the hot air exhaust can exit from the top or the rear. Choose whichever configuration directs the exhaust to a space that is sufficiently large to accept the exhausted air, as long as the exhaust goes OUTSIDE the cellar and will NOT intermingle with the fresh air intake. If you plan to duct the hot side of the cooling unit, then the hot air will need to exhaust from the rear.

Does the unit really need a dedicated circuit?

A: First, the background. Unlike our competitors, we build our cooling units with precision expansion valves, not cap tubes, which means that our cooling units aren't limited to a 30F differential between the desired cellar temperature and the ambient temperature. Cooling systems with expansion valves are much more precise than cap tubes, and much more sensitive to low voltage conditions, which is why our units require dedicated circuits. When we say "dedicated circuit", we mean that the circuit shouldn't have any items that require heavy draws of electricity - eg other appliances, vacuum cleaners, big-screen TVs, blow-dryers - on the same circuit as the cooling unit. Lighting, computers or other low-draw items shouldn't be a problem on the same circuit.

Can the cooling unit be located in a remote location and ducted to/from the wine cellar?

A: These cooling units can be installed above the wine cellar when used with our front intake hood.

Does the unit need to be installed through the wall, or can I install the entire unit inside the cellar?

A: These cooling units can be installed completely inside the wine cellar when used with our rear duct kit (P/N 1439), which allows rear supply and return airflows from a temperature controlled environment OUTSIDE the cellar to be ducted (with insulated ducting to minimize heat transfer inside the cellar) up to 100 equivalent feet (50 feet per duct).

What if I don't have sufficient space behind the cooling unit for the hot air exhaust to dissipate?

A: The rear of the cooling units can be ducted to another location by using our rear duct kit (P/N 1439), which allows rear supply and return airflows from a temperature controlled environment OUTSIDE the cellar to be ducted up to 100 equivalent feet (50 feet per duct).

Do I need the condensate drain line?

A: If you are using the cooling unit in a sealed cabinet, you probably don't need the drain line. If you are using the cooling unit in a cellar, we recommend the drain line, which can be drained inside (bottom) or outside (rear) the wine cellar. Choose the 100W heating element to reduce drainage as it helps to burns off excess condensate before it reaches the drain line.
Replaced old 1800XT
The original 1800XT lasted more than 10 years, I called CellarPro to order a replacement, everyone that I spoke with was very helpful and knowledgeable. They had the unit in stock and I received the shipment in about 4 days (free shipping) It was very easy to install, a perfect fit!
Danny
Goshen, KY
12/28/2021
Cellarpro
Just purchased a new Cellar Pro unit and after spending 1500 dollars they refused to include the clips that hold it up. Had to call them multiple times for them to only ignore me and send a link to purchase them. In addition had to wait another week before we could put it up. Still waiting. Disappointed !

Reply from CellarPro
Thank you for your feedback. The clips from your first cooling unit could have been reused, it's too bad that they were discarded. Based on our records, you first contacted us on Christmas eve (Friday), and we replied the day after Christmas (Sunday) with a link to order replacement clips. It looks like you ordered the clips yesterday, and we'll make sure to ship them today. Sorry for the inconvenience!
Joan Amshel
Apollo Beach Fl
12/28/2021
Replaced Breezeaire
Just replaced my dead Breezeaire unit that lasted 11 years. I was hesitant to try a new brand, but I could not be happier. The CellarPro unit is an exact fit for my cellar. Easy to install and is much quieter than the old unit. So far, so good.
Jacob
Potomac, MD
10/26/2021
Replace failed unit
Ordered Cellar Pro to replace failed Breezeaire. Rep said parts are on back order and might be a couple of weeks. Heard that before, and usually ends up being 6 mos or more nowadays. Happily it was ready and shipped in 2 weeks. And, they didn't charge the order until it was ready, not up front like most. Got the unit promptly, was exactly what and how I had arranged, and was so simple to install I did it myself. Very happy with transaction. Quieter and works so much better than old unit!
James
Carlsbad Ca
10/19/2021
Replacement cooling unit
The replacement unit we purchased worked beautiful and we are totally pleased with the net results
M Krantzman
Moraga California
10/19/2021
Replaced an existing Cellar Pro unit
When my old Cellar Pro finally died, I was relieved that the company still carried the same unit. It was easy to swap them out. The new unit is much quieter that the original one also. The customer service is excellent. I purchased an inline fan kit that came with ducting and my only issue was that we had to use sheet metal screws to anchor the ducts to the inline fan assembly. It would have been better if the screw holes had been predrilled. Other than that, it was an easy swap out.
Carol Daderian
San Clemente, CA
8/31/2021
Replacing the prior CellarPro 1800
I had a prior wine cooling unit that lasted 8 years - it still worked but the fan would not shut off and I figured it would burn out eventually. I ordered the slightly smaller cooling unit since I only had 100 Sq. Ft. or so to cool. I moved the cord to the front and added the hot air ducting. It would be nice if you could order just hot air ducting versus the system that comes that is set up for both. It's in and working well so far, placed just above the older unit . If one dies hopefully the other one will still work. The air filter that was sent does not fit with the ducting unit attached. I also found getting ahold of Customer service much easier in the past and they seemed more knowledgeable. Maybe another Covid casualty.
Randy
Portola Valley, CA
8/3/2021
CellarPro 1800XT-ECX
This unit directly replaced my old Wine-mate 2500 CD as an exact fit. The unit is quiet and working well. I went away from Wine-Mate because of early failure of that unit. I kept it on life support for 18 months with some Freon with stop leak from Walmart but it was too noisy. This seems to be a well designed unit.
CellarPro 1800XT-ECX
I was replacing an existing Cooling Unit. When I called, we discussed the product that I was replacing to make sure that the correct new cooling unit was specified.  Although the product, like a lot of products at that time, was backordered, the Unit was delivered on schedule and following the instructions made it easy to install. I installed it several weeks ago and it works perfectly.  I am a happy customer and highly recommend the product and CellarPro as a company.
Richard Levin
Wilmington DE
6/10/2021
CellarPro 1800XT
Received my unit yesterday and installed it today. Everything GREAT and new unit much quieter than my old Breezaire WKCE 2200.
Tom
Hernando Beach FL
1/27/2021
CellarPro 1800XT
Sean was very helpful in getting my replacement cooling unit quickly. Installation was simple!
David
Colts Neck, NJ
12/8/2020
Cellar Pro 1800
Shipped quickly. Easy to install. Easy to operate. Much quieter than my old Breeze Air. Wish I had not put money into the Breeze Air and replaced a year ago with the CellarPro. Nice job. I love the new cooler unit. Thank you
Dave Schmeer
Largo, FL
12/8/2020
homeowner
not installed yet, but so far, extremely pleased with the help making purchase decisions and with delivery.
rlb
washington, D.C.
11/3/2020
Easy Peasy
I purchased a Cellar Pro 1800XT to replace my old 1800 unit (circa 2006) in my Le Cache double-door storage cabinet. The unit was well packed and fired up right away before installation (as instructed). I was able to wrangle the old unit out of the Le Cache by myself, hoisted the new unit in (again solo), installed the insulating goop that came in the box, and voila, back in business. Great experience.
David Elkins
Menlo Park, CA
10/20/2020
Perfect Replacement for Wine-Mate 2500
Cellar Pro 1800XT was a perfect replacement for our old Wine-Mate 2500 that stopped working. It was a direct bolt in, no modifications to the cabinet were required. New unit is very quiet and keeps the temperature stable. Customer service was top notch.
Tyler E.
Concord, CA
9/29/2020
Everything went smoothly
Cellar Pro helped me choose the correct replacement for a Breezair unit, and told me enough to be able to do the installation myself (with one other person due to weight of the unit). And shipped exactly the parts I needed to retrofit the Cellar Pro even including the components to support the light. Great experience, and the unit is working as expected (for two weeks so far)
Home winemaker
I had an old refrigeration unit installed in a wine cabinet I bought on Craig's List. It worked for a while but finally gave out. I contacted CellarPro and discussed purchasing a new unit. The sales rep was professional and knowledgeable. I decided to purchase the CellarPro 1800XT Cooling Unit & mounting clips and couldn't be happier. The installation was straight forward and my wine cabinet is working perfectly! Thank you CellarPro!!!
Rodney Brown
Chula Vista, CA
8/11/2020
Well made and easy to install
Refrig unit from wine closet crapped out years ago. Finally got around to looking for an appropriate replacement. Cellar Pro looked promising. Turns out the unit was perfect. Installation was easy and unit works incredibly well. Should have purchased years ago. Options for top or side/rear heat exhaust provide great flexibility. Great investment.
Bill Demarest
Gainesville, Va.
8/4/2020
Amazing Customer Service
My old unit failed ( after only 8 years, which was disappointing), and the opportunity to eChat with someone knowledgeable about possible causes and resources was extraordinarily useful. Very quick turnaround time allowing detailed back and forth over the course of a day or two. When it was clear (from a professional on-site evaluation) that I needed a new unit, I was able to get all the info and help I needed and the best possible price.
Charles Weiss
Boston area
7/28/2020
They served me right
This company really helped me. I inherited a custom cellar, and its cooling unit failed. I had no information but the dimensions. CellarPro analyzed my specs, and recommended a different unit at the same price. It works flawlessly. They were fast and communicative.
R McGough
Pittsburgh
7/21/2020
Excellent service
Thank you, especially to your Service Reps Girin and Gerry, for your excellent service in replacing my 1800 XT. My original unit died after 18 years. Fast, free shipping and great notes on the installation procedure which enabled this 70-year old to perform the work!
CellarPro
Great product. Works perfectly
Tim W
Lutz, Florida
7/5/2020
As expected
I had called in and spoke to the team. They recommend this cooling unit for my application. So far this thing is great. It comes pretty much already set so it was install and plug in. Install was pretty smooth.
Michael Porria
Gilroy, CA
6/30/2020
Great so far, and great service by the CellarPro Team
Went online and ordered the 'direct replacement' for my Breezaire that died in May. Turns out the one I ordered wasn't intended for cabinets in 'garage' installations, which I discovered after a short time [4 hours] of operation on a hot day. The CellarPro Service Rep was quite helpful, I ordered the correct [XT vs QTL] version, After they inspected the old unit i was given a full refund, so Net-Net is i have the right unit operating perfectly in my garage now. Hope it lasts 10-15 years and a happy customer for sure!
Mark K
Morgan Hill, CA
6/25/2020
Cellar Pro Cooling unit
My Le Cache 3000 unit has worked great for 15+ yrs but I needed a new cooling unit, the folks at Cellar Pro were very helpful in making my switch to a new cooling unit. I called several times and they always gave me prompt answers.The new 1800 XT IS WORKING GREAT.
Old CellarPro 1800 XT - Lasted 11 Years
I have a cherry wood 600 bottle wine cellar from 2004. Unfortunately it looks like my CellarPro 1800XT is starting to fail. The good news is it lasted far longer than any previous units. Went through the 2 units, one Whisper-cool, and one Breezaire between 2004 - 2009. This CellarPro unit I purchased in June of 2009. So it has lasted 11 years. Going to call and get a new one coming!
John
San Antonio, TX
6/20/2020
CellarPro
My Breezaire chilling unit needed to be replaced after over 15 years. I was dreading it because the original distributor was out of business. Called the wine cabinet maker and he referred me to CellarPro. Customer service rep very knowledgeable about the proper replacement unit. A bit of a snafu on the order but it was fixed in 5 minutes after a call. The unit arrived sooner than estimated, we installed the next day and it's working great.
D. Kies
Novato, CA
6/20/2020
Cellar Pro
Received my replacement unit quickly and in great shape. Easy to install in the cabinet as it was a perfect fit. The unit is so much quieter than my old unit. Great sales help, ordering was a breeze and all is well! great job
Eric J.
Danville, CA
6/17/2020
Good experience
The ordering process was easy, the right replacement unit was easily DIY installed. My former unit may be repairable in a timely fashion, however, finding a local HVAC business to do the work was not possible. This made CellarPro's quick 1 week response with a new replacement convenient. This is my 3rd chiller, the last exact model lasted 8 years.
S Rizzuto
Orange County, CA
6/9/2020
CellarPro Products & Service
There is no doubt that cellar pro team has an outstanding support focused in solve installation/technical issues. Since I bought my unit they are supporting me and offering different solutions in order to reach an operation with no issues. Thanks to support team.
Cassio B
Jersey City, NJ
3/3/2020
Great Service
My Breezeair died during a long hot spell and I was anxious about my cellar warming up too much and for too long. I found a few thing online pointing me to cellar pro, made a few calls, and they had one ready and waiting for me. I was out doing wine tours all day and was not going to finish the day until after closing time for the Petaluma location. Bruce agreed to stay late and wait for me so that I could pick it up and get it installed. He was there waiting for me, I picked it up, brought it home and installed it that evening, perfect fit and has been working perfectly. Thank you Cellar Pro and thank you Bruce for going the extra distance to insure my wines were protected.
Larry Luttrell
Napa Ca.
10/1/2019
Works Great until Warranty Ends
Wonderful unit, bought a replacement when the first one died. Shipping, ordering, install all a breeze. But a 5 year warranty and the unit looses all cooling at year 6! Come on - for this price the unit should last at least 15 years.
Richard McFadden
Waldwick, NJ
9/17/2019
All Good
new built-in cellar up and running for 2 weeks now, replacing my old cabinet, and everything is great. works as advertised - very happy with the purchase
Fast Replacement!
After 10 years of continuous use (with intake and exhaust often over 80+deg), my 1800XTS started to struggle with cooling, so I called customer support and Quirin had a replacement unit delivered within 24 hours, amazing service!
Tom R.
Northern California
8/6/2019
owner
This is a replacement for a Breezeair chiller for a 500 bottle wine refrigerator. Quick and free delivery was a plus. Unit was easy to installl with little adjustment to the cooling box. Very quiet. Still working with the controls to insure that internal temps are even throughout the box and constant. Hoping it provides years of of uninterrupted service.
Brian Mulcahy
Vermont
6/25/2019
CellarPro replacement
Great chiller for my wine cellar. This is my second unit from cellar pro, it was easy to install, worked perfectly out of the box. Bruce at CellarPro was a great help and knows his product inside and out.
Ken Cole
Southlake, TX
4/30/2019
Great Warranty Replacement Service
I purchased a new unit on-line to replace an existing worn out one. Received it, installed, but it appeared to have an internal electrical issue which caused the unit to shut off for no reason. A call to Cellar PRO's customer service and a few emails later a replacement was on it's way. The new one works great, just as expected. Thanks customer service!
Excellent Wine Cooler
This is my second wine cooler from this company. Super easy to work with and very helpful getting me back up and running. My original unit lasted over 10 years. Happy customer.
Nicole Daniel
Atlanta GA
2/5/2019
Great Chiller
This unit replaces a Wine Mate chiller that came with the 400 bottle cellar. During a recent hot spell in Hawaii, the Wine Mate simply could not keep up with the ambient temperature. It ran continuously for over 3 weeks and could not get the cellar temperature below 72 degrees, which is really bad. Waited for the Cellar Pro since they were back logged on orders, and installed the unit the day after it arrived. It was a little difficult to install as it is quite a bit heavier than the Wine Mate and Breezaire chillers. Finally got it in and started it up. Chilled the cellar down to 62 degrees within a few hours, something that the Wine Mate had failed to do over 3 weeks. It is a really good unit, and hopefully will continue to run well when the ambient temperature in Hawaii rises once again, which is quite often now with global warming. My only complaint is that the unit runs pretty loud being that the cellar in in our living room. Wish it was quieter like the Wine Mate and Breezaire, but hey, those units couldn't handle the ambient heat. All in all, a great chiller.
Excellent cooler!!
This is our 2nd cooling unit in a large Le Cache (5800) wine cellar. The first one was just replaced after 9 1/2 years in service. Installation was easy and we're back up and running again. Only small concern is that it is just slightly louder running.
John Nacey
Temecula, CA
9/18/2018
CellarPro 1800XT Cooling Unit
My CellarPro 1800XT Cooling Unit was installed last week, right after I received it. It cooled the room right down. I have been monitoring it and it hovers between 58 and 60 degrees. Love the unit!!
Art W.
North Carolina
9/5/2018
Chas
New unit delivered undamaged, untime. Old unit removed, new one in place, than my one complaint. The tabs that fasen the cooler in place, not in cluded. Had to pull the old unit from the trash, remove the tabs and instal them on the new unit. Lots of trouble for a fifty cent part. cheers
Great Unit While it Worked
My old 1800T worked fine, but compressor failed 2 months after the warranty ended, yuch. The replacement appears to be working well; I hope it lasts longer. The unit was not operating under stress, about 12 hours/day. The replacement unit is quieter.
Anthony
New York City
6/12/2018
CellarPro Cooling Unit Review
Great product, great staff for ordering. Also clear instructions on installing.
Mark
Springfield, OR
1/21/2018
IWA Purchase Experience
Replaced Breezaire 10 year old system in my 150 bottle wine cabinet with the 1800XT. Purchase experience was fine but shipping was slow to Atlanta with minimal updates from the company on shipping status. Unit arrived with a damaged box but cooling unit was fine. Installation was easy. The purchase experience declined from here. The butyl tape that was supplied with the unit had been smashed and was not enough or usable. A call to Customer Service and a lady by the name S. Cox was painful. I just needed her to send me some UN-damaged tape ( a dollar part?). She said she would investigate the situation and someone would call back to let me know the status of my request. Seriously? Just send the silly tape....crickets still to this point. Buyer beware on post sale needs even as small as the above...
5 Years Two Month Life
I have a Le Cache wine cabinet and have utilized two breezeaire units and with my recent purchase two cellarpro 1800XT units. My previous breezeaire units lasted an average of 8 years each. My first Cellar Pro exactly 5 years and two months. Upon its very timely failure just out of warranty, I called and was offered to return for troubleshooting or purchasing new. Given 500 bottles worth more than the cost of a unit, opted to purchase a new one. Unfortunately they did not have any in stock and one needed to be manufactured (Around the time of 2017 fires). Despite this I received it in California within a weeks time. Luckily I have another wine cellar I could move the stock to for the week (not fun). My suggestion to Cellar Pro Management would be to maintain a ready to ship unit at all times to ensure turnaround time is minimized to a day. I can only hope the latest 1800xt will last longer than 5 years. I was told some engineering changes were made that should help longevity, time will tell. The cost of replacing the unit every 5 years would equate to $250 per annum. Coincidentally the same cost as renting an offsite wine storage locker...hmmmm. As far as the working unit is concerned it did a fine job and the alarm was what caused me to investigate the source and found internal temp was 76 degrees, a wine saving feature, that alarm. would love to see a wireless connectivity feature that could relay internal temperature on a periodic basis and incorporate email or text messaging for alarm conditions. My home solar system does just that.
Rich
San Diego, CA
10/29/2017
1800 XT Cooling unit
I purchased the 1800XT to replace my Cellar Pro 1800 that was 8 years old. I called Cellar Pro to ensure that I was ordering the correct replacement unit and to ask some additional questions. The gentleman at Cellar Pro was very professional and very helpful. I placed my order with him and the unit was delivered as promised. Installation was straight forward and the unit works perfectly.
Robert
North Hutchinson Island, FL
10/28/2017
Great Unit
I purchased this unit after my Wine-Mate 2500 stopped working. The main reason I chose the Cellarpro 1800XT was the operating temperature. This the unit can work in an area up to 95 degrees, 10 degrees more than the Wine-Mate. My old Wine-Mate simply could not keep up on on days when the outside temperature went above 90 degrees. It would run nearly constantly and simply heat up the garage. Over this last weekend, San Jose hit 108 degrees. My garage was at 91 and the CellarPro was not even running. It worked perfectly. Also this unit is dramatically quieter than the Wine-Mate.
1800XT Cooling Unit
Wonderful cooling unit. Great price. I am contractor that build cellars and have used others at a much greater expense that don't last as long. The shortest duration of one unit was 9.5 years! Worth every cent.
Axiom Construction Services
LaVista NE
8/28/2017
Great unit and customer service
I needed a new cooling unit to replace a 16 year old Breezaire that finally gave up the ghost. I selected the CellarPro 1800xt based on the reviews and the dimensions are an exact match for my Breezaire. Bryan, the customer service rep was knowledgeable about the products, answered all questions, and got me the unit in two days. The unit was easy to install, the documentation is very complete, and I was able to get up and running within an hour.
Patrick
San Jose, CA
7/25/2017
Great custom service and advice
I had a vinotemp for 5-6 years and I was great till I needed something. After 8-9 calls to the factory and a dozen or more to there 3rd party service provider I though I had it figured out. I had to call every local service shop they had and all but 1 said they wouldn't work on it (cause they don't like dealing with vinotemp). Once I drove across town the guy said I would cost more to fix then a new one. So now I'm back to square one, it's been 2+ weeks of a busted chiller and I still need an one. I searched for a good price and found one on Amazon, sold by Amazon, but thought the factory would want to beat the price and deal direct. She last took my number and said she'd call back, never did. Next day the listing on Amazon was taken down. I will never buy another product from vinotemp, run around and bad rep seems to be they business. Cellarpro actual answers their phones, knows about their product, and freely shares detailed information their product. The units are well sorted, inside out side power cable options as well as venting options. I highly recommend cellarpro to anyone considering the switch.
Brady T
Portland Oregon
7/18/2017
It works!
Glad to have found a quick replacement for my failed WineMate unit. The 1800XT fit excatly and works flawlessly. Now to the criticism. CellarPro does not list a location on their website. I needed the unit ASAP as mine failed during a 100°+ heat wave. The website clained feee shipping but when I went to check out the free shipping was ground, would process in 3-4 days and take however long it takes to get from them to me. I obviously could not wait that long so I opted for Next Day Shipping. That evening I receive a shipping notice from FedEx showing the unit on its way coming from Petaluma CA which is 30 minutes South of me. I could have driven to CellarPro and picked up the unit the same day I ordered it and not paid $141 shipping. Or even opted for free shipping and still had it as soon as the overnight option. All for an omission from your website. I sent CellarPro an email explaining this and my frustration over it. Never got a return email, phone call, letter in the mail... nothing. Unit is great, customer service/communication could use some help.
Brian
Forestville CA
7/4/2017
GREAT COOLING UNIT & SERVICE
The Cellarpro rep was very knowledgeable /professional and responded promptly to my Cooling Unit needs. I received the unit within a couple of days and the Unit works great. Would purchase another one if needed.
Great Unit Great Service
The unit I had was a Winemate and I could not get a service rep from that firm to return my call. I found Cellar Pro and thank goodness I did. My sales guy was exceptionally knowledgeable about the product I needed and spent a good deal of time with me on the phone asking questions to make sure he recommended the right unit. He also provided great advice on how to install the unit. I purchased the unit over the phone and it was delivered right away. I could not be happier. My wine cabinet is maintaing perfect temp and the unit is very quiet. Cellarpro is the way to go!
Michael Mire
Atlanta, GA
3/28/2017
Contractor/Owner
Bought both the Build 800 and a Cellar Pro 1800 XT for another unit. Installed as an upgrade to a 18 year old Vintotechque 450 bottle unit. fit into the existing unit but it is helped to have the little hanger clips from the old unit.
Clever Construction
Hawaii
12/13/2016
Great customer service
Second replacement in sixteen years however, I am happy to say that installation is very easy. Hope this one lasts more than six years. Would like a recycling option that does not involve me paying for shipping :-)
David Haddad
San Jose, CA
11/29/2016
Wouldn't let me make a mistake
I am a licensed Handyman and I've built three "Wine Walls/Closet" for my customers. I just built a refrigerated wine closet from an existing wine closet for a customer. I had to dismantle all the racks in remove all the wood facnigns to get at the bones of the old closet. The "new" area was properly sealed, waterproofed and insulated and the original wood liner and racks were reinstalled. The hole was cut and framed for the chiller. I submitted all my dimensions, glass area, and insulation factors to CellarPro. I chose a unit. I got a nice email back from CellarPro letting me know I probably chose the wrong unit. I had guessed from memory (faulty memory) at the closet size and the glass area. I re-measured t he next morning and called CellarPro to confirm and to help me calculate what unit I Needed. The new calc with the "real" sizes showed I ordered correctly, but the unit was on the "edge" for cooling capacity. CellarPro advised me that for the same $ I could go to the next larger unit. They would not let me make a mistake - my customer is a "snowbird" and returned to see their new, refrigerated wine closet. They loved it and are so very happy.
Walter Householder
Scottsdale, AZ
11/12/2016
CellarPro 1800 Cooler Repair
Outstanding response and thank you for standing by your product.
Richard M
Battle Ground, WA
11/9/2016
Working perfectly after two months
I replaced a Wine-Mate unit that had failed after six years with an 1800XT. Installation took only a few minutes as every part matched and the new unit dropped right into place. Unfortunately the ambient temperature on the first day was at the upper limit of the CellarPro's range, and the unit overheated after a couple hours. I rearranged the venting and put a small fan in place until my wine cabinet reached the desired temperature. I have since removed the fan and restored the venting to the original state and the CellarPro has been working perfectly. The CellarPro is considerably quieter than the Wine-Mate and seems to run less, although the ambient temperature is lower now than when we started. It's nice being able to not worry about my wine, so I've started buying wine again...
Frank Whaley
Roanoke, VA
11/7/2016
Excellent Wine Cooling Unit!
I highly recommend the 1800XT. It has been extremely reliable and has cooled our wine cellar perfectly. We had a problem with our unit not cooling after 3 years of use and Cellar Pro's customer service has done everything to insure that our problem is solved. I only wish the return shipping was paid for with a return shipping label.
Maureen
Ramsey, NJ
8/29/2016
Excellent Unit so far--9 months report
I bought the 1800XT in March 2015 after considerable research. I replaced a cheap Chinese unit that failed after a year--then the seller sent me a new one that failed after a year! So I was skeptical of everything. But this unit is doing fine. I have a closet that I insulated A LOT. It is about 120 cu ft. It holds about 40 cases and I keep it quite full. The CellarPro has done everything that they said it would. It cooled the space down very quickly, almost with no condensation. I never get water. It runs reasonably quiet in my installation (all interior walls, and around the corner from the living room and down a little hall. It vents into the laundry room which is on the next room (away from the living room). It might be rather distracting if it vented into a living room. But down the hall is fine--not too loud. It keeps the temperature perfectly between 56 and 60. It seems to be on about 1/4 of the time. That does not seem to vary with the outside temperature. It is still running strong--much more air flow than the old Chinese one. I vacuum the back fins monthly. I will continue keep posting progress reviews at least yearly, because longevity is important PS I also was pleased to be able to talk to very knowledgeable people directly at CellarPro.
Tom Fragher
Georgetown TX
1/3/2016
So glad we chose Cellar Pro!
Our last wine cooler box, a whisper Kool, died suddenly after only 2 years of use. So we had a contractor friend ask around about other coolers. Cellar pro 1800XT came highly recommended but we did our own research anyway and found that other folks agreed that this was the unit to get. Our basement gets hot both more in the winter than summer, so we need a unit that can operate at higher than normal temps. It is much quieter than our old whisper Kool. We also purchased the filter that attaches by magnetized strip to the back since it is just above my workbench and dust is can be an issue on rare occasions. All in all we like it very much and found it to be well worth the the price tag, so far.
Angela Mullen
Pennsylvania
4/7/2015
All good so far
I installed my Cellar Pro 1800XT about a month ago. It runs cool, and the fan moves a lot of air. It is pretty quiet, but I am glad it is down the hall and venting into a room away from the living room. It is running about 1/4 of the time, and I am very happy. I ran through three cheap Chinese coolers. No good--they do not last much over the one year warranty, Fortunately the seller heavily discounted the replacements, but after the third on I gave up. I will try to remember to re-review this unit at the end of each year I own it. It seems to be a very good unit. DO get the clips for mounting!
So Far So Good
Unit is running in a hot garage and keeping the wine at a cool temp. I do not have a bottle probe so I am unsure if the wine is cooled to the exact temperature, but by feel the bottle seem to be properly chilled. I would recommend this model for the above stated environment and I intend to order the bottle probe.
Mr
Changed from Breezair as had 2 go out. Easy to install and so far works OK. Used my probe from old unit so I hope it's OK.
Craig Estes
1958 Wave Place San Jose, CA95133
9/4/2014
Mr
I am on my third Cellarpro cooling unit in six years. I recommended La Cache to a friend before my first cooling unit went out and his proceeded to fail after two years. If you plan on cellaring wine for longer than two years I would strongly discourage buying this product. I bought this unit from IWA which I caution anyone from doing business with unless you thrive on frustration. They are located two hours from my house and it took 7 days to receive the unit during a 100 degree heat spell.

Reply from CellarPro / IWA
Dane, we're very sorry for the trouble that you've experienced.

According to our records, you reported problems on Thursday 8/27, and we shipped the replacement unit to you on Friday 8/28 for delivery on Saturday 8/29. Unfortunately, FedEx could not deliver the package to you because no one was home to sign for the package. This is FedEx's policy, not ours - signatures are required for orders valued above $500.

If the wine cabinet is located in your garage, it was not designed to handle 100 degree temperatures. We'd be happy to diagnose the failed unit at no charge to see what caused the failure.
love it
i have an old school Vinotemp with a dead breezaire. The 1800XT was a perfect fit to replace the Breezaire, and after we read the directions (haha), it installed easily. So far, very very happy.
Steve
Laguna Niguel
9/4/2014
Cooling Unit only last 2 years
I have had the unit 2 years and the cooling unit is out. The warranty doesn't extend when you replace the cooling unit so this will be expensive to maintain. Also, CellarPro dings you for over $500 until you send back the old unit and you have to pay for shipping which is ridiculous. So much for a good warranty! Buyer beware.

Reply from CellarPro
We are very sorry that your unit died after 2 years, and will ship your replacement unit asap.

We charge a deposit to ensure that we receive back the original unit, and will refund the deposit upon the return of the original unit.

Our warranty covers parts and labor for 5 years (longest in the industry) to repair or replace your defective unit, but shipping charges are not covered under our standard warranty (our optional enhanced warranty does cover shipping charges.)
Unhappy in Austin
Austin TX
9/4/2014
CellarPro 1800XT
Just installed a CellarPro 1800XT in my 900 bottle walk in wine cellar to replace a Breezaire2200 which finally gave out after 15 years. Installation was easy (thanks to the muscles of my 22 year old grandson). Instructions were clear and easy to follow. Turned it on after 24 hours and two days later in was cycling on and off as expected. Cellar had about 150 bottles of wine in it, and the general ambient temperature in my lower level is about 81 degrees. I am most happy with the unit. It is much quieter that the old Breezaire and for some reason - I am not a physicist - it does not generate as much exhaust heat as the old unit. Would recommend the 1800XT for anyone who needs a replacement unit for a walk in cellar.
Ben Oliver
Georgetown TX
9/4/2014
Cellar Pro 1800xt
Bought this unit to replace a Breezaire unit in a Vinotemp Wine cellar (closet type) - about 120 bottles. The compressor in this unit is extremely noisy -much louder than the unit it replaced. It has a loud "whine" almost siren effect, especially when the compressor first starts up. We can hear the compressor from other rooms in our house over 60ft away. It is much louder than any full size refrigerator I have ever owned. Also, the power cord exit from the back of this unit required modifications to be made to the wine cellar. The Breezaire power cord exited from the bottom of the unit so it could be plugged into an outlet inside the wine cellar. Because this unit is almost $200 more than the Breezaire unit and is advertised as a replacement, this is extremely disappointing. I was expecting much better.

Reply from Manufacturer
We're sorry for the trouble that you reported. This unit is our most powerful - and loudest - cooling unit for wine cabinets, and is recommended only for garage and commercial applications. (Incidentally, at 47 dBA, this unit is 9 dBA quieter than the similar size Breezaire 2200 cooling unit.)

For wine cabinets where quietness is a primary concern, the unit we recommend is the 1800QTL, which is much quieter than the 1800XT. Another option is our 1800QT, which also is quieter than the 1800XT, but more powerful than the 1800QTL

We believe that the cord-out-the-back is the preferred approach, which overwhelmingly is what our customers prefer, but we offer a power cord modification to allow the cord to exit from the front as an upgrade for customers who want this configuration.

If you purchased your cooling unit within the last 30 days, please contact us and we'll be glad to arrange for an exchange of your cooling unit to the 1800QTL.
JLS
Southern California
9/4/2014
Easy to Install
Just replaced my 15 year old Breezeair WKB2000 in my Le Cache cabinet with the 1800XT....handled the install myself without any issue. The 1800XT weighs about twice as much as the old BZA, but with a little heave ho, I was able to get it up into the back wall opening and supported it with some cardboard over the top of the wood racking. Needed to remove/replace the front metal cover to get the clips in place, but that was short and easy to do. The 1800 fits well into the space where the old BZA was mounted, but there are some gaps that need to be filled with the enclosed butyl tape. There was just enough tape to go completely around the back of the unit to get the required seal. Fired it up after letting it settle overnight and it began to cycle without a hitch. As some have reported, the noise level is noticeable, as our cabinet is in a room off of our kitchen. My wife says it is much louder than the BZA it replaced. I didn't want to step down to the QT model, since our cabinet holds 550 bottles and I wanted to have the extra cooling power of the XT. Its only been a couple of weeks, so I don't have any long term experience yet, but so far, so good.
Gary Winer
Chicago, IL
9/4/2014
Works great so far
Used this to replace the heavy duty cooling unit in my 12 yr old Vinotemp 600E. This cooling unit is much quieter, has a control panel (which old one did not have), looks better, and is working great so far in my garage. I emptied out the Vinotemp and turned it 90 degrees to the wall, so that the air intake/exhaust is in free air, and so that it can be vacumned easily. The original clips worked great for installing this, so I wasted money on buying the new clips
Chris Shaker
Sunriver, OR
9/12/2013
Great Breezaire replacement
Purchased to replace old Breezaire. Helpful telephone sales rep. Delivery was prompt and unit was easily installed and activated. It is a big improvement - I really like the digital display. We have been in a bit of a heat wave and the unit is working perfectly. So far, excellent.
James C
Morristown NJ
8/7/2013
purchased this unit to replace a BYO Wine Enthusiast EW 800 cooling unit
The CellarPro 1800 XT arrived on time and well packed. i removed the unit and let it sit for 24 hours as directed in the installation instructions. I then plugged the unit in to test it for proper operation, fans, cooling etc. I had to make the rear opening of my wine cellar larger , since the EW 800 (the original cooler) is a smaller unit , but that was not a big job. While i had my wine out of the cellar i took this time to also re-calk all the seams from inside and out to insure a good seal. Once the unit was installed and properly sealed (with sealing putty included with the unit) i plugged it in and it began to cool my cellar immediately , much quicker than the original cooler. Per the instructions i put my cooler into its "quick chilling" mode several times to get the bottles cooler quicker since they had been sitting out for 6 or 7 hours while i was performing this installation. This cooling unit is now cycling on and off much less often than the original unit, it is quieter as well. i also want to mention before purchasing this unit i called the 800 number and got very good advise as to which unit i should purchase for my needs and I purchased the extended warranty for five years , its is a good value should i need to have this unit repaired in the next five years. I have only had this unit for a few days but feel it will be a great asset to protecting my wine investment since the company seems to very professional in every aspect of its dealings.
Tom S.
Richmond , Va
6/10/2013
Cellarpro a Disappointment
I purchase the CellarPro 1800XT to replace the BreezeAire unit in my wine closet that sits in the garage. I chose the CellarPro because it was produced near where I live in northern California and the information on their website was compelling. Shortly after the installation, I noticed that when the ambient temperature of the garage reaches 82 degrees, the condenser alarm sounds. Following a number of calls to their tech staff, the installation of an air deflector and the resetting of the resetting of both the Minimum Set Point to 60 degrees as well as increasing the FON setting as instructed in the manual's trouble shooting section, I've had to disconnect the alarm setting. A big disappointment that this has happened and I would not recommend the CellarPro. I have another wine closet sitting right next to this one that I've had for 15 years cooled by a Cell Master unit which has never given me a lick of trouble. In hindsight, I should have replaced my BreezeAir with the Cellar Master. I suggest that you do the same.
+++
Reply from CellarPro:
Because the customer is located in the Bay area, we were able to visit the customer's home. Upon nspection, we noted that the rear-vented cooling unit is recessed in the rear wall of the cabinet, with Vinotemp's original grill covering the opening. This condition was causing the unit's hot air exhaust to be trapped and re-circulated by the cooling unit, thereby causing compressor to overheat. When we removed the grill from the back, it improved the airflow and hopefully will resolve the problem; otherwise, the cooling unit will need to be installed flush or proud on the rear wall of the cabinet.

Bruce Herman
San Anselmo, California
6/7/2013
IWA Came Through
I am generally not a letter writer unless its bad news. In this case quite the opposite. I awoke the other morning to find my Breezaire had inverted and overnight became a heat pump. To add icing to the cake I was leaving for Sonoma that morning and then leaving later that week for an extended business trip. This would leave my sizable investment at risk of being ruined.

Thanks to Brad's effort and the rest of the team I was able to get a replacement unit during my trip to Sonoma. This not only saved my wine, but my peace of mind. Brad did not have to hear my tale of woe, but did and the IWA team proved they could come through for me in record time.

I am installing the cooling unit tomorrow and have every belief that I will be completely satisfied.

btw - I had earlier asked for some technical answers when I first suspected that I might be losing my unit and although I do not know who replied, but they are the reason i called CellarPro first.

Thanks for going the extra yard on all counts.
Jeff M
San Jose, CA
5/12/2013
Quiet
It replaces a BreezeAire 2200. It was so quiet, I could not be sure it was on. I find the 3 minute delay to start when plugged in a little unsettling. I find it hard to set the temperature, but once set, it does not have to be done again. Read the directions! And buy the clips and the filter.
Harold
Bay Area CA
4/7/2013
Short life
My first 1800XT lasted 18 months and now I'm having to spend $100 in freight to get a replacement. The unit is installed in a cellar built exactly to the design done by Sonoma Wine Accessories where I bought the 1800XT. The unit has worked perfectly up until now when it suddenly stopped cooling. I hope that the second one lasts longer. Luckily it's winter and the weather is cool.
Brian Thomson
Saugus, CA
2/21/2013
1800XT
Replaced and old winemate 2500, this unit looks better, is much quieter, and has a significantly better control panel. If cellarpro didn't gouge carging $10 for the mounting clips rating would have been 5 stars.
Richard McFadden
Waldwick, NJ
2/10/2013
CELLARPRO 1800XT
Well designed unit that has transformed my wine cellar temperature holding ability. Pretty much a plug and go unit. Installed through the wall with the sound hood mounted to the wall. Substanital sound reduction with the hood,
Mike Duhon
Oakland, CA
12/15/2012
Impressive Performance
I had to replace a failed cooling unit on my wine cellar and switched to the Cellar Pro 1800XT. I have two glass walls on my wine cellar and the old unit always struggled to keep up with the heat. The 1800XT was a breeze to install and does a great job. What was really impressive was how fast it cooled the cellar down. I am very pleased.
Alex S.
Long Beach, CA
10/8/2012
Keeps the Wine Cool!
I've had my wine cabinet for 15 years, so this was the second time I had to replace the cooling unit and this was a drop-in replacement. Easy to install and it's up and running!
Mark L.
San Diego, CA
9/10/2012
Great Product and Customer Support
The customer service was great. My 1800xt arrived on time and runs great. It is more quiet then I expected. I would recommend this product.
Micah M
Southern California
6/11/2012
Highly Recommend
I have had my 750 bottle Wine cabinet for 12 years. I just replaced the cooling unit (Breeazaire) with CellarPro's own brand. It's by far superior. The employees were very helpful and professional. I highly recommend their product and service!
Michelle M
Los Altos CA
6/7/2012
Cellar Pro 1800XT
The folks at CellarPro were great to deal with.... Unit arrived on time and was quite simple to install. And it's performing Great!
Jay Butler
Danville CA
11/7/2011
Nice!
Installing the unit was a breeze. I was worried that this would be a big project, but honestly, removing all the bottles of wine off the top rack to perform the changeout was the hardest part! It was very easy. The cooling unit had the cabinet at a perfect 59 degrees within a matter of hours. Great product and I'm very happy with it.
Greg
Trabuco Canyon, California
9/8/2011
1800 XT
The unit is certainly better than the Breezaire I had. However, I have never been able to get it down to 55 degrees. It clicks on and off every few minutes, and temp. stays around 60-62. It would be nice to be able adjust the temp. to whatever temp you want.
1800xt
The new unit arrived just before record breaking high temperatures came. So the installation in my garage was a real test. So far it has performed well. The installation was a bit tricky. The new grill on the front and the screws instead of rivits made the unit impossible to install from the back. I called service and they said that the front installation was easier anyway. With a bit of vasoline and some pushing, the new unit slowly moved into place. Even at 95 degrees, the unit is holding temperatures in a tight range, and is cycling "on" for a surprisingly short time.
Thomas G. Zentner
Monroe, Louisiana
6/7/2011
1800 XT
Just recieved my new 1800xt unit and went thru the simple startup procedure, installed the unit and it cooled my cellar down in 8 hours. I highly recommend this unit as a replacement or for a new cellar, it may cost you a few more buck up front but it is well worth it in the long run. I replaced the previous brand twice in four years before I learned my lesson. Thanks CellarPro its cool in Dallas.
1800XT
This unit is very quiet. Installation was easy, Great customer support answering questions before the order.
David
Stamford, CT
4/3/2011
Night and Day
I replaced a 5-1/2 yo Breezair 1060 that never really performed well. It is was spec'd to work for my 5200, especially in-doors. It struggled in hot humid weather and resulted in my having to raise the cellar's temperature to 62+, every summer. Then, it started failing even in cooler weather. I'm glad that I never upgraded to the noisy 2200, since they apparently had issues too. The 1800XT was an easy installation and I was done in about an hour. It hasn't been hot around here yet, but I can already tell that it will have no problem holding the temperature. The real test will come soon enough when our 6 months of 90+ weather and high humidity begins in a couple weeks.
What a relief
I replaced my existing Breezaire with the 1800XT. The lack of expected noise was a pleasant surprise and the airtemp stability is better than new. Easy to adjust to personal preference temp and humidity settings (really not necessary as the system is very adquate and ready to go right from the carton), this unit was just as advertised as a direct replacement for my Breezaire unit. I upsized by 40% as my cellar is in a very warm Southern California garage (where two daily driven automobiles share space). I followed directions to the letter, letting the unit sit for 24 hours and then bench running it for 1 hour to test the unit. Warning, the directions do not say to raise the unit when bench testing. Very necessary as otherwise one would block the return air.
Steven R.
Laguna Niguel, CA
2/7/2011
1800 XT
Just bought this unit. Initially, it kept on giving me an error message that the condensing coils were over heating. I realized that the exhaust of extremely hot air from the unit was coming out right next to the intake!. So, I installed a piece of cardboard to re-direct the air away from the intake, and now the unit is working quite well, keeping my 900 bottle walk-in wine cellar at 56 degrees.
Hilary
Alamo, CA
11/15/2010
Great unit and easy to install
I bought this to replace the cooling unit that came with my Vinotemp which died after 3 years. What an improvement! This keeps the cabinet much cooler, and was SO easy to install. My only regret is that I didn't buy this in the first place.
Steve
Oakland, CA
7/10/2010
Satisfied customer
Recently purchased 2 1800 XT units as replacements for seven year old Breezaire 2200's in a free-standing 2500 bottle cellar. The units are much quieter than the Breezaires and do not run nearly as much to maintain the set 60 degrees. While more expensive than the Breezaire, these are definitely an up-grade and should result in energy savings as well.
Sam
Houston, Texas
7/7/2010
Great Unit!
We recently purchased an 1800 XT as a replacement for the Breezaire 2200 unit for our European Country Model 5200 Wine Cabinet. (The Breezaire 2200 compressor quit after roughly five years of indoor use.) Some findings after a month of use: 1. The 1800 XT is much quieter than the Breezaire unit. 2. We love the humidity control of the 1800 XT, which is not available on the Breezaire. 3. We've noticed that the 1800 XT runs much less of the time than the Breezaire, indicating that it is putting out cooler air.
Brian P.
Simi Valley, California
6/8/2010
"Replacement" that is better than the original!
We recently bought the 1800 XT because our Breezeaire 2200 stopped working after 10-11 years. It was at least a couple of hundred dollars more expensive than the 2200, but well-worth it because a) it's a lot quieter than the 2200, and has more cooling capacity. We don't have air conditioning in our condo in San Francisco (who does?) and on those occassions when it nears 100 degrees, the 2200 was taxed and the temperature of the cellar rose more than I was comfortable with. The extra $200 is well spent insurance against hostile storage conditions. Also, the partners are supremely customer focused and knowledgeable. They accomodated delivering the unit to a partner's house in San Francisco, while I picked it up one morning. Unusual, and very much appreciated. If you're considering this unit, and have an application for it, I would highly recommend it. It's a well-built unit, quiet, and I have no doubt that the company backs up their products, should it ever need servicing.
Mike Petonic
San Francisco, CA
3/8/2010
So Far So Good
I have had the CellarPro 1800XT installed for about 4 months now. Initially it seemed to be running quite a bit. I called the company and one of the owners answered and gave me tons of advice. Wow. Talk about customer support.
John O.
Manhattan Beach, CA
11/16/2009
Great unit
Great unit, easy installation, converted a closet to a wine cellar, does a great job so far
Billy G.
Matthews, NC
11/12/2009
Replacing Breezaire
the unit was an exact fit for replacing my Breezaire 1060 - it simply slid perfectly into the opening in my 300 bottle cabinet. Its working perfectly and is much quieter than I expected. The writeup says the smaller unit is quieter but the 1800 is much quieter than the old Breezaire.
Excellent performance from the 1800XT
The 1800XtT was a direct replacement for my Winemate. The installation was easy. Do buy the mounting clips. It's curious that they are offered as an option instead of just being included with your purchase. I'm mechanically inclined and I would not attempt installing the unit without them (not worth the hassle). The system cooled my 440 bottle cellar with glass doors that I had loaded with about 150 bottles in less than four hours. The digital display is easy to use and I have it set at 57 degrees. I store the unit in my garage and it's surprisingly quieter than I had expected. During the heat of the day it typically cycles on and off every fifteen minutes. I also purchased the optional air filter that magnetically attaches to the rear of the unit. The magnetic strips that hold the frame onto the unit hold, but barely. If you're looking for maximum longevity of the unit seems like cheap insurance to me. All in all I'm very pleased with the performance of the 1800XT.
A McCall
Sebastopol, CA
3/26/2007
Great new unit
I just replaced my 13 year old LeCache original unit and switched to the Cellar Pro 1800XT. My cabinet is in my garage (in Dallas it is 100 degrees at present). The 1800XT was easy to install and is doing a great job. I resealed all corners and the seams while the wine was out and everything is now cooling at 60 degrees ...
Antony Francis
Dallas
1/29/2007
5 Stars
First the good. The unit is dramatically quieter than the Breezaire unit. It seems to be a little more efficient in that it runs a little less, but that may be because the Breezaire unit was losing refrigerant. The control panel is much more sophisticated than the Breezaire as well and the humidity in the cabinet is about 10 percent higher (which is good. The Breezaire maintained about 50 percent and I'm in Florida. Sixty is a much better number.) Now the bad. It is not a matter of removing one unit and replacing it with the new one, at least not in my cabinet. I've replaced Breezaire with Breezaire in the past and it was really just a matter of removing and replacing, then resealing to eliminate outside air entry into the cabinet. My cabinets are both Vinocraft units from around 1999. They both exhausted upward and also took in fresh air from the top, with a grill directing exhaust air to one side and intaking from the opposite side. The unit was hung from the top of the cabinet and the rear of the unit rested on the rear of the cabinet. First of all, the dimensions stated do not include the front grill. Also, with the configuration of that grill, it must be removed to obtain an air-tight seal between the top front of the unit and the top of the cabinet. This detracts from the appearance of the unit. Also, the clips that allow you to hang the unit are pretty flimsy, but they do work. However, the height of the clips is different from those on the Breezaire. That was corrected by building up the rear of the cabinet so that the new unit would sit at the proper level. Finally, the entire cabinet needs to be moved away from the rear wall at least 8 inches. Esthetically, this might be a problem for some. So, in conclusion, now that it's done, I'm very happy with the results. I'm disappointed that I have a large space behind the cabinet which I didn't have in the past. But someone sleeping in the next room won't be awakened by the rumble of the old Breezaire. And the humidity in the cabinet is better. Also, my first Breezaire units both lasted 11 years. One of the replacements lasted less than 3 and that's unacceptable. The cost of repair (it wasn't the compressor) is exorbitant and the only option offered is to send the unit in for refurbishment. What happens to the 700 bottles of wine in the cabinet while you're waiting for the unit to be returned?