CellarPro 1800QTL-ECX Cooling Unit #1151




1065 SENSIBLE BTUH @ 55F.
CellarPro's 1800QTL-ECX wine cooling units (1/8 Ton Nominal) were engineered to provide super-quiet temperature and humidity control for small to medium size wine cabinets.

Performance testing shows that this compact unit maintains optimal cellar temperature and humidity conditions more effectively than similar units from competing brands. 1800QTL-ECX units use energy-efficient EC fans and are significantly quieter than comparable units from other brands. Visit our learning center for performance and comparison tables and charts. Visit our Learning Center for data tables, performance charts and product comparisons among different brands.

CellarPro 1800QTL-ECX units are sized to replace Breezaire 1060 and Wine-Mate 1500 cooling units. Please confirm equivalent dimensions and airflow prior to purchase.

Our cooling units are designed to be used in properly-constructed wine cellars that are adequately insulated, airtight and sealed with a vapor barrier. In improperly-constructed cellars, the cooling unit will create excess condensation, leading to damage and premature failure of your cooling unit (not covered by warranty).

(153)
Read / Add Reviews
Price: $1,695.00
Shipping Information:
FedEx / USPS / Saver
Availability: In Stock


Usually Ships w/i 1-2 Weeks
Back in stock:
Free Shipping! Receive free curbside delivery in the lower 48 states for a limited time. Simply add to your cart and checkout.
CellarPro 1800QTL-ECX Cooling Unit (P/N 1151).
NOW WITH ENERGY-EFFICIENT EC FANS!
1800QTL-ECX cooling units provide
gentle cooling
and the
quietest noise level
among all CellarPro cooling units. CellarPro engineered the 1800QTL-ECX for small wine cabinets that are placed in common living areas.
All air-cooled refrigeration equipment requires fresh air intake to dissipate the heat generated by the cooling unit. The fresh air intake CANNOT come from the wine cellar space - it must come from space outside the cellar. Designed for indoor use only, 1800QTL-ECX units are preferred for temperature-controlled conditions that don't exceed 85F.
Now with energy-efficient EC Fans on both the cold and hot sides, save $29.07 in annual energy costs vs AC fans (assumes 75% runtime and $0.15/kWh)
This unit offers a choice of top or rear hot exhaust.
Adjustable humidity control combines a high-output compressor with flexible fan cycles to maintain a recommended level of moisture inside your cellar.
Extra-large coils generate maximum cooling power.
Commercial-grade Electrofin coating protects the evaporator coils from leaks and corrosion.
Intuitive LED display panel mounted on the evaporator with digital programmable thermostat is simple and easy to use. Remote thermostat is available as an upgrade.
Energy-saver mode, quick-chill mode, and auto-defrost cycle provide convenient solutions to common cellar needs.
Temperature set point range is 47F to 62F when the cooling unit is properly sized.
Unit operates with minimal vibrations and less noise than comparable units from competitors.
Audible and visual alarms and maintenance-needed indicator protect the cooling unit and the wine cellar.
8-foot power cord exits from the rear and plugs into standard 110V receptacles.
Common dedicated 15-amp circuit is required to power the unit.
3-amp electric receptacle is provided to run a small lamp.
Removable steel case provides access to the internal components for servicing and repair.
CellarPro's 5-Year Standard Warranty, the most thorough in the industry, protects the unit against manufacturing defects.
An optional Enhanced Warranty (#1835) is available for additional protection.
ETL Tested and Certified to rigorous UL Standards for safety.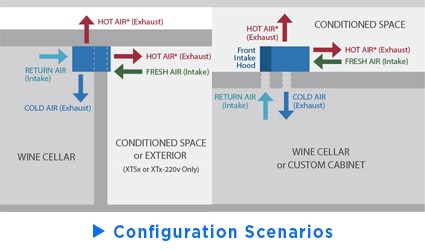 Configurations
On the hot side, this unit intakes from the rear, and offers a choice of top or rear hot exhaust.
On the cold side, this unit intakes from the front and exhausts from the bottom (thus the front 8 inches of the cooling unit must be inside the cellar.)
The 1800QT requires fresh air intake at the rear of the cooling unit. This unit was not designed to be ducted.
For installation in environments below 40F, our compressor heater modification is required.
For installation in environments below 20F down to -20F, we recommend our Fan-Cycling Switch (P/N 6972) combined with our compressor heater.
A CellarPro cooling unit must always be used in the upright position, and should never be operated on its side or upside down.
| | |
| --- | --- |
| Click on one of the following links for more information: | |

Cold Temperature
Compressor Heater #1727: protects the unit when installed in environments that drop below 40F down to 20F.
Fan Cycling Switch #6972: supports the unit in temperatures below 20F and as low as -20F when combined with our compressor heater.

Filters & Grills
Use our filter & grill guide to find the cooling unit filter or duct filter and/or duct grill that is appropriate for your cooling unit.

Remote Control & Probe
Remote Display #1603: lets you place the digital panel wherever you want, whether inside or outside the cellar. Includes 10 feet of wiring.
Bottle Probe #1434: this remote thermostat with a 10-foot cord overrides the thermostat on the face of the cooling unit, and allows it to monitor air or liquid temperatures at various locations inside the cellar.

Other Options & Upgrades
Condensate Drain Line: strongly recommended for wine cellar installations (but not required for wine cabinets), a drain line allows excess moisture to drain from the bottom (#7431) or rear (#1606) of the cooling unit.
Condensate Drain Line plus Heating Element: combined with a drain line, we add a 100W heating element to burn of excess moisture. Available with bottom (#7432) or rear (#1709) drain lines.
Power Cord Modification #1098: normally the cord exits from the rear of the cooling unit, which generally is outside the cellar; this modification moves the cord to the front of the cooling unit, so that it can be plugged into an outlet inside the cellar.
Mounting Clips #1095: attached to the front of CellarPro 1800 Series cooling units, these clips are designed to be bolted to the ceiling inside the wine cabinet / cellar.
DID YOU KNOW?
Nobody protects your wine cellar better than CellarPro Cooling Systems! In the event your cooling unit fails and the failed components are covered by our warranty, we'll send a replacement cooling unit to you per the terms of our
Replacement Unit Program
CellarPro Replacement Unit Program
If your CellarPro cooling unit fails and the parts that failed are still covered by warranty, we'll send a replacement cooling unit to you, as follows:
Your cooling unit must be registered at CellarPro
Your cooling unit must have been properly sized, installed and maintained
Your cooling unit may not have been permanently modified, damaged or disfigured
Please note:
Replacement units are factory-refurbished cooling units with a similar build date as your original unit
You are responsible for the shipping cost to send the replacement unit to you and return the original unit to us, and the cost (if any) to remove the original unit and install the replacement unit
In order to send a replacement unit, we require a deposit, which will be refunded minus shipping costs upon the return and pending the inspection of the original unit
If the original unit failed due to improper installation or use, the failure is not covered by warranty and we will deduct the cost of the repairs from the refund of your deposit
What is "Sensible BTUH"?

A: You should always use Sensible BTUH* when comparing different brands of cooling units, and when sizing a cooling unit for your wine cellar. Every cooling unit produces a certain amount of Total BTUH, which is the sum of Sensible BTUH (lowers the temperature) and Latent BTUH (lowers the relative humidity). Because our goal is to cool wine cellars while preserving humidity, wine cellar cooling units should have high Sensible BTUH and low Latent BTUH. The relationship between Sensible and Latent BTUHs is know as SHR (Sensible Heat Ratio), which is calculated as Sensible BTUH/Total BTUH. The SHR for CellarPro cooling units is greater than 90%, which means that CellarPro units provide maximum cooling power without stripping out humidity from the cellar environment.

*CellarPro Sensible BTUHs are calculated assuming 55F cellar temperature, 60% relative humidity and 95F ambient for all units except 1800 units (85F ambient).

How cold can the temperature be where the cooling unit is installed?

A: For installations in environments below 40°F down to 20°F, we recommend adding our compressor heater (P/N 1727), which is included as standard equipment on all outdoor units. Below 20°F, in addition to the compressor heater, we recommend adding our fan cycling switch (P/N 6972)

How do I choose between top exhaust versus rear exhaust? What about the fresh air intake?

The fresh air intake will always come from the rear of the cooling unit, and must pull air from OUTSIDE the wine cellar space - it must never be installed to pull air from inside the cellar. On 1800 Series cooling units, the hot air exhaust can exit from the top or the rear. Choose whichever configuration directs the exhaust to a space that is sufficiently large to accept the exhausted air, as long as the exhaust goes OUTSIDE the cellar and will NOT intermingle with the fresh air intake. If you plan to duct the hot side of the cooling unit, then the hot air will need to exhaust from the rear.

Can the cooling unit be located in a remote location and ducted to/from the wine cellar?

A: These cooling units can be installed above the wine cellar when used with our front intake hood.

Does the unit really need a dedicated circuit?

A: First, the background. Unlike our competitors, we build our cooling units with precision expansion valves, not cap tubes, which means that our cooling units aren't limited to a 30°F differential between the desired cellar temperature and the ambient temperature. Cooling systems with expansion valves are much more precise than cap tubes, and much more sensitive to low voltage conditions, which is why our units require dedicated circuits. When we say "dedicated circuit", we mean that the circuit shouldn't have any items that require heavy draws of electricity - eg other appliances, vacuum cleaners, big-screen TVs, blow-dryers - on the same circuit as the cooling unit. Lighting, computers or other low-draw items shouldn't be a problem on the same circuit.

Does the unit need to be installed through the wall, or can I install the entire unit inside the cellar?

A: These cooling units can be installed completely inside the wine cellar when used with our rear duct kit (P/N 1439), which allows rear supply and return airflows from a temperature controlled environment OUTSIDE the cellar to be ducted (with insulated ducting to minimize heat transfer inside the cellar) up to 100 equivalent feet (50 feet per duct).

What if I don't have sufficient space behind the cooling unit for the hot air exhaust to dissipate?

A: The rear of the cooling units can be ducted to another location by using our rear duct kit (P/N 1439), which allows rear supply and return airflows from a temperature controlled environment OUTSIDE the cellar to be ducted up to 100 equivalent feet (50 feet per duct).

Do I need the condensate drain line?

A: If you are using the cooling unit in a sealed cabinet, you probably don't need the drain line. If you are using the cooling unit in a cellar, we recommend the drain line, which can be drained inside (bottom) or outside (rear) the wine cellar. Choose the 100W heating element to reduce drainage as it helps to burns off excess condensate before it reaches the drain line.
REPLACEMENT COOLING UNIT
DAVID PUDELSKY
BONITA SPRINGS FL.
5/25/2022
Condensate Heating Element
Hello, and thanks for your rapid feedback on my comments!! I looked at. and am interested in the " electric condensate evaporator as an option" which is listed as $175. A great option! I understand it is a 100 Watt heating element. Is it on full time, or only when moisture is detected? I ask, because assuming it is on full time, the additional cost to operate the heater (in California) where electricity cost roughly 15.34 cents per kW-hr average, would be $134 per year, or $940 for 7 years. Thanks!

Reply from CellarPro
Mark, thank you for your followup. you would need to bring back your unit to the factory for us to install the condensate evaporator - it can't be installed in the field after the unit has shipped. The condensate evaporator has a thermostat that regulates the on/off cycle - ie it's not always on. Please give us a call at 866.522.1508 if you'd like to arrange for the us to retrofit your unit.
Mark
Northern California
3/28/2022
Great unit, but why will you have to replace it in 6 to 10 years?
I bought this unit for my stand alone 220 bottle wine fridge. It worked great, and was quiet as advertised until it failed after 7 years outside of warranty. So, the hardware cost was $240 per year, (for a $1700 unit). Why did it fail? Because the hot copper tubes wrap around to a water tray to vaporize the water and reduce condensate.. but in the mean time, those tubes bath in water, and corrode as a result, which is a BAD design. ( CellarPro, if you're paying attention, USE A HEAT SINK instead of exposing the tubes directly to water!!!!! ). LG can design and sell a window AC unit for less then $200 pat. Given, it's high volume vs low volume. But still, at $1700 a pop, it should be designed better. I haven't seen a better wine fridge cooling unit, but my LG AC unit with a wine fridge controller is a better choice for me, and at a much better hardware and maintenance cost.

Reply from CellarPro
Thank you for your feedback - we are sorry that your unit didn't last longer - please know that we are constantly improving our products and we offer an electric condensate evaporator as an option if you're interested, but most customers don't need this upgrade, provided their cellar is airtight and excess condensation isn't an issue.
Installed
Difficult to install needed 3 people . Other than that works beautifully. The best cooling unit on the market.
Great Customer Service
Working with the Cellar Pro team was easy and quick! Cooling unit was shipped on time and arrived on time; however, it was obvious the FedEx driver couldn't read! The box clearly stated it needed to be upright and when he took it off the truck it was upside down…let it set for about three plus days in the correct, upright position. Install was quick and easy! Thank you Cellar Pro Team!
Pat Dennison
Chula Vista, CA
1/18/2022
Replacement unit
Last unit ran for almost ten years before failing. Getting it repaired was not a reasonable option, so have simply replaced with a new unit. New unit arrives, no problem, except installation clips are not included, and the prior unit is gone. Ordering new clips on the site would be over $20! CellerPro?
Just got the new unit
Whisper quiet and plenty of cool air. Works like a charm. Fits my unit perfectly. Wish the power plug was on the inside. Had to drill 2 holes to get it to the power.
Sheldon Friedland
Brooklyn, NY
12/28/2021
Good Replacement
My 15 year old Le Cache cooler died so I put in the Cellarpro replacement- works great. It weighs 50 lbs so you need to be strong to replace it. The light plug is on the left side so I had to turn my light around due to short cord. Order the magnetic filter for the coils! If I had had this, the Breezair probably would still be working.
David
San Antonio
12/7/2021
Perfect
We were given a Breezeair model from 2008 after a friend moved away. The refrigeration system broke recently. It is a hot air exhaust out the top. I want to thank Chris Meutsch, the representative, for his patience and assistance in helping us find the right replacement model. The replacement was not "exactly" the same - but it fit well enough and I only heard hubby curse at it a few times. It is working great now.
Shereen
New Jersey
12/7/2021
Replacement system
We had to replace our Cellar Pro in our wine cabinet after 10 years. We live in Arizona, so we really need the unit! The guys at Cellar Pro were so helpful. The new unit fit like a glove in our cabinet. We are very happy & so is our wine!
Very Pleased: Good Assistance and Service.
My first Breeze Air unit lasted 8 years. The second one only 5 years. The Cellar Pro is easy to install, is exactly the same size as the old unit, and fits perfectly into my 12-case cabinet. The sticky rubber "tape" for sealing the back of the machine to the cabinet is a real improvement as well. I very much appreciated the help Bryan gave me over the phone to try to (initially) address the dripping water problem with my Breeze Air unit and check for door leaks. Ultimately, it made more sense to buy the Cellar Pro unit to fix the problem permanently. I can now leave home without worrying about wine cooler problems when I am away.
Dave
Tallahassee, FL 10/26/21
10/26/2021
Extremely Pleased
We finally replaced our 20 year old BreezeAir Unit in our LeCache cabinet. WOW what a difference. We should have done this sooner. The unit is amazing and works great!!! It was so easy to install and fits perfect. Everyone at Cellar Pro was great to work with. They have a customer for life!!!
Greg
Austin Texas
10/12/2021
Pleased
My condenser unit stopped cooling. Replaced it with new unit. Customer service (Marty and the team) were great to work with. Considering parts shortages due to Covid, turnaround time (sending old one/getting new one,)was probably as good as it could be.
Pleased
This was a replacement for a unit that had stopped working. The delivery was projected for November and arrived in August. I am very pleased with entire process from ordering to delivery.
Very Happy
Replaced my BreezeAir unit with 1800Ql unit. Runs great! No condensation like my old unit; has several different options in terms of cooling. Can do an instant cool in case your wine was sitting out for a while. Quiet; a little hard to install but overall a great purchase.
Justin
Lafayette, CA
7/21/2021
Should have done this sooner!
I replaced the old BreezAir unit in my 20 year old LeCache wine cabinet with the CellarPro 1800QTL-ECX Cooling Unit #1151. The instructions were well presented and, with the help of my neighbor, replaced the old unit very easily. The new unit is very quiet and runs much less than the old unit. It was a pleasure working with CellarPro and I appreciate their follow-up to ensure that I was satisfied with my new unit.
Ron
Sherman Oaks, CA
7/13/2021
Quiet, efficient replacement
We replaced an older model that failed suddenly after about a decade of flawless service. Replacement was simple and straightforward. The new unit is astonishingly quiet. We no longer need a baffle to suppress the noise level. The unit is working perfectly thus far. Working with CellarPro was easy from my initial inquiry to the delivery of the unit.
Mark
Philadelphia, PA
6/29/2021
Works Great
Replaced a BreezeAire unit in a VinoTemp wine cabinet with the CellarPro 1800QTL-ECX Cooling Unit #1151. The new unit is quieter and runs less time. Installation was a pull out and push in, went quick and easy. Digital readout is great as I can see at a glance what the temperature in the cabinet is. Very happy with the switch in cooling units.
Ross H
Glendora, CA
6/29/2021
Great replacement unit easy to install
Replaced a WineMate unit in a 20 year old Vinotemp cabinet. The CellarPro 1800QTL fit perfectly in the cabinet but did require the power cord modification (which I missed when I ordered the unit). The replacement instructions were very helpful and made the task easy. I did the replacement by myself which shows it can be done by one person but I would recommend having a second person to help. My cabinet is around 7 feet tall with the unit at the top with limited room for hands due to the wine racking. CellarPro was recommented to me by a friend and I am very pleased with the unit and the staff at CellarPro.
Dennis
Folsom, CA
6/23/2021
Nice Unit
Replaced a BreezeAir in a standalone cabinet with this unit. It required no modifications and installation was a snap. Unit is working great and has many features my old unit did not (i.e., dependable defrost cycle). The reason I chose this unit was it came configured as needed with the power cord out the back and a choice of venting top or back. BreezeAir only offers front cord unless you want to pay over $300 to have one of their sellers supply, which seems awfully high to reroute a power cord. WELL DONE Cellar Pro!
a great replacement
I replaced a Koolr unit that had failed twice over 5 years. It required modifications to the cabinet for the installation but went smoothly and without problems. Paul was great in inputs that I needed to accomplish the task and for a fast delivery due to the risk of overheating about 500 bottles of wine.
Joe
Napa Ca 5/11/2021
5/11/2021
Quiet, efficient
I replaced a 10 year old unit with this one. My configuration was not standard so I had to work a bit with staff to get the correct unit and plug options. The staff was quick to reply and the unit quickly shipped. The new unit is much quieter than the old one, and runs less frequently. Very pleased. The only down side for me is that the units only last 10 years (warranted for 5 years).
Paul
Santa Barbara, California
4/18/2021
Cool Comfort For My Wines
I needed to replace my cooling unit. Celler Pro assisted me and had my new system shipped quickly and safely. It arrived with good instructions for letting it settle and getting it installed. It's running well and is very quiet. Thanks Cellar Pro!
James A Mutz
Fort Worth, Texas
4/6/2021
Very Pleased
Bob G
Miramar Beach, Florida
12/30/2020
ROI is there
Yes the initial price is a bit steep, but it should pay dividends for at least the next 10 years. Unit arrived in great shape. Installation was pretty smooth, and I'm not very mechanically inclined. Excited that my "babies" will be kept at the right temperature now, as my 11 year old Breeze Air was on its last leg and on its best day would get to about 62 degrees.
Happy customer
Bought a replacement cellarpro cooling unit. It came to me in a timely manner was easy to follow directions on installation and works great. Sure beats having to replace the entire wine cabinet.
Two time winner
I bought a used Le Cache wine cellar and the Breezeair unit inside was dead. I knew this when I bought it and I knew I was going to come to Cellar Pro for a replacement. This is my second time doing this with Cellar Pro and I didn't hesitate for a second to buy this unit from them. Got it very quickly and had it installed easily and quickly. Fit like a glove and its unning like a champ in my garage!
Greg Schroeder
Colorado
11/3/2020
Replacing a previously rebuilt 1800 QTL
I have have my LeCache for a little over 10 years. The 1800QTL came with the original wine cabinet. At 4 years, 10 months, the unit started leaking Freon and I sent it back for a warranty repair. At 5 years, the "repaired" unit started leaking Freon, so I ordered a new 1800QTL since it was no longer under warranty, but fits easily into my wine cabinet. After installing the new 1800QTL, I inspected the previously rebuilt unit. You could clearly see where CellarPro had made their previous leak repair and it had failed again in the same location. To me, there looks to be a design flaw in the Freon tubing connection to the condenser coil. The welds should not be failing after 5 years! Anyway, be sure and hold onto your original order and warranty information, you will probably need it!

Reply from CellarPro
Thank you for your feedback. We're sorry that the coils failed on your units. FWIW, we don't ever repair coils - we only replace them with new coils. We certainly will discuss your feedback with our coil manufacturer - the number of coil failures has been very low for us.
Mark Atherton
Kemah, Tx
10/8/2020
Replacing a LeCache/Breezair Cooling Unit
The 1800 QTL replaced a 20+ year old Breezaire cooling unit in my LaCache credenza. It required a cabinet maker to customize the back side to fit it in. Took him 3 hours and cost me $300. It runs beautifully and is less noisy than the Breezaire. I like the digital temperature readout and the temperature controls that were not available on the Breezaire. The cabinet maker was able to fit it in next to the light, but the electric cord on the light is too short to reach the plug on the 1800.
Russ Frank
Claremont CA
9/22/2020
LeCache Loft 1400 Refrigeration Unit Replacement
Had my wine cooler for several years now and it has worked to perfection. I came home from work and heard an alarm, so I troubleshot the problem and concluded that the refrigeration unit was no longer cooling the wine down. I did my research and ordered a replacement Cellar Pro 1800QTL, the new unit arrived in about 4 days. The replacement process was so simple, I did it myself. My wine is now happy chilling at about 58 degrees.
Randy Henley
Yuba City, CA
8/26/2020
LeCache Wine Cabinet Refrigeration Unit Replacement
I just replaced a Breezaire unit on 8/15/2020 with the Cellar Pro 1800QTL. Ordered on the phone. The sales rep. was very helpful. Unit arrive as described. My old Breezaire was still running but freezing up. I review a video on how to replace the unit on the LeCache web site. That was very helpful. My wife and I did the replacement. I was able to remove old unit and replace new unit myself and one person can do by them-self, I am 65, but you may need assistance fishing the cord through the back. One suggestion, have something in your cabinet to set your replacement unit on to have it near the cabinet top where you bolt it. It could be phone books, boards, etc. It only needs to be lifted approx six inches high but will help positioning and reducing fatigue of trying to hold up unit with one hand and bolt with the other. Total time to remove and install approx. one and one half hour. I could have done quicker, But I took my time. After the cooler was replaced, we removed all the wine from cooler and did a total cleaning of the inside and wiped off each wine bottle. Because of the freezing unit, we had water drips, and some bottles had water stains, etc. on them. The unit is runs quietly and performing better than expected at this point. I would purchase again.
Jeff Purser
Cornelius, NC
8/25/2020
CellarPro Cooling Unit
I just purchased your unit with extended warranty to replace the WineMate unit in my cellarette. I fits perfectly and runs great.
Albert
Diamondhead, MS
8/22/2020
Replace Wine Mate, Breezaire
This unit appears to be far superior to the units that it replaced although it enjoys the luxury of 15 to 20 years of technical advancement. My original unit bought with the cellar a Breezaire was loud and only lasted about 5 years. It leaked refrigerant. It was replaced by a Wine Mate which lasted longer but worked intermittently as it always required adjustment of the single screw (uncalibrated) that controlled the temperature. The CellarPro unit runs quieter and is much simpler to control with digital display. The unit came well packed with detailed instructions which made installation very easy. Far superior to my experience with the Wine Mate unit. The CellarPro unit has a recycle delay unit which prevents the unit from stopping and starting, a great feature if you experience frequent power outages like the one we had two days after installation as a hurricane passed through. Excellent engineering forethought. I can't yet comment on longevity but hopefully 10 years from now I will still have glowing things to say.
Replacement cooler
Have owned two cellars for 30+ years and have had good luck with both units. I live in a high humidity/heat locale and the compressors typically last 8-10 years. Replaced the latest unit in one hour. The design allows for easy replacement of the compressor.
John
New Orleans, La.
8/11/2020
Replacement of CellarPro 1800QTL Cooling Unit
We have owned our wine refrigerator for about 9 years. It is a beautiful unit and has always worked perfectly. The compressor stopped cooling and ordered a new one. Arrived in time and a neighbor helped me replace it. The video they supplied was very helpful. The customer support individuals are always very friendly, helpful, professional and re-assuring.
REPLACEMENT. UNIT
I just replaced a Breezaire unit with the Cellar Pro and could not be more pleased! The new Cellar Pro fit perfectly in my 600 bottle wine cabinet——is very quiet,and more efficient. The unit arrived in a few days so that I could quickly replace the Breezair that had failed. The directions for replacement were excellent and I was able to complete all within a few hours——and able to keep hundreds of bottles of great wine from spoiling. I highly recommend this product to anyone in need of a cooling unit!
Replacement unit
My Cellar Pro has performed well for 8 years but I believe the evaporator coil developed a leak and so I decided to order a replacement. The replacement came quickly and I was able to do the work myself although it's much easier with help from another. Shipping was included with the unit but I'm totally disappointed with FedEx. They came late, flipped the unit on its' side, then let it drop out of the van upside down. White glove delivery is needed.
Ken
Meadow Vista, CA
7/14/2020
Cellar Pro replacement System
I recently purchased a Cellar Pro 1800 QTL for my LeCache wine cooler. The unit arrived on time and worked perfectly. The replacement instructions were very clear and the actual replacement took less than 30 minutes to complete. I was able to do the work with the help of a neighbor. Very simple. The unit is working great and I am a happy customer
George Busby
Greenland, New Hampshire
6/9/2020
Easy to Work With
I've had my wine cabinet since I moved to Texas in 1995 - this is the second replacement and Cellar Pro continues to simplify instructions, ease the process and make the whole unit more efficient. I spoke with them in the midst of the shutdown, and they had a unit to me within a week. Installation with the help of a handyman was less than 90 minutes and my wine cooler is humming away.
Shirley
TX 5/26/2020
5/26/2020
Great Service and Responsiveness
My cooling unit warned me it was going out and during the 7 days it took to get me the new unit the old one continued to work at a minimal level. I was amazed that the unit actually warned me it was going out! The service via phone in ordering a replacement was wonderful - took the time to walk me through options and got me the unit in the midst of the coronavirus within 7 days. Installation was less than 90 minutes and even my handyman was thrilled!
Great customer service
One of my two cooling units died. Ordered a replacement and FedEx tried to deliver it after it had been in a truck on its side for a whole day. Refused shipment and FedEx shipped it back. New unit shipped out promptly and after installation works great, much quieter than the OEM unit. Great company to work with and I will use you again when necessary
Love my CellarPro
The customer service was exceptional. It was so nice talking w a real person prior to selecting a unit to replace the old Breezeaire in my wine cabinet. The order updates let me know what was happening and when to expect delivery. The new unit runs so quietly and is perfect for me cabinet. Yep it is super heavy but I managed the install by myself. Much easier w 2 people but I was determined. Had to take the front grill off to clear the opening then replaced the grill from the front side. Thanks CellarPro staff for your guidance and assistance.
Great Customer Support & Easy Installation
Customer Support was very efficient and polite helping me quickly order the appropriate replacement compressor and having it delivered between the target dates they had to work with. It's a heavy unit so you need two men to replace it but once in cooled very quickly. The compressor runs for years so the ROI is good.
Sue D.
Orange County California
12/10/2019
Easy installation
Only reason for mediocre review is my old unit only lasted a little over 6 years. Old unit operated well for 6 years and crapped out just after 5 year warranty expired. Customer service and support was. Excellent.
Steve Rudin
El Dorado Hills, CA
11/30/2019
Replacement Unit
Once again I'm very pleased with the unit. Much too heavy to inatall myaelf so had a professional team install. Cooled everything down in a remarkably short time.
Arnold DeGroot
Georgetown TX
11/19/2019
GREAT PRODUCT!
Great replacement for my 20+ year old BreezeAir. Quiet, powerful, excellent digital read out & super functionality. Quite heavy ... don't kid yourself; 2 man job to install. Called customer support several times & were extremely helpful! Very good product.
Bill K
Greensboro, NC
11/5/2019
Third Unit
The first unit that came with our wine cabinet lasted from 1994 to 2011, or 17 years. Our second one lasted 8 years almost to the day. We bought our 3rd in early September, 2019 and hope it lasts longer than the second. The unit is a somewhat bulky and difficult for one person to install because of the cabinet structure but with the help of a neighbor it is working just fine. It works great for our 350+ cabinet, just hope it lasts somewhat longer. 4 stars for shorter life.
Great Customer Support
Had a 13 year old 1800QTL die, and ordered a replacement. FedEx delivery was missed at the house, had them hold it in their office When we picked it up, it was laying on it's side, where the box clearly states "this side up" with arrows for direction that were not followed. We suspect it may have been bounced around as well. Bottom line, it wasn't cooling. Called customer support and they had a replacement ready for me in 24 hours. New unit works great, couldn't be happier with the way they handled my issue.
John C
El Dorado Hills
10/1/2019
Easy replacement
Had my 11 year old 1800 QT fail me on a Sunday night. Calle Monday morning inquiring about the problem and by Wednesday had the new unit installed. A little challenging installing the new unit in the wine unit we had due to the weight of the unit. All is good now and the new unit is very quiet. Customer service as excellent.
Jima snd Jane
San Ramon, CA
9/10/2019
Quiet Replacement
Replaced the 12 year old 1800QT that quit working with a new 1800QTL. Surprisingly easy to install. We had to remove the old caulking / butyl which had amazing tenacity; just removing the two screws was not enough. This new unit is very quiet, especially compared to the QT it replaced. Had a small issue with shipping, where the unit was received on its side. Took pictures and called customer support. Uprighted the unit in the box and let it sit for 24 hours, then tested it. No problems. Customer support was prompt, courteous, and helpful. Very happy with this replacement!
Dave Burton
Austin, Texas
9/3/2019
Great customer service and easy install
Could not ask for better customer service- all my questions were answered promptly. Online video helped clarify printed instructions for install. This was a lot easier than expected. It took my wife and I less than 30 minutes to install and we are both seniors. Putting blanket on top shelf for padding made job easier. Once 2 bolts removed the old cooler could be gently lowered from rear saddle bracket and new installed. All in all very satisfied...
Daniel Patrick
NC
7/23/2019
Super Quiet
I bought the unit to replace an older Breezeair that had stopped working. The new unit is amazingly quiet and was super simple to install. Thank you!
Alex Sachs
Sherman Oaks
6/25/2019
Great customer service
This is my first replacement cooler but the second time I interacted with the CellarPro team. Each time they were very professional and helpful. When I ordered the cooler the quickly sent it and it was easy to install. Working great so far but it's only been a week. It will get 5 stars if it lasts for years
Replacement Unit done quickly
I have been running the 1800QTL for 7 years, the compressor just went out. I was able to get another unit prepped and ready the very same day! (CellarPro is nearby to me). Replaced the unit and back up and running, hopefully for another 10 years, or more. The 1800QTL is an efficient chiller, very happy with its performance. I would have given it 5 stars, but my previous unit just fell short of the expected 10 year life.
Michael Waite
Santa Rosa, CA
5/22/2019
Replacement for Breezaire 1060
The unit arrived in 5 days. Removal of the old unit and installation of the new CellarPro took 30 minutes. Two days later, my cellar was down to 57 degrees. The unit is very quite, much quieter than the 13 year old Breezaire it replaced. I was able to reuse the mounting clips from the old unit.
David Wierenga
Cambria, CA
4/24/2019
Replacement for Breezaire 1060
The replacement unit arrived ahead of schedule and in fine condition. It was used to replace a Breezaire 1060 unit that lasted 15 years. I followed the instructions and the replacement went very smoothly, even if the new CellarPro unit seemed a bit heavier than the old unit. The CellarPro 1800QTL seems quieter and more efficient than the old unit (the new one actually shuts off on occasion!). Very pleased so far. My only complaint is that the mounting clips should be included given the price of the unit.
Jon Geld
Cedar Park, TX
2/19/2019
Replacement Unit
My replacement unit was shipped from CA to TN. Arrived in good condition. Great packaging. Old unit popped out just fine. New unit popped in just as easily. Fired it up a day later and after a week we're humming along between 58 and 62! Sante!
Sur Lees
Johnson City, TN
2/7/2019
1800QTL Review
I have a cabinet type wine cooler, and the original cooling unit died. The Cellar Pro replacement seemed more highly recommended. Ordering the unit on-line was easy, and the delivery was very quick. I am not too handy, however I was able to fairly easily replace the old unit myself. It's been running and doing the job well and is very quiet.
David Kissinger
2691 Latham Drive, Sacramento, CA. 95864
2/6/2019
1800QTL
From the phone call to the CSR I worked with thru installation this was a breeze. My recent exchanges with AT&T and DIRECTV have been a nightmare. My interaction with CellarPro was so nice I felt like the world was right again. The unit is super heavy (60#) in terms of one person installation but even at 61 years old I was able to accomplish in no time. Great product, great people as it should be for a cellar protecting great wine!!!
George Skarich
The Woodlands, TX
1/22/2019
Perfect place for Top Quality and excellent Customer Service
The 1800QTL is a huge improvement over the original Breezair unit that it has replaced. Much quieter and quality construction. The Customer Service provided offers alot of positive confidence and support.
Joe Ayala
Sonoma, CA
1/15/2019
Good Company and Product - seems it should last longer
Company is really customer focused and easy to work with, and ensures you get what you need. This unit replaces the same CellarPro 1800QTL which lasted 7 years and worked flawlessly... seems like it should last longer, like a refrigerator. The unit arrived ahead of schedule with all the right parts. Thier on-line video also helped with the replacement. Highly recommend.
Greg E
Richmond, Tx
12/11/2018
Quieter Than Original
This unit replaced a previous CellarPro unit that lasted only 6 years. I see from other comments that's about normal. But a refrigerator that costs that much will last at least twice that long. Anyway, this one installed easily, came with all the right bits and pieces, and is much quieter than the original one. So I'm happy with it.
CellarPro 1800QTL Review
This a replacement for a 5 year old Cellar Pro. We are disappointed that the 1st unit only lasted 5 years and 4 months. We expected a much longer life The new unit is very quite. It is holding the temperature and the humidity where it is set. Customer service was accommodating. The unit arrived ahead of schedule.
Neil M
Austin TX
10/11/2018
replacement wine cellar motor
The unit was a direct replacement of the old motor. It has a lot more features that controls the temp and humidity. I would not hesitate to buy iy again if need be...
Albert Misajon
California (CA)
9/18/2018
mr
The cellar pro 1800 that Ipurchased was easy to install and at the present is working very well Iam very pleased
jack saxton
wilmington,delaware
8/22/2018
Sooo Quiet
This has been a great purchase. Knowledgeable people helped me choose the right unit. The power cord modification was no problem and now I am sitting next to the room with the CellarPro 1800QTL and I can't hear a thing. So far, excellent
Jonathan Rome
San Francisco
8/6/2018
CellarPro 1800QTL Review
I am extremely pleased with the unit as well as with the people I dealt with. I will recommend your company without hesitation. Thanks so much for being there for me and our wine.
Bruce P.
La Jolla, CA
8/3/2018
Mostly reliable
I had my most recent unit for approximately 4 years before it stopped cooling. Fortunately it was still u der warranty, so a refurbished unit was sent. Customer service was easy to work with. I think these are good units, but according to my experience and other reviews, I'm not sure I'd expect them to last 20 years. They seem to have a life span of maybe 4-6 years. However, during those years you'll be very happy.
Cory A
Phoenix, AZ
5/31/2018
Much Better thank Breezaire
The Cellar Pro cooling unit is quiet and efficient. A big improvement over the original unit delivered in my Le Cache cabinet.
Steve J
Laguna Niguel, CA
5/23/2018
Cellarpro 1800QTL
Arrived when expected. Unit easily fits in existing space. AC outlet on this unit allows connection of cabinet interior lighting. Recommend this as a replacement cooling unit.
1800 QTL
It fit, it arrived in a timely manner with good instructions on installation and it works.
J Smith
Greensboro, N.C.
2/20/2018
1800 QTL
In use only 10 days--so the long term is unknown--but: Replacement for Breezaire WKCE 1060. So far, the unit has been distinctly more pleasant company--much quieter, with control panel much more convenient to use. Purchase communication with CellarPro very pleasant; shipping remarkably swift.
Mark R.
Chapel Hill, NC
2/11/2018
Cellar Pro 1800QTL
Everything fit correctly with no problems.
Doug DeRouen
Covington, La 12/19/2017
12/19/2017
1800 QTL
Unit is quiet and efficient, maintains constant temperature. Very pleased with upgrade of prior unit that lasted 9 years but was never as good.
CellarPro 1800QTL Review
I installed my new CellarPro unit and it runs great and way more quiet than the old BreezAire unit. You were correct, the BreezAire probe will not work. I will jump on your website and order up the probe. Thanks for the great support!
Brett
San Jose, CA
11/27/2017
1800 QTL
I'm looking forward to having a cool wine chest after I replace the existing unit with this ultra quiet one. Many Thanks for all of your assistance.
Rob T
Port Carling ON
10/27/2017
Tom M.
I bought this unit to replace a Breezeaire unit that finally gave out. Everything was great on ordering and getting the unit. The only problem I had was the old saddle was just a hair to small for the new unit. I called customer service and they fixed the problem by sending me a new saddle.
Tom M.
Simi valley, Ca.
9/27/2017
Jim C
Replaced a Breezaire unit that worked constantly to maintain temp. This unit cycles on and off to maintain temp and seems to be keeping a more constant temp.Very much like the digital display panel - the unit sometimes runs with fan only - even more evidence that the compressor is not being overtaxed.
DTC
Very good customer support for replacement unit. Instructions good but some warning that the light needs to be reversed would help. Unit shipped with new bracket which is too small for original bolts...so keep your original brackets.
Dwight Coles
Houston Tx
9/7/2017
Mr.
Much better unit that my previous 2 Breezaire units. Delivery was quick and installation and operating instructions were simple. Customer service person was very helpful in selecting the proper unit for my cabinet. Have had the unit installed now 2 weeks but runs quiet and maintains temps between 58 and 61. May want to crank it down to 55 in a week or two but will check instructions and see.
Russ Diefenbach
Longmont, CO
8/8/2017
Quiet Improvement on Our Old Breezaire Unit
We've had a LeCache 1400 cellar since 2007 and replaced the original Breezaire unit twice under warranty, which had expired when it started to act up about a month ago. Decided to handle the install ourselves, which went very well. The hardest part was lifting the new CellarPro unit into the cellar - definitely a two person job. The new unit is much quieter and maintains a temp between 58 and 61, with full load of 130 bottles. Highly recommend IWA for their always helpful customer support.
Dave & Karen Allan
Cloverdale, CA
6/20/2017
Good replacement for Wine Mate 1500
The 1800 QTL has been operating for about a month now. It has been holding the the temperature in my cabinet at a constant 58 degrees as measured in the middle of the cabinet. After initial installation it has settled into an operational cycle of 6 minutes on and 4 minutes off. The ambient temperature of my room is a pretty constant 77 degrees at this time of year. This unit runs much quieter than the WM1500. Very pleased thus far.
Wayne Pearson
Florence, Arizona 6/7/2017
6/7/2017
A very nice replacement for a Breezeaire
I have now had the CellarPro installed for about a week, and am quite pleased with it. It is working quite well, and keeping the cellar at about 59 degrees. The back exhaust is, IMHO, a much better option than the top exhaust of the old Breezeaire. A few comments or things to watch for: 1) depending on the installation, you may need to do some modification of your cellar cabinet to make the CellarPro fit. My cellar has a "notch" cut out of the back, and the old breezeaire sealed against the front panel of the chiller, which was flat. The Cellar Pro has a perforated grill on the front panel which stands out about 3/16 inch or so, and runs part-way across the unit, and so I had to do some work to get a good seal in the front. 2) The clips (if you need to use them) likewise make the job of sealing the unit a bit of a challenge. Both of these issues are specific to the type of installation I have - i.e. the chiller sealed along the top front edge of the unit and along the sides of the unit. Installations where the unit was contained within the cellar enclosure would not have these issues. Take a look at as many of the installation drawings as possible, and you will be able to figure out how this can work for you. Also, these are minor issues to deal with in exchange for much greater reliability.
John McPhee
The Villages, Floridda
5/9/2017
Replacement for BreezeAir
I finally decided to replace the BreezeAir unit in my LeCache cellar. The salesperson was knowledgeable and led me through the steps to replace with the CellarPro 1800QTL. I would recommend two people to handle the installation. The only modification was to file away a small amount in the rear opening for a perfect fit. The new unit has worked well, now into the third week. It is quiet, and after the first week it has maintained my desired temperature--as advertised.
Replacement for Breezair unit really is plug 'n play
Bryan Adams' sales expertise and helpfulness made this replacement a real 'breeze'. As advertised the new Cellarpro unit fitted exactly where the old one was and installation was no problem for a friend with strong arms (the unit is heavier than the Breezair!!). Only one issue. - the plug for the fluorescent light has a very short wire and the plug-in for the Breezair is on the opposite side of the unit from the Cellarpro so the wire will not reach the plug-in. I had to mount the light backwards with the switch inside instead of showing on the front of the light fixture.
Bryan A
Cayman Islands
4/22/2017
Another Great Le Cache Experience
My BreezeAir cooling unit was faltering for thes second time in nine years so I decided to purchase another unit. I contacted Le Cache directly for a recommendation, I could have not been more pleased with my interactions with Le/IWA/CellarPro staff. They recommendated a CellarPro cooling unit which works splendidly (for the last two weeks) so far. I highly recommend working with CellarPro/IWA staff.
P.M. Caballero
Louisiana
4/14/2017
Very pleased so far!
After some online research, we decided to replace our second BreezeAir unit with a CellarPro 1800 QTL unit. A phone call resulted in a very well informed salesperson, who walked me through the ordering process. The replacement unit was promptly shipped and received. Installation was a snap. The new unit cools quickly, and is relatively quiet. So far, we are very pleased.
Charlie P.
Nashville, TN
4/14/2017
1800 QTL
This unit was used to replace my Breezair. It cools considerably faster and the noise level is lower.
H. Blot
Newe Bern, NC
4/11/2017
1800QTL #3
Had to replace my original unit purchased in 2011 with a a refurbished unit in 2013 while the original was under warranty. The refurbished unit stopped working not too long after the original 5 year warranty expired (late 2016). Customer Service personnel gave me a 25% discount (instead of the 10%) which I appreciated very much. I was simply expecting the unit(s) to last much longer. Hopefully third time will do it for me. Support personnel are great over the telephone as my installer had a few questions after reading the installation instructions. No shipment problems. The new unit works fine. So far, so good.
Mike Burns
Hilton Head Island, SC 2/21/17
2/21/2017
Much better than Breezair
I have a breezair with my stand alone wine unit, it went bad two times in three years, finally I decided to buy the cellerpro. it is a much better unit than breezair.
A significant upgrade from the original cooling unit
We have a 200 bottle LeCache wine credenza that originally had a BreezAire cooling unit in it. The combination is nearly 15 years old. Even though the coolers are only supposed to last 6-8 years, we got over 14 out of ours. I chose the CellarPro after doing a lot of research, and finding the right fit. Nothing was exact, by the way. The CellarPro is larger, and it was pretty scary - even with as much custom woodworking that I do, to cut into a $5000 credenza. I had to make cuts on the back to adjust for the added width and height. Because of the added height, we lost space for 8 bottles of wine. But the unit's performance more than makes up for that. The ability to see the temp, make adjustments, and it's quiet running are all great improvements over the old BreezAire. The clips did not align with the old bolt holes, but this was really a non-issue, since you can use self-tapping wood screws to mount it to the inside top of the cabinet. It is also lighter than the old unit.
Derek Visocky
Denver, CO
1/5/2017
1800QTL
Great unit. Had a little trouble installing and had to order the retrofit kit. Wish installation information on website was better.
Ricardo D
Lo Jolla, CA
11/11/2016
Breezaire Replacemt
Purchased to replace an old Breezaire unit in a 15 year old wine cabinet. Installation was easy.
Mark H
Mount Laurel NJ
11/4/2016
Replacement 1800QTL
After 7 years my original unit finally failed. After going thru troubleshooting guidelines I ordered new unit. It arrived within 7 days of ordering. Replacement instructions were very easy to follow, and unit is running as expected.
Rich
West Nyack, N.Y.
10/19/2016
CellarPro Cooling System
1 system is perfect Waiting for 2nd system.
Gary K
Forked River, NJ
9/21/2016
CellarPro 1800QTL
Pulled the old Breezaire out of my Wine Cellar Impressions cabinet, slide the new CellarPro in and now my wine is happy again. Unless you are 6+ feet tall and in good shape, get some help doing this.
Christopher
Atlantis, FL
9/20/2016
Cellar Pro 1800 QTL
The unit was well pack and arrived quickly. It works very well in my insulated garage where my wine cabinet resides, and keeps a steady temperature while running quietly.
replacement of cellar pro
wow great service 2 months left on warranty called and they were so helpful. they shipped replacement same day that they got my e mail. replacement arrived across US in 5 days to me and they enclosed return shipping to them. They make it so easy Thanks
Michael R
New City, NY
8/5/2016
Mr
I like to keep my wine at 55 degrees (I drink mostly red wine and I like to drink it at that temperature). I have a 180 bottle cabinet and so far I am extremely pleased as the unit seems to work exactly as described.
Tom Z
Sacramento, CA
7/12/2016
cellarpro 1800 qtl
Excellent customer service and lead time
Vigilant Woodworks
Dover, NH
9/23/2015
Breezaire 1060 replacement
I have a 2001 LaCache 400 that had a Breezaire 1060. It worked well until the unit started to freeze up a month ago. I called and talked with Joanne. She was wonderful in answering all my questions. When the unit arrived, it was 45 minutes from check out the new unit to pulling the Breezaire and installing the QTL. I did have a problem with the old clips. There was no way to grab a striped bolt. So I cut the old one and slid the clip a few inches. Also, save as much of the old sealant as you may need it. The unit is working very well so far.
Frank
St Petersburg Florida
7/21/2015
Owner
Service was excellent. Unit performing as per specs so far.
Walter Collins
Sebastopol, Ca
6/2/2015
Excellent, but not as quiet as my Breezaire 1060 was
This is my second CellarPro unit. My first was an 1800XTS for a different cabinet and the review of that was done on 7/30/14. There were a few minor problems fitting into my cabinet which I detailed in that review. The same things occurred this time but there was no surprise this time since the cabinet configuration is the same. Oh, and the Breezaire it replaced was just over 3 years old. Now for the disappointing part. My Breezaire 1060 was substantially quieter than this unit (unlike the 1800XTS which was substantially quieter than the Breezaire 2200 it replaced). The specs claim a noise level of 40.5 db. I have a dishwasher that claims 41 db and I can't hear it in the next room and barely even hear it in the kitchen. This unit can be heard clearly in the next room. However, other than the noise level, I'm not disappointed.
Even I installed the 1800 QTL in no time flat!
Really easy to install the replacement for a Breezaire 1060. It almost fit perfectly. With just a file to make the opening slightly larger, I had it in very quickly. The noise level is much quieter than the 1060! It cooled the cellar down is only a couple of hours. Well worth the money!
Easy replacement for old Wine-Mate 2500
I bought a 10 yr old used cellar with a Wine-Mate 2500 in it, the 1800 QTL fit perfectly and was very easy to install. Came with plenty of sealant (just make sure you roll it!). Unit works great and is very quiet.
Andrew
Charlotte, NC
9/4/2014
Direct Replacement for Breezaire 1060
When my Breezaire 1060 died just after the warranty expired, I chose the CellarPro, avoiding any more Breezaire products. No problems installing this unit. Works well so far.
Allan
Danville, CA
9/4/2014
Broken Breezaire
My BA was toast w/out any hope of replacement. I did some on-line searching and found the CellarPro, called them up, and had it installed in a matter of days. Excellent service and product. The 'drop-in' replacement was slightly different. The existing clips I had required me to remove the front bezel of the QTL. That worked great. However, after the installation the bezel wouldn't quite line up with the fastening holes. The clips caused the bezel to be offset slightly. I managed to make it work but it would have been better to have the top of the bezel be 1/16" shorter than the unit. I wasn't quite sure exactly where the butyl caulking was to be placed for sealing - the intake, exhaust, or both. There wasn't enough to seal them separately but that was more than likely a user error on my part. A photo would have helped with that.
Breezaire 1060 Replacement
Terrific customer service. Arrived in a timely manner, easy instructions to replace my old Breezaire 1060, very easy to install, fit perfectly and has been working great since I "plugged it in." Definitely recommend it over the Breezaire.
David S.
Yardley, PA
9/4/2014
Thanks!
I just wanted to say thanks for making the replacement of my old dead Breezaire 1060 so simple and easy! I followed all the directions in your Operator Manual and things went smoothly and easily. I had the Breezaire replaced with my new CellarPro in an hour, and this included removing the center post. You guys do a great job and I will most definitely recommend you to any of my friends who need to replace the Breezaire in their wine cabinet. Thanks again so much!
Good product and good service.
I purchased the 1800QTL to replace my Winemate1500. The unit has the same dimensions as the Winemate1500, so the installation was simple. I did not have to make any modifications to the wine cabinet. It ran quieter, seems to work better, and higher quality. It well worth the price different. The sale rep. was quite helpful and knowledgeable. This is much better than just placing an order online. Good job guys and thanks!
Tom
San Jose CA 12/20/2015
9/4/2014
Great company & great product!
My 1800QTL performed flawlessly before failing 4 1/2 years into the 5 year warranty period. It was quick and painless to receive a replacement unit. Much better performance and reliability than my old Breezaire. You cannot go wrong with CellarPro!
Great company & great product!
My 1800QTL performed flawlessly before failing 4 1/2 years into the 5 year warranty period. It was quick and painless to receive a replacement unit. Much better performance and reliability than my old Breezaire. You cannot go wrong with CellarPro!
Replacement of Breezaire 1060 in LeCache LC450
I suppose I hold the record of Breezeaire longevity as mine lasted 17 years and survived two moves across the country. I researched both products, well, as good as I could research. Internet is not filled with chat rooms or blogs about wine cooling. The old unit came out easily and the new one went in just as easy. Super quiet compared to the older unit and the compressor is not running full bore like the last one did - it actually cycles on/off like it should. It is holding temp well after a little over a week and I have no issues. I like the power outlet on the side that permitted me to upgrade the lighting inside to an LED strip. So far so good, I would recommend this product for a replacement of Breezaire models. It would be best if we all could provide another review in 3-5 years and report performance. I won't give 5 stars, as I always believe there is room for improvement. Perhaps to increase longevity one could alter the construction of the components inside to prevent corrosion in either model, as I hear the lifespan on these units is about 10 years, give or take. I would think a simple compressor unit for the price paid here would be able to double that life span and easily get 20 years. Perhaps extending the warranty to stand by the product (10-15 years in lieu of 5). There's always room to improve or over-engineer a product like this to make it a "once & done" purchase for a wine storage unit.
Mark P.
Marietta, GA 14JUN16
9/4/2014
Old Breezaire was flawed
We HAD to replace our old Breezaire since it quit working. Come to vvind out, LaCashe knew it was a bad, inferior product. We did buy a replacement Celler Pro and it works find now. The only beef that I have is I asked for a discount - 5 or 10% to at least help with this new purchase. No, sorry we don't discount. That is BS. I know that they do discount if you are to purchase through a wine store. I found this out later. If you know something is bad, then at least try and compensate your customer a little bit. I am giving you a 2 star for this reason.
Bobbie D.
Safety Harbor FL
9/4/2014
Replaced Breezeaire unit
Relaced a Breezaire unit which had failed after 3 years of use. Installation straight forward and very easy. New unit much quieter. Works great.
Ronald Lehrer
Denton, Texas
5/27/2014
Replaced Grand Cru 800 cooler in Wine Enthusiast BYO Double Wine Cellar
The Grand Cru 800 cooling unit died in the Wine Enthusiast -BYO cabinet about 4 months after the warranty ran out. Bryan, at IWA, recommended the 1800QT. The unit arrived with no problems, and following all the instructions, I was able to modify the hole in my Cellar to accept the slightly larger 1800QT, and got it installed without any issues. (I just needed a drill, a jigsaw, and a screw driver). The 1800QT runs about 75% less than the Grand Cru 800 did, and it's much quieter when it is running. I am very happy with the purchase, and I am very pleased with the service I received from IWA. Bryan was in constant contact, with updates about shipping, and checking to make sure the unit was received in good condition.
Tim Kennedy
Clifton, VA
4/19/2014
Replaced Breezaire unit
Read through reviews and comments and chose CellarPro to replace the Breezaire cooling unit in my Le Cache wine cooler. Shipped promptly and installed in about 45 minutes--perfect fit. Extra hands might have simplified, but not difficult to do by myself.
W Edwards
Norwich, VT
3/25/2014
Replaced a Winemate 2500
Wow! What a difference!! This unit is super quiet and efficient. Extremely happy with my purchase. If you need a new unit this is it!!
Joe R.
California
2/11/2014
Vintage Cellar Replacement Cooling Unit
After fighting cheap systems for too long, I invested in this cooling unit. Since it's a little larger than the original systems some cabinet modifications were necessary, but nothing major. It's been in service for about a week and working well.. It's a little noisier than I expected, but other than that it works as advertised. My wine is now back down to the proper temperature and all is well. As others have noted, the remote bottle temperature probe is a must to keep the unit from cycling too frequently.
J. Bordelon
Baton Rouge, LA
12/4/2013
So far, so good
So far, so good. This is working just as advertised. I had to replace my 6 year Breezaire in my LeCache Euro 3800 Z (back vented, purchased in Oct. 2007). I called LeCache and they recommended replacing with the Cellarpro 1800 QTL. It was delivered quickly, installed easily (about 45 minutes), and so far it's working great - hovering steadily between 58 and 62F (using a bottle probe). I like the placement of the digital readout and the controls. Just about a month in, but this is looking so far like a good purchase.
B. Ross
Encino, California
10/7/2013
La Cache 2400 Cooling Unit Replacement
Breezaire was on its last leg and wasn't able to keep the temperature below 60 so after comparing it to Cellarpro I went with the 1800QTL. Order was delivered quickly and promptly. Used the mounting clips from old Breezaire so if you are ordering a replacement you don't need to order the clips. Fit was absolutely perfect. Installation was simple and yes it does help to have a second person's help as you are in an awkward position lifting and supporting 60lbs. Also it was nice to find butyl tape in the shipment to complete the install. This unit is quieter than Breezaire.
A. Wakida
Rancho Palos Verdes, CA
8/7/2013
Cellarpro 1800
installation and setup was quite easy even though it required enlarging the rear opening. It operates quietly and effectively as well. Good product!!
Gene Davidson
Atlanta, GA
8/7/2013
Cellarpro Cooling Unit Replacement
Although it was expensive to have our replacement unit shipped to our new home in Hawaii, we were very glad we made the purchase and had it sent. It arrived in just a couple of days as quoted, and it was fairly easy to install. It is so nice to have wine at that perfect tempeture again! Thank you for the assistance and excellent customer service.
Pat and Wendie Rooney
Waimea, Hawaii
6/10/2013
Breezaire Replacement
I needed to replace my Breezaire unit that finally went out. Great experience with Cellarpro from start to finish. Bronson was super helpful when I called and the order was processed and shipped quickly (good thing because we were in the middle of a hot spell). The unit looks and works great, extremely quiet compared to my old Breezaire. I only went 4 stars because I have to due some minor carving/sanding on my wine cabinet to get the unit in (the two screw heads and the external outlet plug on the sides of the new unit were just a bit too wide for me to slide it neatly in to the rear of my cabinet). I highly recommend this unit and Cellarpro for anyone looking to replace their old Breezaire cooling system.
Ray Backman
Livermore, CA
10/20/2012
Works Great! Fantastic Service!
I had a Breezaire unit in a cabinet system that I had to have repaired twice. Third time it went bad (leaks in the tubes) I decided to replace it. When I got my new CellarPro in and did the recommended check on it, I discovered that it had apparently been damaged in shipment and one of the fans was not spinning. The service person I dealt with, Mike, was fantastic. He was very courteous and accommodating. After we decided the damage was something I couldn't repair, he was quick to email a shipping tag for me to send back the damaged one and my new unit showed up in short order. The installation was fairly easy, although having two people to do it is a good idea. The unit works great and the service was fantastic.
T. Dean McInturff
San Angelo, TX
10/7/2012
Great replacement unit
I purchased this unit to replace a malfunctioning cold wall system in a Vinotheque cabinet. I didn't want to pay the $1400+ to repair that unit, so I removed it and cut the back of the cabinet to fit the 1800QTL. Not only did it go smoothly, but I much prefer the Cellarpro system as I don't have to call a refrigeration tech to constantly repair it. I was extremely careful when cutting the cabinet (which was only required in my case because I was doing an atypical installation) and I was able to complete everything by myself with no help. Bronson, Cellarpro, and IWA are all great and I'm extremely happy with my purchase.
Larry 8/7/2012
Great product. Well made easy to swap out from a Breezeaire. Very quiet unit. Customer service very helpful and informative.
Larry
Massachusetts
8/7/2012
Cooling unit
So far, so good. I am still surprised at the high price, which I don't want to think about. So it better keep on running! Power supply configuration and exhaust grill configuration were not clear from the sales conversation and required some adaption at installation.
David Huisjen
Tucson, AZ
8/7/2012
Love the new unit
Easy to install, but it did take two people because of weight and slightly awkward. Instructions were perfect. So far working like a charm. My breezeair worked for 13 years, I'm hoping this lasts longer. On line assistance (Bronson) was great. Do not think I needed the new clips (only wasted $10)- also could have used more of the sealing tape.
George
La Jolla California
8/7/2012
Great Unit
Finally got a chance to drop you a quick note. Got my cooling unit installed within a few days of it's arrival. Perfect "swap out" with the Breezeaire - only took a short time to install. Like the filter holder design - easy to remove and replace. Also like the side outlet for the cabinet light - much better than the hard-wired arrangement on the old unit. Kudos to IWA for developing a great unit - look forward to many years of service. It's great to have my wine at a "comfortable" 55 again! Thanks again for your help and prompt service!
Breezaire Replacement
I ordered my new unit after my Breezaire went out (after 5 years and 3 months). It arrived promptly and installed just as La Cache said it would. Works perfectly now. Thanks
Replaced Koolspace unit
We replaced a Koolspace unit that was a replacemant for a previously failed Koolspace unit. I was not interested in replacing it again in 3-4 years so we decided to try this unit. It required some cutting as it is larger but that was the only inconvenience. If you get this unit be sure to get the mounting brackets. This saved time and aggravation and is worth the price. An inadequate amount of butyl tape for sealing was included. If directions are followed on cutting the hole size, 1/4" more than dimensions, the 1/4" gap on top requires a doubling of the already deficient amount of tape. (40" is included for a device with dimesions of 18x10.5) The documentation is not the greatest. The unit is quiet.
Gary Steele
Wisconsin
7/7/2012
Keeping My Wines Cool this Summer
Installed an 1800QTL in my 75 square foot wine closet this week. It seemed the perfect unit for my needs. It was heavy - about 60 pounds - for a 71 year old to heft overhead but I used a shelf rather than clips and it slid in easily. The shelf tilts back per the installation instructions. Ah, the instruction! They seem to be in random order. It took me forever to realize that the unit does not start when plugged in. There is an On/Off button. Is the max run time for the initial checkout 5 or 10 minutes? Depends on whether you go by the label pasted on the unit or the instruction booklet. I needed more than 40" of butyl tape to seal the unit -- would it have killed CellarPro to send 2 packages? And why after the test run must one wait 24 hours to turn the unit on for good? Also my unit was manufactured 6/12. I hope these units are not like orange juice with a useby date. All in all it looks nice and is easily cooling my closet - I'm in the Pacific Northwest where summer starts July 4th or later. I intent to lower the preset of 58 degrees to 55 degrees but the instruction say wait 2 weeks. So far, so good!
Replacement for Le Cache Wine Cellar 500 (10500)
Like others, my old Breezaire (top vented) went out and I replaced it with the 1800 QTL. Delivery was very prompt. Unlike other reviews however, the unit fit perfectly with no modifications to the back wall. Directions on this web site and with the unit were very good. I did the job myself, but can see where another pair of capable hands would have been helpful. Tips: start in the back, remove the grill and light connections (install a plug to the light as mentioned in another review); loosen the ceiling bolts/mounting clips ~3/4" but no need to remove - the old unit can be shifted side-to-side and lowered; as mentioned elsewhere, remove the front grill of the 1800QTL as this makes connecting the hanging clips very easy. Also, check all of the gaskets and seals - I had to replace some of the metal contact surfaces as they were warped and created gaps. This may have contributed to the demise of the old Breezaire, but may also have resulted from the cellar being "warm" for a week. CellerPro quietly reduced the temperature to 58DegF in less than a day despite the almost full cellar. Currently the fan doesn't turn off following the cooling cycle, but everything else works great.
Steve P.
Phoenix, AZ
6/10/2012
CellarPro 1800QTL
I replaced my Breezaire 1060 unit after 15 years. The customer service rep was extremely helpful with the specifications and features of the CellarPro 1800QTL. After two weeks I'm very happy with the unit, which was easy to install, but needed a second person to put it place. The instructions were very helpful and like the LED temperature readout, which I didn't have on my Breezaire.
Works Great
I replaced my cooling unit after about 8 years. The new CellarPro works great. Easy to install.
CellarPro 1800 QTL
Used this to replace my 25 year old Breezeaire. Customer rep was very helpful in finding the correct unit for my wine closet. It fit perfectly and the instructions were well done, and its working great!
CellarPro 1800QTL
Like previous reviewers, I had two failed Breezaires and didn't really want to go that route again. Researched the 1800QTL and it looked like a better choice. I needed someone to install it for me, and he and his helper got it in with no problem. So far it's working perfectly and is very quiet (it's in our family room). There's just a subtle hum when it's running.
Cellarpro QTL 1800
This replaced on a 17 year old Breeze Air that had been worked on a couple of times. The old unit at the end ran continuously, kept the wine at about 63 degrees, and was very noisy. The Cellar Pro runs so quietly I need to check to confirm it is running. I removed the old unit by myself with the help of some of the packing styrofoam but needed a helper to install the new unit. It went in easily and using the old clips was a breeze. It fit perfectly in the exisiting opening. The light for our storage unit was wired into the old cooling unit so I needed to spend the princely some of $2 to purchase a new plug. The trip to Home Depot was the most time consuming piece of the installation process. It has been in one week now with no problems. The digital thermometer and control is much better than using a bottle thermometer and screwdriver to set the proper temperature. This unit has the benefit of improved technology but it is much better than the old Breezeaire
CellarPro 1800 QTL
Like many other previous reviewers, I replaced a Breezaire WKCE 1060 for my credenza cellar unit. The Breezaire unit was only 7 years old and had been running noisily at 65-67 degrees for the last 10 months (I emptied out the cellar during most of this period). I was advised not worth repairing the Breezaire. For $200 more, I was recommended by an independent dealer to replace it with a CellarPro instead. The CellarPro was installed by a serviceman. He had to enlarged the rear window by 3/8 of an inch. He also had to install an electrical plug to plug-in the light inside the cellar. I have the CellarPro unit for more than 3 weeks now. So far, I am quite happy with the CellarPro unit. It runs very quiet and maintains a constant set temperature. I also suggested the same CellarPro recently to a friend for replacing a Vinotemp cooling system.
CellarPro 1800QTL
After two failed Breezaire units under warranty, I upgraded to the CellarPro. Installation in my LeCache cellar was direct and easy. the new unit is quiter and is working as advertised so far. I like the additional operating features and display information.
CellarPro QTL
I, too, replaced a worn out Breezaire. Installation was easy but it is a 2 man job, though the 2nd person is only needed for guiding and minimal lifting - the lead needs to be able to manipulate 60#. Here are some tips for replacing in a cabinet. If the old unit has clips, re-use them if at all possible - the screw holes are already drilled. The clips from my Breezeaire fitted better than the C'Pro clips. In fact my only criticism of the unit is that one of the new clips was really difficult to install even on the bench. In the event I didn't use it. I used a length of expanded polystyrene pipe insulation as a support for the front of the old unit as I undid the screws. As the weight went on to foam it gradually compressed and lowered the old unit. We got the new unit on to the carpet we were using to protect the top of the racks and then pushed the foam in to lift the front of the unit. One went to the back and guided the strongman manoevering into back opening. We set it flush with the back. As mentioned elsewhere REMOVE the front grille and fit the clips from the OLD unit before putting the unit in the cabinet. You can then slide the clips to line up with the old holes. This worked like a charm for us. We then replaced the front grille. The whole job took less than an hour. Now lets see how it works. Good Luck
CellarPro 1800
Delivery was very fast, just a couple of days. Installation in my cabinet may have been possible with one person, but it was extremely helpful to have 2 as the 1800 is somewhat heavy and bulky. I removed the old Breezaire 1060 from my cabinet without difficulty (good ridance). I found it necessary to cut ~1/8 of an inch off one edge of the cabinet opening in order to fit the new Cellarpro unit into place. (NOTE: if you install the cooling unit from the front, it will fit perfectly.) The caulking material provided was easy to apply around most of the unit. On the front edge I did need some additional weather stripping that I picked up at the hardware store. With installation complete I turned it on. Works like a DREAM. So efficient. It cycles on about 60-70% of the time to keep my wine a comfortable 57. ( We only air condition the house down to 78.) Drastic improvement over the junky Breezaire unit. I should have replaced it years ago.
Allen F
Walnut Creek, CA
7/7/2011
CellarPro 1800
I replaced a worn-out Breezeaire 1060 with this unit. Installation was easy...it is a good idea to get someone to help with lifting the unit into place, since it is heavy and you don't want to damage the cooling fins on the back. It works great, is quiet, and doesn't have to work hard at all to maintain proper temperature.
Pretty Cool
Installed my Cellar Pro 1800 this morning by myself and I must say it was pretty damn easy. Nice suprise. I was a little disappointed to see it show up on the delivery truck on it's side, especially since all of the litature says not to do that. You might want to think about adding to your directions to remove the front grill when installing. It makes it very easy to install the clips that way. Now let's see if it lasts.
CellerPro 1800
I purchased the CellerPro 1800 to replace the unreliable Breezaire 1600 in my Le Cache 2400 cabinet. The CellerPro is performing well; however replaceing the Breezaire was difficult. The CellerPro is ever so slightly larger than the Breeziare and would not fit into the back mounting bracket. I had to pry the bracket wider to accept the CellerPro. Other than the installation problem, the unit is working well.
Gene
Durham, North Carolina
4/7/2011
CellarPro 1800
We have been quite pleased with our new CellarPro cooling unit. It arrived promptly, was easy to install, and is keeping our wine at the selected temperature.
Dianne
Chicago, IL
3/22/2011
Perfect
The delivery was prompt. I replaced a breezaire 1060 and it could not have been easier. It has nice controls, but the best part is set it and it works great.
Pat
Massachusetts
11/7/2010
POOR
The unit did not work when it arrived. The power cord was improperly installed. They sent me a new cord and refused to reimburse for the cost of my electrician disassembling and re-assembling. Telephone manner was terrible. They seemed to imply that I must be crazy to think that they're product was not getting any power.
Replaced and Pleased
We also replaced an old Breezaire unit with we had continual problems with. This unit is nice, sleek, and very quiet. The instructions were clear but we thought the kit that came with did not have enough sealing putty nor clear instructions as to how to use it.
Diane Arendt
Portland, OR
10/30/2008
1800 QTL w/Half of What Was Required
This is my very first wine cellar cooling unit. The instructions made sense and the installation was as easy as could be expected. The unit is quiet and seems to work very well. The room is only about 45 cubic feet and the unit is rated for 80 cubic feet so it's good it cools quickly and efficiently. NOW the PROBLEMS! To my knowledge just about EVERY application for this needs a drain!! Why this wouldn't come preinstalled is a complete JOKE! It seems they want to price the unit as low as possible and then sell you all the "optional" accessories that are actually a necessity at a much higher price than they are worth! Thankfully I am smart enough to install my own drain and not be taken advantage of by their $75 factory or $100 after delivery kit. Price the unit complete with all that is needed!
Daniel Coffey
San Antonio
1/28/2008
1800 QTL replacement for Breezaire
Very pleased with the performance so far, and it is no louder than the Breezaire it replaced. Straight forward controls, and and easy exchange of old to new unit without any modifications. I just hope that I get more than 3 years out of this brand than the last two Breezaires.
Gary P. Mineo
Murrieta, CA
8/6/2007
1800QTL
fit perfectly where the Breezaire unit was. Very quiet. Installation instructions clear and straightforward.
Steve
Madison, AL
12/12/2006