CellarPro 1800QT-ECX Cooling Unit #1084




1380 SENSIBLE BTUH @ 55F.
CellarPro's 1800QT-ECX wine cooling units (1/6 Ton Nominal) were engineered to provide outstanding performance and adjustable humidity control for very small wine cellars and larger wine cabinets.

Performance testing shows that this compact unit maintains optimal cellar temperature and humidity conditions more effectively than similar units from competing brands. 1800QT-ECX units use energy-efficient EC fans and are significantly quieter than comparable units from other brands. Visit our Learning Center for data tables, performance charts and product comparisons among different brands.

CellarPro 1800QT-ECX units are sized to replace Breezaire 1060 and Wine-Mate 1500 cooling units. Please confirm equivalent dimensions and airflow prior to purchase.

Our cooling units are designed to be used in properly-constructed wine cellars that are adequately insulated, airtight and sealed with a vapor barrier. In improperly-constructed cellars, the cooling unit will create excess condensation, leading to damage and premature failure of your cooling unit (not covered by warranty).

(115)
Read / Add Reviews
Price: $1,695.00
Shipping Information:
FedEx / USPS / Saver
Availability: On Backorder


Usually Ships w/i 1-2 Weeks
Back in stock: 3/31/2023
Free Shipping! Receive free curbside delivery in the lower 48 states for a limited time. Simply add to your cart and checkout.
CellarPro 1800QT-ECX Cooling Unit (P/N 1084).
NOW WITH ENERGY-EFFICIENT EC FANS!
CellarPro engineered the 1800QT-ECX cooling unit to provide
powerful cooling capacity
with
moderate noise levels
to be used in large wine cabinets that are located near common living areas. 1800QT-ECX units are louder than CellarPro 1800QTL-ECX units, but also 30% more powerful.
All air-cooled refrigeration equipment requires fresh air intake to dissipate the heat generated by the cooling unit. The fresh air intake CANNOT come from the wine cellar space - it must come from space outside the cellar. Designed for indoor use only, 1800QT-ECX units can operate in environments ranging from 95F to 40F out of the box. To operate the unit in colder temperatures, please see modifications listed on the
Options & Upgrades
tab.
Now with energy-efficient EC Fans on both the cold and hot sides, save $15.77 in annual energy costs vs AC fans (assumes 75% runtime and $0.15/kWh)
This unit offers a choice of top or rear hot exhaust. If the unit's location does not provide sufficient room for airflow, you may need to purchase a rear duct kit.
Adjustable humidity control combines a high-output compressor with flexible fan cycles to maintain a recommended level of moisture inside your cellar.
Extra-large coils generate maximum cooling power.
Commercial-grade Electrofin coating protects the evaporator coils from leaks and corrosion.
Intuitive LED display panel mounted on the evaporator with digital programmable thermostat is simple and easy to use. Remote thermostat is available as an upgrade.
Energy-saver mode, quick-chill mode, and auto-defrost cycle provide convenient solutions to common cellar needs.
Temperature set point range is 47F to 62F when the cooling unit is properly sized.
Unit operates with minimal vibrations and less noise than comparable units from competitors.
Audible and visual alarms and maintenance-needed indicator protect the cooling unit and the wine cellar.
8-foot power cord exits from the rear and plugs into standard 110V receptacles.
Common dedicated 15-amp circuit is required to power the unit.
3-amp electric receptacle is provided to run a small lamp.
Removable steel case provides access to the internal components for servicing and repair.
CellarPro's 5-Year Standard Warranty, the most thorough in the industry, protects the unit against manufacturing defects.
An optional Enhanced Warranty (#1835) is available for additional protection.
ETL Tested and Certified to rigorous UL Standards for safety.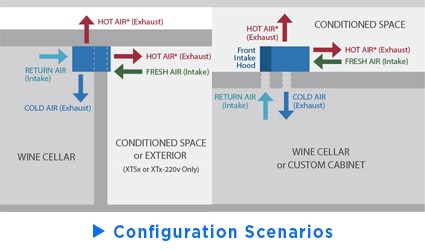 Configurations
On the hot side, this unit intakes from the rear, and offers a choice of top or rear hot exhaust.
On the cold side, this unit intakes from the front and exhausts from the bottom (thus the front 8 inches of the cooling unit must be inside the cellar.)
The 1800QT-ECX requires fresh air intake at the rear of the cooling unit. If sufficient space does not exist to provide sufficient airflow to the rear of the cooling unit, you may need a rear duct kit.
1800 Series cooling units can be installed completely inside the wine cellar when used with our rear duct kit, which allows you to duct the supply and return airflows from the rear of the cooling unit up to 100 equivalent feet (50 feet per duct).
Please note: The cold side of the 1800 Series cooling units cannot be ducted, and the hot side can be ducted with 6-inch ducting (no reductions) plus auxiliary fan support, which is included with our our rear duct kit.
You must located this unit within the cellar, with the following exception: these units can be installed directly above the wine cellar when used with our front intake hood.
For installation in environments below 40F, our compressor heater modification is required.
For installation in environments below 20F down to -20F, we recommend our Fan-Cycling Switch (P/N 6972) combined with our compressor heater.
A CellarPro cooling unit must always be used in the upright position, and should never be operated on its side or upside down.
| | |
| --- | --- |
| Click on one of the following links for more information: | |

Cold Temperature
Compressor Heater #1727: protects the unit when installed in environments that drop below 40F down to 20F.
Fan Cycling Switch #6972: supports the unit in temperatures below 20F and as low as -20F when combined with our compressor heater.

Filters & Grills
Use our filter & grill guide to find the cooling unit filter or duct filter and/or duct grill that is appropriate for your cooling unit.

Remote Control & Probe
Remote Display #1603: lets you place the digital panel wherever you want, whether inside or outside the cellar. Includes 10 feet of wiring.
Bottle Probe #1434: this remote thermostat with a 10-foot cord overrides the thermostat on the face of the cooling unit, and allows it to monitor air or liquid temperatures at various locations inside the cellar.

Other Options & Upgrades
Condensate Drain Line: strongly recommended for wine cellar installations (but not required for wine cabinets), a drain line allows excess moisture to drain from the bottom (#7431) or rear (#1606) of the cooling unit.
Condensate Drain Line plus Heating Element: combined with a drain line, we add a 100W heating element to burn of excess moisture. Available with bottom (#7432) or rear (#1709) drain lines.
Power Cord Modification #1098: normally the cord exits from the rear of the cooling unit, which generally is outside the cellar; this modification moves the cord to the front of the cooling unit, so that it can be plugged into an outlet inside the cellar.
Mounting Clips #1095: attached to the front of CellarPro 1800 Series cooling units, these clips are designed to be bolted to the ceiling inside the wine cabinet / cellar.
DID YOU KNOW?
Nobody protects your wine cellar better than CellarPro Cooling Systems! In the event your cooling unit fails and the failed components are covered by our warranty, we'll send a replacement cooling unit to you per the terms of our
Replacement Unit Program
CellarPro Replacement Unit Program
If your CellarPro cooling unit fails and the parts that failed are still covered by warranty, we'll send a replacement cooling unit to you, as follows:
Your cooling unit must be registered at CellarPro
Your cooling unit must have been properly sized, installed and maintained
Your cooling unit may not have been permanently modified, damaged or disfigured
Please note:
Replacement units are factory-refurbished cooling units with a similar build date as your original unit
You are responsible for the shipping cost to send the replacement unit to you and return the original unit to us, and the cost (if any) to remove the original unit and install the replacement unit
In order to send a replacement unit, we require a deposit, which will be refunded minus shipping costs upon the return and pending the inspection of the original unit
If the original unit failed due to improper installation or use, the failure is not covered by warranty and we will deduct the cost of the repairs from the refund of your deposit
What is "Sensible BTUH"?

A: You should always use Sensible BTUH* when comparing different brands of cooling units, and when sizing a cooling unit for your wine cellar. Every cooling unit produces a certain amount of Total BTUH, which is the sum of Sensible BTUH (lowers the temperature) and Latent BTUH (lowers the relative humidity). Because our goal is to cool wine cellars while preserving humidity, wine cellar cooling units should have high Sensible BTUH and low Latent BTUH. The relationship between Sensible and Latent BTUHs is know as SHR (Sensible Heat Ratio), which is calculated as Sensible BTUH/Total BTUH. The SHR for CellarPro cooling units is greater than 90%, which means that CellarPro units provide maximum cooling power without stripping out humidity from the cellar environment.

*CellarPro Sensible BTUHs are calculated assuming 55F cellar temperature, 60% relative humidity and 95F ambient for all units except 1800 units (85F ambient).

How cold can the temperature be where the cooling unit is installed?

A: For installations in environments below 40°F down to 20°F, we recommend adding our compressor heater (P/N 1727), which is included as standard equipment on all outdoor units. Below 20°F, in addition to the compressor heater, we recommend adding our fan cycling switch (P/N 6972)

How do I choose between top exhaust versus rear exhaust? What about the fresh air intake?

The fresh air intake will always come from the rear of the cooling unit, and must pull air from OUTSIDE the wine cellar space - it must never be installed to pull air from inside the cellar. On 1800 Series cooling units, the hot air exhaust can exit from the top or the rear. Choose whichever configuration directs the exhaust to a space that is sufficiently large to accept the exhausted air, as long as the exhaust goes OUTSIDE the cellar and will NOT intermingle with the fresh air intake. If you plan to duct the hot side of the cooling unit, then the hot air will need to exhaust from the rear.

Does the unit really need a dedicated circuit?

A: First, the background. Unlike our competitors, we build our cooling units with precision expansion valves, not cap tubes, which means that our cooling units aren't limited to a 30°F differential between the desired cellar temperature and the ambient temperature. Cooling systems with expansion valves are much more precise than cap tubes, and much more sensitive to low voltage conditions, which is why our units require dedicated circuits. When we say "dedicated circuit", we mean that the circuit shouldn't have any items that require heavy draws of electricity - eg other appliances, vacuum cleaners, big-screen TVs, blow-dryers - on the same circuit as the cooling unit. Lighting, computers or other low-draw items shouldn't be a problem on the same circuit.

Can the cooling unit be located in a remote location and ducted to/from the wine cellar?

A: These cooling units can be installed above the wine cellar when used with our front intake hood.

Does the unit need to be installed through the wall, or can I install the entire unit inside the cellar?

A: These cooling units can be installed completely inside the wine cellar when used with our rear duct kit (P/N 1439), which allows rear supply and return airflows from a temperature controlled environment OUTSIDE the cellar to be ducted (with insulated ducting to minimize heat transfer inside the cellar) up to 100 equivalent feet (50 feet per duct).

What if I don't have sufficient space behind the cooling unit for the hot air exhaust to dissipate?

A: The rear of the cooling units can be ducted to another location by using our rear duct kit (P/N 1439), which allows rear supply and return airflows from a temperature controlled environment OUTSIDE the cellar to be ducted up to 100 equivalent feet (50 feet per duct).

Do I need the condensate drain line?

A: If you are using the cooling unit in a sealed cabinet, you probably don't need the drain line. If you are using the cooling unit in a cellar, we recommend the drain line, which can be drained inside (bottom) or outside (rear) the wine cellar. Choose the 100W heating element to reduce drainage as it helps to burns off excess condensate before it reaches the drain line.
Much Better than WineMatte
Customer Service is exceptionally helpful
We purchased our wine cellar several years ago and it finally was time to replace the cooling unit. Their service department explained how to remove the old unit and how to install the new unit. With their instructions it was a very easy installation. The wine cellar is cooling once again and is very quiet.
Dana
Puyallup, WA
3/22/2022
Really Quiet Unit
We moved and needed a quieter unit because our large cabinet is located in close quarters of our TV room. We had a Wine Mate, cooled OK, but made more noise. I read about CellarPro's quieter unit. Really satisfied that I made the change to the 1800QT-ECX.
Joe
Clearwater, Florida
3/8/2022
Delivered in Canada as advertized
Our last two cooling units (not CellarPro) only lasted for four and five years respectively. We researched online and were dealing with another western US company. These guys while well intentioned were slow to get back to us with information. We then checked CellarPro and contacted them with a couple of questions. Bryan A was knowledgeable and efficient. We reside in eastern Canada. Bryan was quick to come up with a reasonable shipping quote. The unit arrived as promised. Although it's only been a few weeks, the unit works great and is quieter than our original smaller one. Bryan has also reached out to us via email to answer any questions we might have had and make sure the unit was working properly. We highly recommend CellarPro.
Jacques
Casselman, Ontario
2/25/2022
Smooth transaction
My last cooling unit was CellarPro, and I replaced it with another CellarPro. During the time I was deciding what unit to buy, CellarPro answered all my questions concisely and followed up after a few days. Bryan Adams, my sales representative, was very helpful. He helped me choose the correct unit. It was delivered promptly and as promised. It is now installed in my cabinet and is working like a charm.
Harvey
Matthews, NC
1/25/2022
Great replacement unit
Replaced an old wine mate unit. Could not be more impressed with the customer service and advise. This is how customer service should work! Love that it can be ducted. For once I can really control the temp in my small cellar without overheating the vent space, humidity is now easy, and the unit is quieter and more efficient than the wine mate. I did upgrade the duct fan to a quieter one that I could set the CFM, and but a muffler on the fan because I was venting to a room where I did not want to hear it. Now my wine cellar is the perfect temp and worry free.
Paul
Portland, OR
10/26/2021
Quiet
I purchased this as a replacement for a Winemate unit. It's quieter and appears to efficient. It fit perfectly and the included sealing tape was an added plus. Happy thus far!!
Wilbert
Livermore, CA
9/30/2021
New Chiller for small cellar
I purchased the CellarPro 1800QT EXC because of a good reputation and feedback from friends. I am not disappointed with my purchase. First, Bryan walked me through everything to size the chiller to my space, then when we arrived at the correct unit we went through the possible mounting, exhaust... options. Perfect sales process. The only letdown I had was when I ordered in July, it was stated because of production delays I would not receive until November. In today's environment, I understood perfectly well why, and accepted the dates. To my happy surprise, the unit shipped in late August and was installed this past weekend. Packed well inside box with an added checklist to ensure everything was included that should have been. Super quiet and easy to operate. Very happy with my decision so far!
Brian
Chicagoland, IL
9/7/2021
CellarPro 1800QT-ECX Cooling Unit #1084 replacement
My unit in my Le Cache Vault started to die and was told it would be November until I could get a replacement. I tried refrigeration company's to see if some one could repair for extend life but had no luck. Betsy was great at communicating during the order so I reached out to her again and told her it was critical to get a replacement ASAP. Betsy responded that they could free one up at the beginning of September. I received the unit and it took less than an hour to replace. It was already set up so it was an easy plug and play. Now I am up and running and very happy.
Fred Macias
Newport Beach CA
9/7/2021
GREAT SERVICE with new 1800 QT
After 11+ years I needed a new 1800 QT. Sean in customer care did a great job of handling my order. When supply chain issues on one part needed to assemble the new unit arose, Sean found the part with another supplier. This saved 3 months off the projected delivery date. Adam in shipping, likewise did a great job of getting the unit shipped and providing a prepaid shipping label so I could send the old one back to see what repair costs would be, should I want it as my backup in another 11+ years.
Replaced Breezaire 1060 with Cellarpro
Bryan and the team were the most helpful in accurate selection of the right unit Excellent follow up to make sure it arrived on time and in good shape They answered my every question and guided me through the installation process The unit works perfectly Thanks for a great product and service
John Carter
Highland Village Texas
8/3/2021
Cellar Pro 1800QT-ECX Replacement
I needed to replace a 12 year old Breezeaire unit and it seemed that everyone (except possibly the second salesman weirdly, first salesman was confused with what I was trying to replace so I had to call twice to order) thought the Cellar Pro would be a better choice even though the lifespan of the Breezeaire was not bad. This was the third unit for this wine cellar with the first two being Breezeaire and both lasted 10+ years. They added clips to my order which I have no clue where they thought I needed to use them but I was pre-warned that it was a $15 stick-up, then the gasket material they sent was less than half of what was required to seal the unit in place so I had to purchase more of that (they sent 40", I needed 86"). I had to reconfigure my grills to fit the new unit but everything seems to be functioning. It is about the same noise level as the Breezeaire. I might have purchased Breezeaire again as this unit's lifespan is predicted to be shorter but Breezeaire was on backorder and I needed something quicker. There was minor damage in shipment which I was able to fix.
CellarPro 1800QT-ECX Cooling Unit = Breezeaire 1060 replacement
I purchased the CellarPro unit to replace a 12 year old Breezaire unit that was described as a "unicorn" due to its having a top intake and exhaust configuration. A comparable new Breezaire unit with a top exhaust and intake was going to cost 500 dollars more so I decided to bite the bullet and reconfigure my wine cabinet. Bryan Adams provided outstanding advice and guidance in walking me through the process. Due to the reconfiguration situation, I needed to purchase some additional Butyl tape at Home Depot but that was a very inexpensive addition. The CellarPro unit is located in my garage so noise is not an issue but the CellarPro unit is quieter than the Breezaire. My only issue is that the unit shuts down when the temperature reaches 95 degrees in the garage which may happen about 5 days a year.
Gary
Moraga, CA 07/21/2021
7/20/2021
CellarPro 1800QT-ECX Cooling Unit
Replacement for a 12 year old CellarPro 1800QT. Easy replacement but have some muscle available for removal and reinstallation. Good directions with a willingness to assist via phone. This was the third unit for this wine cooler; first was a BreezeAir (2001) then a CellarPro (2009) then this new CellarPro. This new unit is much quieter and cooled the 450 bottles of room temperature wine within 4 hours. Significant advances over time between the 3 units. Awesome support from Jim Mackey at wineappreciation.com
Kevin Whalen
New Smyrna Beach, FL
7/14/2021
Replacement 1800 QT
Excellent advice/discussion after 13 year old unit failed. Helpful instructions and video included. Delighted with how smooth the process was, and to see the temperature drop back down.
CellarPro replacement
Happy with CellarPro and LeCache and their customer service that was quick and able to find my historic purchase records to insure that I ordered the correct unit and received the correct wine cabinet installation help. ps. The only negative was FedEx which did not provide an accurate expected delivery date, so someone had to be at home for several consecutive days since the delivery needed a signature.
Eric
Mukwonago, WI
6/22/2021
Great Replacement
Replaced a BreezeAir that failed. CellarPro is quieter and more efficient. Loved that the size was a perfect fit, and that it had option for position of the plug.
L. Paull
Seattle, WA
6/22/2021
Replacement works great
Replaced another brand unit with the 1800QT for a large wine cooler. Replacing was straightforward. Seems to work great so far, reasonably quiet. It cools as expected to the set temperature and the range of allowable temperatures is able to be set. I wish the front of the unit was flat, but still was able to install without problems. Hope it lasts for many years to come.
Installed 1800QT
Installed my 1800QT unit about two weeks ago. It was very straightforward and pretty easy. The previous unit was about 12 years old. The new one is working great.
Replacement of 1800 QT
Just installed my replacement 1800 QT unit. Took approx. 1 hour. The install went well. No problems..
Charles Morello
Dayton, NV
11/29/2020
Replacement of 1800 QT
My old 1800QT lasted a full 12 years so I had question when it failed that I would replace it with the same unit. The operator I spoke to at CellarPro (on a weekend) was happy to help me get the order processed and the replacement shipped out on Monday. The replacement was straight forward and took less than an hour to complete. My cellar is now back down to 55 and the unit is functioning properly. I look forward to another DOZEN years of cooling!
Mike Verble
Ocoee, Florida
11/7/2020
Replacement of 1800QT
Original unit lasted 7 years, slightly below expectations but I think this can be improved upon with the enhanced installation and maintenance practices I will have in place. I followed the installation video available on the Le Cache support page just to be sure there were no surprises. The Cellarpro agent I spoke to about replacement was very professional ,friendly and knowledgeable. He did explain all the possible options concerning repairing and refurb units but I opted for new. It was shipped very quickly with e-mailed shipping info and was well packed. I have a big cabinet and another pair of hands when positioning the new unit was a worthwhile safety measure. Installation was straightforward. I was very careful to completely seal the gaps between the unit and the cabinet, checking with a flashlight. Also I have a 6 month reminder schedule for the filter so I hope this will result in longer service life.
Neil
North Carolina
10/22/2020
Cellarpro
Seems to work well. Tight fit. I had to remove the front fascia to get it to fit. It was the screws ( breezair has rivits). The grill was re-installed when the unit was in the cabinet. The clips bought separately did not fit at all.
CellarPro
I purchased a CellarPro2800QT for installation in my wine closet. Installation was straightforward and easy. It took me less than half a day to install the cooling unit and the necessary ducting. The unit works wonderfully. I'm completely satisfied.
Owen Belletto
Paso Robles
9/22/2020
Excellent replacement
I purchased this unit to replace my breezeair unit that I had for 20 years. The CellarPro unit is far superior to my old unit. Its much quieter and runs a lot less. It's easy to set and adjust the temperature and humidity levels. The only problem I had with the replacement of the unit was that over the years my cabinet swelled making the opening very tight, but with a little work in went in perfectly. I would recommend this unit to anyone who wants a easy to set and trouble free unit.
Steve Goldstein
Strongs Neck NY
9/3/2020
Replacement 1800QT
My original unit installed in my cellar unit died after 8 years. I was asked to gather data and send it to Cellar Pro. They said the most likely cause is the compressor. So I decided to order a new 1800 and everyone I talked to was extremely helpful during the installation. The only problem is that these units can fail in 8 years! I was impressed with the level of customer focus of Cellar Pro.
Easy Replacement
Bought a La Cache wine cooler (which I LOVE) around 10 years ago and the original Cellar Pro cooling unit just died. Disappointed it doesn't last longer, but was told it is the average lifespan of the unit. Cellar Pro was able to replace it easily & efficiently. Unfortunately, FedEx failed to deliver to me in the promised time (took more than twice as long) so the company sent me a gift certificate. Not perfect but they do try and make a great product. My brother-in-law and I were able to replace the unit quickly & easily. Would definitely recommend.
Easy Install
I got the unit to replace the original cooling unit in a Le Cache cellar we had purchased back in 2010. Shipping was quick, and the unit was far easier to install than I feared. The old unit was swapped out and the new unit in and working in just a few minutes. The new unit is working perfectly, and seems to be much quieter than the old model.
Dave Higgins
Naples, FL
8/18/2020
Excellent replacement for Breezaire
Our old Breezaire 1060 had been replaced once, then the replacement needed a part. Finally it died again. We were finished with Breezaire and contacted LeCache to see what options we had. I was very happy to get the CellarPro shipped directly to my home quickly. Installation was quick and easy. Success, my wines were saved!
Anita Thorn
Discovery Bay, California
8/1/2020
Loving it
The unit was to replace an original unit from a la cache 2400 series cabinet that we purchased in 2007. The new cellarpro unit was easy to install and is working like clockwork. I am the wine director at the Ritz Carlton Dallas and as a career Sommelier would highly recommend both la cache and celerpro for their quaility, durability, beauty and functionality.
Paul Botamer
Murphy, Texas
5/22/2020
Very pleased
1800QT. I replaced a Breezaire that came with my credenza. I went with the slightly more powerful QT to make sure I had plenty of cooling. The change out was much easier than I had expected and the new CellarPro is running great. I wish I had switched years ago as the Breeze always seemed to struggle. The QT is holding the temp with ease.
Quieter than the Breezaire
Replaced a Breezaire 1060. Like a previous rater, I too had a few bent cooling fins in back. It was indeed the perfect replacement size for my wine credenza. Cooling is working fine and the thing I notice most is that it is considerably quieter than the Breezaire. Waiting to see the longevity of the unit, compared to Breezaire.
Dana E. Ware
Kapolei, Hawaii
4/28/2020
Replacement unit improved
Used the CellarPro to replace older Breezaire unit which was failing. New unit is quieter, runs less often and appears very effective. Easy to install (one person, no issue). Unit arrived with minor damage to cooling fins in back from shipping but not badly enough to return. In all, a little more expensive but seems much better than the prior unit.
Mike Step
San Diego
4/21/2020
Replacement Cooling unit
My Cellarpro 1800 was originally bought 7 years ago as a replacement. During the summer (in Texas), I had noticed that it was not getting as cool as it normally should. I leave on an extended road trip and my daughter checks on the house and says "the wine cellar is beeping". I contact IWA and since I will be in California, I pick it up in Petaluma. Keith was extremely helpful. We put it in the car and I head home. On installation, it works perfectly and I hope I can get another 7 years plus out of it. My old unit, well it will be sent in for repair and I should then have a re-furbished backup.
Royce Jackson
Tyler, Texas
10/15/2019
A Bit Pricey
Our old cooling unit started to be unable to bring the temp down below 62 deg. F. The very friendly customer service said it probably has lost some charge and the only option was to order a new unit, repair isn't possible. Delivery was prompt, once ordered. For a unit at $1.5K (with tax), it seems simple repairs should be possible to avoid total replacement. The new unit runs quieter than the old CellarPro unit, but taking down the LED light caused it to fail so that's another $100+tax to get the cabinet back in shape.
Maurice Caskey
San Diego, CA
10/8/2019
Customer service was Great.
First unit failed after 5 years 6 months. Not too happy about that. Refrigeration units should last.longer than that. But, stuff happens. Replacement unit shipped promptly and installed easily. Customer service was great.
Peter
Wilmington, NC
10/1/2019
Is it on ?
I bought my unit in 2019 to replace a Breezaire. The old unit was VERY loud and occasionally leaked on some of my bottles. The new CellarPro is so quiet I often don't know that it's on unless I look at the lights. Also; the black color looks much better than the old yellow unit I replaced. Great investment.
Robert
Encinitas, Ca.
9/24/2019
go-to unit
Bought my first CellarPro unit in 2010 to replace a competitor's unit that had been a problem for several years. The CellarPro unit was perfect for 9 Florida-hot years until it finally gave out. Wouldn't think of replacing it with anything but another CellarPro. Simple installation and we are up and running. The customer service and sales force are very easy to work with. Looking forward to contacting them in about 10 years, if all goes well.
ARTHUR SILVERGLEID
FLORIDA
9/21/2019
1800qt 1084
Great customer service. Very helpful.
Steve K
Indio, CA
8/28/2019
Good Warranty Service
Bought my 1800 QT unit for an existing cabinet. It installed easily, and worked well, for one year, when exhaust fan went out. Full unit warranty replacement was quick. Refundable deposit was required, to be credited upon receipt of old unit. I gave rating of 4 1/2 stars only due to somewhat cumbersome email exchanges to get warranty replacement underway, and pending receipt of my $595 warranty deposit.
Don Breeden
Indialantic, FL
8/14/2019
CellarPro 1800QT Cooling (Unit #1084)
Purchased a 2009 La Cache Wine Vault, gently used, but the CellarPro 1800QT Cooling Unit was not operating properly. It indicated no error codes. The cool side fan simply was not commanded to run consistently. After multiple calls to technical support, which were extremely professional and helpful for troubleshooting, the problem seemed to stem from the computer controller. I made the decision to replace the entire unit because of the age, and to send off the original unit for a full rework by CellarPro so I can have a spare unit down the road. The new unit arrived PROMPTLY, and was a testament to the efficiency of their ordering and shipping processes. Condition upon arrival was pristine. Installation was straightforward, per their instructions and video. New systems works perfectly. Very quiet. Love it. My only criticism is the lack of a rebate if you send in a core as trade in for a new unit. This is a good incentive for overall price reduction, AND it keeps old units from improper disposal and the environmental risk that may pose (albeit potentially small). They honored the 10% discount, which is appreciated but can be improved upon for returning customers IMHO. I'm very interested to see the lifecycle of my new unit. Plenty of reviews complain of a 5 year life before their unit stops working properly. If these units really resolve to last 5-7 years on average something is amiss, either in the design or ongoing care by the customer. What refrigerator or freezer do you own that only lasted that long? The refrigeration system is tried and true and should be dependable for decades. I still own my first KitchenAid refrigerator purchased in 1996, and we've moved it around the country seven times due to military moves. I'd like to see similar longevity from my CellarPro unit, so long as I do my part and take care of it properly. Again, customer service was exceptional. New product is working perfectly so far (about a month). Optimistic that I'll get a long life out of this one, but if I don't I'll have a spare! :-)
James Christie
Hanford CA
8/13/2019
CellarPro 1800QT Cooling Unit, replaced and fixed
CellarPro 1800QT Cooling Unit had issues with P3 and LA2 errors. I called the support staff and they shipped me a replacement unit. Easy install and replacement process. New unit works fine. I got the extended warranty and shipping was covered.
Robert Bailey
Raleigh NC
7/11/2019
Customer service is a live and well
I've been a customer since 2003 and Cellar Pro has consistently been responsive to my needs. A special shout out to Bryan for his follow up and knowledge base of their products. Cellar Pro demonstrates that customer service is not a thing of the past.
Chuck Holland
West Chester Pa
7/9/2019
Professional and Courteous in Every Detail
A very pleasant experience. Superior in every way.
Louie Seabolt
Greensboro, GA
6/4/2019
Easy cooler replacement for LeCache 2400 wine cabinet
The cooler arrived well packed with complete instructions for removal of the old unit and installation of the new unit including sealing putty. Was able to replace the unit removing only the top row of wine bottles. Everything went as planned and the new unit is functioning perfectly. The old unit has been returned to determine if repair makes sense and, if so, to provide a backup. I have 3 LeCache cabinets since 2003 and all use the 1800QT cooler. Customer service has always been great.
Gary Hood
Indianapolis, IN
6/4/2019
Excellent customer service ordering
Great help over the phone to select the right unit for my unique situation. The unit selected is working great. Now only time will tell the overall quality of the purchase.
Andrew
Healdsburg, CA
6/2/2019
Replacement for Breeze air unit
Installation went perfect and worked as advertised. My customer is very satisfied with the new unit
Leonard
Washington DC
5/15/2019
Breezaire Replacement, Excellent Customer Service in Ordering
Relatively easy replacement for failed Breezaire unit. Screws and outlet on the side required some Dremel modifications, but unit slid in well after that. Very quiet operation. Unit was delivered quickly within two days (I'm local in Norcal). Would have given 5 stars but price point pretty high.
Steve Ferguson
Northern California
4/23/2019
1800 QT
Ordered a CellarPro 1800, to replace a breeze air unit in my Lecache wine cabinet. The service representative was so knowledgeable he told me the model that was the best for my cabinet. Unbelievable how much quieter the CellarPro is compared to the breezeaire it replaced.
Henry Dietzman
Mcminnville, Oregon
3/26/2019
Terrific Service
Contacted IWA on Tuesday and discussed my options regarding the repair or replacement of my cooling unit that was flawless for over 6 years. Decided that a new unit was in order and on the following Monday received my unit in Blaine, Washington. Crossing the border picked up the new unit and within a couple of hours the new unit was up and running. I was very appreciative of the service. My only comment would have been to suggest at the time of purchase that it would be a good time to also replace the filter which came a few days later after recontacting the service department. Keep up the Good Work! Positively, Don Rokosz
Donald Rokosz
White Rock, B.C.
2/12/2019
Working perfectly!
I have an older VinoTemp Wine Cabinet that I picked up on Craigslist and the installed the 1800QT. Customer Service helped me make sure it was the correct size. Installation was a breeze and this thing rocks. The cabinet is bit more dense than newer cabinets and was running a lot and working with Customer Service I added a bottle probe and now things have settled down and it runs only about every 4 hours and air temps don't swing more than 1.5-2 degrees! A nice feature is the fan turns on every 15 mins for 3 mins to circulate the air and prevent stratification! So far - I'm really pleased with this unit and service!!!
Gregg Schuster
Arvada, CO
2/8/2019
CellarPro 1800QT Review
After 6 years of flawless running.... my Cellar Pro unit gave in. Since my wine fridge was purchased through IWA, I called the company to discuss my options. The decision was made that a replacement unit would perhaps be my best option. The new unit was shipped on the 17th of Jan. and received 4 days later in Blaine, Washington.The company paid the shipping cost and I only had to cross the border and pay the duty on the unit. They included a new manual on how to install the new unit and with the help of a friend the LeCache wine fridge was up an running in only a few hours. To the staff at IWA a big thank you in your help and prompt service.
Replacing Breezaire Cooling Unit with CellarPro Unit
Needed to replace my 12 year Breezaire cooling unit for my LeCache wine cabinet that was no longer working. Called LeCache and received recommendation to purchase CellarPro 1800QT Cooling Unit. New unit was sent within 3 days. The installation was a snap and the new unit works so much better than the original unit. Very happy with the product and service I received!
Mike
I'm not happy that my unit, installed in 2/18 shut down 8 months later and had to be replaced, but things happen. What really concerned me is the whole process of replacing the unit took almost 2 weeks, so I'm hoping and praying my wine is not affected. The new unit is performing as expected now and the installation instructions wee clear, but things that need improving are email response times (1-2 days later) and clear communication that although I paid for expedited next day shipping, I wouldn't receive my unit until more than a week later.
michael amato
Washington
12/4/2018
Great Unit
It was a breeze to order a new unit. A very painless process. The unit was delivered with detailed instructions and fit in my existing cabinet with no problems. Great unit
Replacement Unit
I just received the QT1800 and installed it the other night. the unit is controlling the inside temperature as advertised. I'm looking for a longer life then the original cooling unit that was installed from the facture. Got about 6 years from the old unit. The unit is running very quiet and hope to get 15 years from this unit.
Review
This unit replace a different brand I had that I purchased in 2005...so far it is working great. I love the added factor of the probe it save energy and will give this unit a longer life span. The unit is quiet and if I get a least another 15 years this will prove to be a good purchase. The price was around 30% more than the Breezeaire
Good service - hope it lasts longer than my first one
This unit replaced a very similar CellarPro unit which failed when it was just 8 months out of warranty. That part was very disappointing. The service and communication with CellarPro was very good. They gave me a discount on the replacement unit, but it still wasn't cheap. Replacing the old unit was easy and it is working well after 3 weeks. If the new unit lasts significantly longer than the warranty period, it will be a 5-star purchase. I would give the company 5-stars for customer service, but only 3 stars for the original product which lasted less than 6 years and was expensive to replace even with a discount thrown in.
Mark Chambers
Dayton, Ohio
10/3/2018
Vinotemp Wine-Mate 1500HTD replacement
My 8yo Wine-Mate died and after trying to get it diagnosed and fixed, I gave up and bought a new CellarPro 1800QT. Communication with the company was easy and purchase/delivery were efficient. The 1800QT is dimensionally matched to the 1500HTD so was very easy to install. The 1800QT is much quieter than the Vinotemp unit, and I think has somewhat higher cooling capacity. I like the optional filter, which was not available on the Vinotemp. Overall, I'm very happy and my wine is very happy!
Easy Peasy
Easy replacement for BA1060 in a cabinet. Note, you must remove the front grill to fit the unit into the existing hole in the back of the cabinet.
John H.
Denver, CO
9/25/2018
Another Breezaire 1060 Replacement
It fit perfectly in the opening where the Breezaire had been. It looks good and has been working fine for the few weeks that it has been installed. I must say, that I think all these types of units are overpriced, but that being said, I'm content with this purchase. I'll be more content in about 15 years if it lasts.
New Replacement
After fifteen years the Breezaire 1060 iced up, so after researching for a new replacement, I decided to go with the CellarPro 1800QT. The replacement was easy, it's quiet and its running like a champ. I may have to lower the factory setting temperature, it has currently settle at 59 degrees. I just hope I get another fifteen year out of this unit also.
Mike
Port Ludlow, Washington
8/7/2018
Cooling unit
The new replacement unit is quiet and works great. It was a little challenging to install based on the time of La Cache I own, but I am quite happy. Great service from the company.
1800QT Replacement for LeCache
Unit works great! Almost a perfect replacement for my old LeCache cooling unit of 13 years. The cellar pro replacement unit was just slightly larger and therefore required me to unscrew the 3 screws for the metal strap that holds the cooling unit to the inside top of the cabinet. Not a big deal but would have made it a lot easier to install if I had known this from the being. Still I would highly recommend the 1800QT as a replacement unit and it is surprisingly quiet!
Peter P
Bloomfield Hills, Michigan
7/10/2018
Way better than wine mate 1500..
I had to replace my 2nd wine mate 1500 in my wine cabinet . Went with these guys and its quieter and doesn't run nearly as long. Wine mate 1500 was running all the time . Fairly easy to install.
Great Unit
Local company for me in the California Bay area- bought my unit as a replacement for my old breezaire out of my Vinotemp E 300 cabinet. Excellent customer service as I emailed in a question and got a phone call from Jimmy one of the design engineers. ( When you call in this company answers the phones!!!) I went to check it out for the fit in my cabinet- perfect replacement, quiet chiller, looks great, well built construction. BUY FROM THIS COMPANY!!! Great features on the chiller unit also.
Mark Solomonson
Sonoma CA
5/8/2018
Mr
This a replacement for a Breeze Air and we are very satisfied. It is much quitier and runs less.
Roger Gaillardetz
L:akeway Tx
12/26/2017
Perfect replacement
Perfect replacement for my failed cooling unit. I had purchased a Wine Enthusiast BYO cabinet in the past. The compressor went. I purchased this after reading prior reviews. I had to enlarge the opening in the back of the cabinet; other than this the installation was simple. Very satisfied.
Alan Schuricht
New Jersey
12/19/2017
Outstanding Wine Cooling Unit
Just purchased a new CellarPro 1800QT and the customer service was amazing. Bruce helped me with the purchase and made sure I was happy with the transaction.
2 Year Follow Up
This thing is awesome! I literally haven't had to touch it since I installed it into my custom cellar. Couldn't be happier.
Mike
Hudson Ohioi
10/31/2017
Features
Since I've received the unit just two weeks ago, it's too early to review it's performance. That's why I am temporarily giving it a rating of only three stars( average). I will periodically update my review based on its performance. However, I do have a couple of issues with the features/design of the unit. First, the setup (specially the Advanced Setup) features are unnecessarily byzentine and complicated. Second, it really needs a hydrometer to measure and maintain the proper humidity level, which is just as critical as maintaining the proper temperature in the cellar. Finally, the unit had been stored on its side at FedEx office when I went to pick it up, which is something the Owner's Manual specifically warns against. Obviously, the notice on one side of the box was not sufficient to grab the attention of the FedEx employees. This issue should be specifically communicated to the couriers that they'll be held responsible if they ignore or violate the warning.
Javad Golkar
Grand Prairie, TX
10/24/2017
Review of CellarPro Cooling Unit
The unit arrived well packed and was easy to install. It's been working perfectly so far, been a few weeks now, and it is much quieter than my previous unit from another vendor.
Peter
Los Angeles, CA
10/3/2017
Service
I had a problem with the cooling unit on my LaCache wine cabinet and contacted customer service. Response was great and they helped me with a warranty replacement part very quickly. Great group to work with.
Terry
St Thomas, ON
9/22/2017
CellarPro Cooling Unit Review
This seems to be an excellent choice for keeping my wines st the proper temperature of storage. Though I've only had the CellarPro unit a short time, it's working perfectly. And I'm quite satisfied.
Florence
Des Moines, IA
8/9/2017
Great system for replacing Beezair
Bought cellarPro 1800QT to replace Beezair for second time after calling Beezair service center and was treated rudely. CellPro was extremely helpful when I called. Beautiful new unit fit into my wine cellar perfectly and was easy to install. I had one question and their service center was helpful! They are skimpy on sealing tape and I had to order more over internet. CellarPro works like a charm.
Great retrofit option for the Breezair systems
Replaced a failed Breezair system for a customer with the 1800QT. Unit slid back in perfectly and have had no issues since.
Red Mountain Air
Mesa, AZ
5/22/2017
CellarPro 1800QT
Very easy to install when I had to replace my older unit which lasted 9 years. I prefer this model to the original model. It's quieter, more powerful and easier to use. The customer service could not have been more helpful!!
Chris du Passage
Louisiana
3/28/2017
1800QT
I think it sucks that my 1800QT was a year out of warranty when it failed again. First time was replaced on warranty. Still had to pay 90% of full price for replacement!
Van Teeters
Houston, TX
3/21/2017
CellarPro 1800QT Cooling Unit
Unit has been installed for a couple of weeks. So far it has been exceptional for cooling my wine cabinet. It replaced a unit that failed after a short time, most likely because of inferior materials according to my installer. I am especially impressed that the customer service staff contacted me and suggested I switch from the QTL unit I was initially going to purchase to this one, primarily because of potential temperature issues in the space where the cabinet is. This unit is MUCH quieter than my previous one, and does not run as much, either. The temperature has been holding and seems to be accurate, although I do not have a thermometer to check against the unit.
Barb Smith
Aurora, IL
2/7/2017
CellarPro 1800QT Cooling Unit
So far this unit is absolutely incredible! Way, way less noise than the Breezaire and especially the Wine Mate cooling unit it replaced. It's temperature control is outstanding! 55° +/- .8 degrees (tracked every 10 minutes on a data logging cellar temperature probe) and that's without using the bottle probe! To sum up: quiet, accurate, and very little vibration. I'm extremely pleased with it!
Bruce Campbell
Minnesota
1/4/2017
So far so good!
The ordering process was easy thanks to great customer service from Kenny. Installation was a breeze and the cooling unit was up and running in no time. It is slightly louder than the unit I replaced, but it's not a problem. So far I am very satisfied with my purchase!
CellarPro 1800QT Cooling Unit
Ordering process was easy and salesperson (Bruce Bennett) was knowledgeable and very responsive. Installation was made easier by excellent instructions in the manual. Unit is running well on the first day of startup. Quality looks very good - it replaces a Breezeaire unit which was unreliable.
Dennis C
Dallas, TX
9/16/2016
Nothing To It
Direct replacement for similar unit, though I think the new one is quieter than the old one. I had plenty of butyl tape sealant, and as long as you have a decent ladder, it's easier than you think (I have one of the big, tall units). Kind of a pain getting the plug through the hole in the back, but only if your unit is almost flush to the wall, like ours is. If you have 2-3 inches gap or more between the unit and the wall, you're golden. Very happy with it.
Colin F
Dallas, TX
8/30/2016
Out with the Breezaire
Easy install, and the addition of an exhaust fan plug-in that only runs when the unit runs was a great option. Great customer service...quick delivery...functions well.
Jimmy D
Frisco,Texas
7/29/2016
Replaing Breezaire in LeCachet 380 cabinet
My Breezaire cooling unit in my LeCachet 3800 died after 8 years. I replaced the old unit with a CellarPro 1800QT top vent unit. The unit arrived well packed in the shipping container via FedEx ground. The instruction manual walked me through the removal of the old unit and replacement with the new unit perfectly. All went smoothly, even the retaining brackets holding the unit in place against the cabinet ceiling. The only problem I need to deal with is that the mounted cabinet light plugged into the front of the Breezaire unit whereas the plug on the CellarPro is on the left hand side. I will need to make a custom cable to reconnect the light. Other than struggling a bit with the weight and bulkiness while trying to lift the unit up to the top of the cabinet, all went well. Really couldn't be any easier.
Rusty
Cary, NC 7/9/2015
7/9/2015
Complient
Just wanted to let you know how much I like your cooling unit. I purchased a CellarPro 1800QT quite a few years ago and placed it in a 400 bottle freestanding wood unit I bought from WineEnthusiast. That cooling unit failed but you replaced it at no charge and since then my new unit has been great. I have recently built a free standing wine cellar in my converted garage. I used 2x10's in the walls and ceiling and have R values of 38. I now have 280 cubic feet of storage space (instead of 45) and your cooling unit is running less now than it used to for that little cabinet I had and is keeping things cooler. I am keeping the wine at 58 degrees and the temperature outside the cellar is 75-79 degrees. Power consumption of the unit is averaging 87 watts/hour which is less than it was in the small cabinet. I ducted the intake and exhaust to my true garage. The unit is quiet and I love the programmable features. I couldn't be more pleased.
William
Nashville, TN
4/22/2015
Replaced a defunct Breezaire
The unit was easy to install and is working very well thus far. Although subjective, I do not believe the unit is too loud.
P Barry
Bothell WA
4/7/2015
replaced our LeCache cooling unit
It was very easy to install, which is great! The unit is much louder than the previous one. You can hear it rev up to cycle everytime unless there is something loud going on. It isn't horrible, but I wouldn't want it any closer to bedrooms than it already is.
older LeCache cabinet
Replacing the 15 year old Breezaire was quite easy. The instructions were perfect. However, if you have an older unit like mine, the light fixture cannot be slide out, you have to remove the plastic lens, the bulb, and the metal cover to expose the screws. Also you will need a plug to rewire to the light fixture as it is plugged into the CellarPro. They included a length of rubber butyl tape so don't waste your time trying to find it at your hardware store (they won't have it). Nose is not too bad, much better than what I was hearing with the old unit.
Great Engineering...Awful Customer Service
Replaced a unit under warranty and the actual replacement was very easy. Initial contact with LeCache was positive as they quickly agreed the condenser was bad and that a new one should be shipped. I paid the deposit expecting the in-stock unit to ship-out the next day. My card was charged immediately but the unit was not delivered for two weeks. I have $30k of wine sitting at 70+ degrees on a warranty claim and all the explanation I can get is "we're sorry, but there is nothing I can do, it's someone else's fault".
Replacement Unit
My Cellar Pro unit died two years after moving. Evidently the movers had the storage unit on its side in the truck. The movers also removed the doors. They plugged in the cooling unit after setting it upright (they should have waited at least a day) and never quite replaced the doors correctly. I attributed the poor performance after the move to the doors not installed correctly which we had fixed. That was a wrong assumption. The cooling unit barely cranked on for two miserable years. Our service repairman spoke with CellarPro, and realized parts would be more than a new unit. CellarPro provided a discount on a new unit and after two weeks, all is well and back to performance as it should be.
replacement
Really good customer service when I needed to replace my old CellarPro 1800QT. It was easy to install and works great!
Dan
Central Florida
9/4/2014
Great little unit
I recently planned and built a small 360 bottle wine cellar. After much research I have settled on the CellarPro 1800QT as the best option. The unit is very quiet and energy efficient. My cellar cooled down to operating temp in 45 minutes and cycles for about 10 minutes every two hours. This translates to a cost of operation of less than $0.20 per day to run. Very happy with mu choice to purchase this unit.
Good product, but noisy
Replaced an old Breezeaire unit. The CellarPro unit is doing a great job in the cabinet, but runs more of the time than the Breezeaire and is much noisier. Installation is definitely a two-person job. On the whole, satisfied so far.
Brian Crabtree
Plymouth MI
3/15/2014
Great Replacement and Great Service
Purchased the CellarPro cooling unit to replace a ten year old Breezeaire that was damaged in a local power surge. All has gone well. Very happy with the advise, service and performance.
Ken Richter
Cincinnati, Oh
7/7/2013
Well built, replacement for Breezair
The design and construction is much improved. it works flawlessly. It's higher capacity and slightly more noisy but keeping my 5200 cellar very cozy. Service was excellent. Also upgraded to led lighting which worked out well.
Don Smith
Pleasanton, CA
6/7/2013
Can't beat customer service
I was not too excited with the noise level of this unit after it was installed and working. I complained, but there was not much they could do. They did try, though. I decided to live with the noise level (nothing crazy, just louder that I thought it would be given the description). It worked great, however. Then the unit went out after 9 months. Not great, but they were awesome about getting it replace. Shipped it down to me asap, and were on top of it from the get-go. I was surprised it went out, since under all apprearances this thing look very well built. But the service can't be beat. I have had one other brand go out on me years ago, and all I got was a prorated credit towards the next. Cellarpro's service can't be beat.
Good replacement
Cellarpro service was superior. I called to describe my problem, and received emails suggesting solutions. I replaced rather than repaired the cooling unit. Two words of advice for replacement instructions: the face of the new unit has a decorative grill that needs to be removed when installing; if your unit is nearly flush to the wall (top vent), the power cord plug cannot be removed through the rear hole, and must be cut (or empty the whole wine cellar and move it away from the wall). The new unit's cord, for the same reason, cannot be run out the rear cabinet whole, but may be left to exit the top. This new unit is louder than the model replaced, and seems to cycle less frequently. Overall, I am satisfied with the purchase, from ordering through installation.
Gregory Rubino
Lake Charles, LA
10/7/2012
Great Service
Perfect order. Very helpful in making the right choice. Order shipped and delivered as promised, on time and perfect delivery. installation was easy. Now my La Cache can last another ten years. A bit pricy buy my motto "buy the best, cry only once" Thanks
Rick
Southern California
9/7/2012
Great Customer Service
I needed a replacement cooling unit for our wine cabinet and in a hurry too. Your CSR was an expert on his competitors' models as well as his own. What we got was not just a replacement unit, but a much more effecient, quieter, upgraded unit. We would recommend Cellar Pro to anyone.
Jeannie and Tony Molinaro
San Clemente CA 9/6/12
9/7/2012
Excellent cooling unit
Bought CellarPro 1800QT to replace Wine Enthusiast cooling unit KW-800b after 3 of those units failed within two years, the last one no longer under warranty. The new unit required cutting a bigger opening in my wine cabinet, which was relatively simple, and the rest of the installation was easy with the mounting brackets that were provided. The unit seems very efficient and quickly brought the temperature down to the targeted 55 degrees, where it keeps it without too much effort (this unit runs only intermittently compared with the old one which run all the time). Low noise level. 5 year warranty is reassuring. Relatively expensive but clearly superior quality so it seems well worth it.
Carl
Washington, DC
8/7/2012
PHENOMINAL
PHENOMINAL the unit is super quiet and cycles half as often as the 21 year old unit (Vinotemp) I replaced. I would recommend this company and their products to any and everyone.
Lucas S
Warwick, RI
7/2/2012
Exceeded my expectations
I had a circa-1990s breezeair that I replaced with this unit. First of all, the noise, at least for my unit, is WAY less. Amazing. Second, the performance is great. It was about 20% more $ than a new breezeair, but I chose to go with Cellarpro due to the positive reviews. Very happy, installed easily. Still working to get it completely airtight, but that's my problem. Also, keeps the humidity higher than the breezeair...65% vs under 50% in the old unit's last days.
Blaine Morris
Marin County, California
6/7/2012
Not completely satisfied
Purchased the unit to replace the old Breezaire in my wine cabinet. Customer service and delivery was great (Shipped from California to Ontario, Canada). Replacing the old unit went well and I quite like the design of the unit. I like the location of the LED and controls. My only complaint however, is that I find it noisey. In fact, it appears to be noisier than my former Breezaire unit. I was led to believe that I would find a noticeable reduction in noise once installed but unfortunately, the opposite is true. I can hear the unit when I'm upstairs! As a result...can't rate it as high as I would like to.
Sam Kosakowski
Ontario, Canada
4/11/2012
Needed a replacement
My old Breezeair went ka-put..67 degrees was max. I ordered the cellarPro 1800. It was delivered within 1 week. If you can take out the old unit, you can put in this unit. In no time, 56 degrees. I was used to the old unit running all the time. Was I surprised to find that they cut off. I am very pleased with the easy of operation and temp control. A wise choice.
Royce Jackson
Tyler, Tx
4/8/2012
Works Well
Easy to install. Works well and digital control display easy to use. Nice appearance with wine closet. So far would recommend this unit.
Tom
Davenport, IA
12/7/2011
Excellent cooling unit
Relatively easy to install. Works very well. I like the additional control over humidity. Veyr to easy to set temp. Hopefully will last longer then the previous units. Actually not as loud as I thought it might be. I am pleased and would recommend this to anyone with a large cabinet.
Stephen Pett
Erie, PA
7/7/2011
Very good cooling unit.
It installed easily and runs much better than my prior unit. The controls are easy to operate and it is nice having much more control over how the unit works especially with the adjustment for humidity. My only minor complaint is that it is not as quiet as advertised, which I think has to do with the fact that mine is installed in a cabinet and a fair amount of noise comes out the exhaust vent. I would definitely buy again.
Bill Wassynger
Nashville, TN
6/7/2011
Quiet, efficient and effective
This is the 4th different unit I have put into my wine cabinet, and the early word is that it is the best. It is keeping the temps in the 50s seemingly effortlessly, which the vinotemps units could not do, and it is much quieter than my much larger Breeseaire. I have high hopes that the good early perfomance will continue.
Art Silvergleid
St. Petersburg, FL
11/7/2010
Great Unit, Seems Very Well Built
I was looking for a cooler that would last longer than a few years, unlike the 4 others that were built in China. This unit seems to be more rugged and I liked the top exhaust option.
Bill Blethen
Doylestown, PA
6/17/2010
Much More Efficient than the Breezaire
The CellarPro is much more efficient than the Breezaire. It only runs for approx. 8 min...then, approx. 30-35 mins. elapse before...it cycles on again. Run time of 16 minutes out of every hour is great! The Breezaire never ran like that...
Michael Grimaldi
Pompano Beach, FL
6/30/2009
Finally, humidity control
This is a great a unit. Easy to operate. I bought it because it will control the humidity and it does seem to live up to its promise.
Used in Basement Wine Room
This is working great. It runs more than I thought it would but it is keeping the temperature around 58 nicely. I agree with the other reviews that the customer service through the whole process was great.
K. Taga
Broomfield, CO
7/16/2008
Works great!
We used this unit to replace an old Breezeaire in a wine cabinet we bought used. It is quiet and very efficient -- just as Bryan (IWA Center) promised. Installation went fairly easily. The customer service was outstanding.
Nancy and Dennis
Chicago
11/20/2007
Thanks
Thanks for your help and could not say enough about La Cache & CellarPro's customer service. The replacement unit has been installed and is working perfectly and Fed Ex just picked up the original unit with the return documentation.
Ken R.
Cincinnati, OH
3/20/2007