LC 2015 - Compare Wine Credenzas
Compare Credenza Wine Cabinets
Compare W.C.I., Vinotemp and Le Cache Refrigerated Wine Storage Cabinets (Approximately 200 Bottle Capacity).
MANUFACTURER

WINE CABINET

Le Cache

European Country

W.C.I.

Heritage 4-Door

Vinotemp

Sonoma LUX 296

Size (WxDxH inches)
71 x 31.5 x 40
68 x 29.5 x 40
63 x 30.5 x 45.5
PRICING
Total Price
$4,699
Free shipping
$5,345
$5,345
Base Price
—
$3,495
$4,259
FEATURES
Premium Wood Upgrade
Included
$750
Included
Premium Furniture Finish
Included
$275
$415
Glass Window Door
Included
$495
Included
Interior Light
Included
$110
$415 for LED
Locks
Included
$220
$45 Covered
RACKING
Bottle Capacity
174
188
192
Universal Bottle Capacity
Included
Included
Included
All Wood Racking
Included
Included
Included
Additional Shelves
—
$175 Display Row
$125 Two Rows
COOLING
Cooling System
CellarPro
Breezaire
Wine-Mate
Digital Temp Control
Included
Included
Included
Adjustable Humidity
Included
—
—
Cooling System Warranty
5 Years
Entire System(a)
5 Years
Compressor Only
5 Years
Parts Only
Le Cache
European Country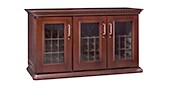 Total Price: $4,399
Bottle Capacity: 174
Cooling System: CellarPro
Warranty: 5 Years on Entire System
WCI
Heritage 4-Door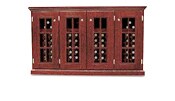 Total Price: $5,345
Bottle Capacity: 188
Cooling System: Breezaire
Warranty: 5 Years Compressor Only
Vinotemp
Sonoma LUX 296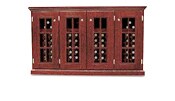 Total Price: $5,345
Bottle Capacity: 192
Cooling System: Wine-Mate
This site is neither endorsed, nor sponsored by, nor affiliated with EuroCave SA or Vinotemp International Corporation. EUROCAVE is the registered trademark of EuroCave SA. VINOTEMP and WINE-MATE are the registered trademarks of Vinotemp International Corporation.
(a) Under its warranty policy, Le Cache will send a replacement wine cooling unit and then ask for the damaged unit to be shipped back so that your wine won't be unprotected if the cooling unit fails.