Le Cache Euro 5200 Wine Cabinet Chocolate Cherry, #753

(7)
Read Reviews




Le Cache Euro 5200 Wine Cabinet Chocolate Cherry (P/N 753). Designed by acclaimed, Pinnacle Award-winning designer Martin de Blois, our European Country Series wine cabinets evoke the timeless elegance of European furnishings. Architectural details such as crown and base molding, paneled sides, hardwood French doors and hand-carved accents showcase fine wine collections with a sense of luxury and style. Sealed seams, premium insulation and tinted double-paned glass provide thermal and UV protection.
Price: $6,299.00
Inside Delivery & Setup - Rates Vary
Availability: Low Inventory


Usually Ships w/i 5-7 Days


Back in stock:
NOW EVEN QUIETER!
The Euro 5200 is designed to showcase the largest wine collections with luxury and style, offering maximum storage capacity for 622 bottles.
Premium Cherry wood veneer
Hardwood French doors
Crown and base moldings
Hand-carved wood trim
Hand-turned pewter pulls and security locks
Double-pane tinted glass
Foil-backed polyisocyanurate insulation
CellarPro wine cooling unit (made in USA)
Electronic Thermostat and Digital Display
Adjustable Humidity Control
Energy-Saver and Quick-Chill Modes
Audible and Visual Alarms
SB/0™ Technology - Flush against the Wall
Top-vent exhaust
High Performance Air Filtration System
All-wood Interlock racks
Universal racking fits oversized bottles
Low-heat interior light
Optional bottle probe
Five-year warranty on the cooling system
Two-year warranty on entire cabinet
In-stock items ship within 5-7 days
All wine cabinets from Le Cache (except credenzas) come with a choice of vent configurations (
read our placement requirements
), and all Le Cache wine cabinets come with a choice of CellarPro cooling units (
read our cooling unit selection guide
).
These options are included in the price of your wine cabinet.
We offer an extended warranty with enhanced coverage for our wine cabinets and cooling units.
Click here for more information about our extended warranty.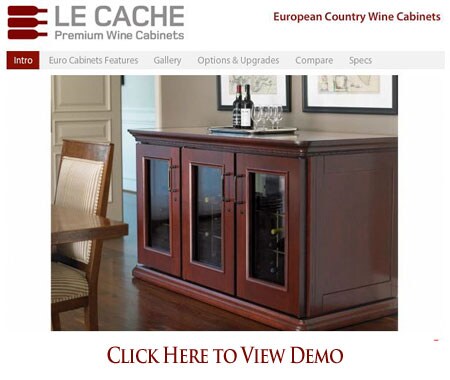 Click on the following pdfs to download more information about our wine cabinets:

Resources


Useful Information
Stunning and works as promised
John P
Washougal, WA
9/7/2015
Pleasure
You guys have been a pleasure to work with! I cannot wait to get the cabinet up and running. If you're in the Scottsdale area, you should come over and enjoy a bottle of wine with us!
Cathy D.
Scottsdale, AZ
11/24/2013
More beautiful than expected
My wine cabinet arrived in good condition and is working wonderfully. It is even more beautiful than expected and everyone comments on what a great piece of furniture it is (which is exactly what we wanted, not a "fridge" look). As a matter of fact, most people ask us why we didn't get a refrigerated unit and are incredibly surprised to find out that it does indeed cool!
Thank you
Ocean W.
Novato, CA
4/21/2009
Beautiful wine cabinet
Beautiful wine cabinet that has become the centerpiece of my living room.
Steve T.
Los Angeles, CA
11/22/2008
The wine cooler is fantastic
The wine cooler is fantastic; in fact we have ordered another one. Many thanks.
Greg B.
Lawton, OK
10/19/2008
Thanks again
Thanks again for all the advice on initial operation of my cabinet. I followed your recommendation to clear the row of bottles below the exhaust. The cooling unit actually achieved a temperature of 57 degrees last night! I was surprised that it cooled the cabinet so quickly from 71 degrees (within 24h), especially considering that it's loaded with 550+ bottles.
Herns P.
Huntersville, NC
6/6/2007
We love our cellar
Le Cache reviewed my planned installation, noted a potential problem, explained options and modified my cellar to accommodate my site. We love our cellar and so do our neighbors.
Don S.
Bradenton, FL
8/15/2006