Le Cache Euro 3800 Wine Cabinet Classic Cherry, #749

(7)
NOW EVEN QUIETER! The Euro 3800 is designed for passionate wine connoisseurs with sizeable wine collections, featuring hand-carved accents and storage capacity for 458 bottles.

Le Cache Euro 3800 Wine Cabinet Classic Cherry (P/N 749). Designed by acclaimed, Pinnacle Award-winning designer Martin de Blois, our European Country Series wine cabinets evoke the timeless elegance of European furnishings. Architectural details such as crown and base molding, paneled sides, hardwood French doors and hand-carved accents showcase fine wine collections with a sense of luxury and style. Sealed seams, premium insulation and tinted double-paned glass provide thermal and UV protection.

All wine cabinets from Le Cache (except credenzas) come with a choice of vent configurations (read our placement requirements), and all Le Cache wine cabinets come with a choice of CellarPro cooling units (read our cooling unit selection guide). These options are included in the price of your wine cabinet.

We offer an extended warranty with enhanced coverage for our wine cabinets and cooling units. Click here for more information about our extended warranty.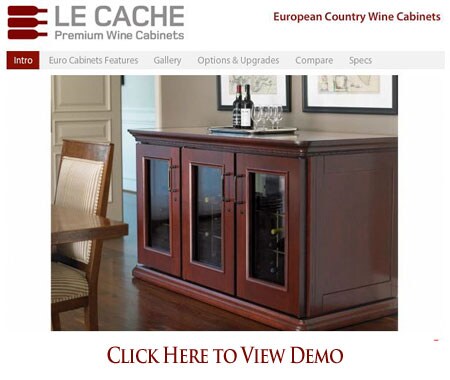 You must be logged in to add items to your Wishlist, Click here to login.
New customer? Click here to register
Premium Cherry wood veneer
Hardwood French doors
Crown and base moldings
Hand-carved wood trim
Hand-turned pewter pulls and security locks
Double-pane tinted glass
Foil-backed polyisocyanurate insulation
CellarPro wine cooling unit (made in USA)
Electronic Thermostat and Digital Display
Adjustable Humidity Control
Energy-Saver and Quick-Chill Modes
Audible and Visual Alarms
SB/0™ Technology - Flush against the Wall
Top-vent exhaust
High Performance Air Filtration System
All-wood Interlock racks
Universal racking fits oversized bottles
Low-heat interior light
Optional bottle probe
Five-year warranty on the cooling system
Two-year warranty on entire cabinet
In-stock items ship within 5-7 days
Click on the following pdfs to download more information about our wine cabinets:
Resources
Useful Information

Pleased, but...
William G
Orlando, CA
5/9/2011
Great choice!
Great choice! I have recommended this unit to several others. I echo others' comments to "get a bigger unit than you think you might need."
Tom A.
Scottsdale, AZ
4/16/2009
It looks fantastic!
It looks fantastic! Le Cache was unknown to me before I started shopping - your website was great - you have the best marketing and/or the best product on the market - I think both - your website info sold me! 
Garry S.
Richardson TX
3/9/2009
So far, so good!
So far, so good! It was delivered by two very capable men (probablyshould have had three, but it worked). They set up very quickly oncethey got it in (and it was a little difficult!) and it seems to beworking quite well. We have it all loaded up now.
Gretchen H.
Katy TX
2/24/2009
Absolutely satisfied!
Absolutely satisfied! The cabinet arrived perfectly and looks great.
John D.
Santa Ynez, CA
7/22/2008
Awesome
It's an awesome piece of furniture, and it's great to be able to pull a bottle and have it be the perfect temp. Not to mention all our friends are jealous now!
Paul S.
Jersey City, NJ
1/10/2008
Awesome customer service
Awesome customer service and support.
James C.
San Marcos, CA
5/3/2007