Le Cache Euro 2400 Wine Cabinet Chocolate Cherry, #747

(3)
NOW EVEN QUIETER! The Euro 2400 is our most popular size wine cabinet, with hardwood French doors and storage capacity for 286 bottles.

Le Cache Euro 2400 Wine Cabinet Chocolate Cherry (P/N 747). Designed by acclaimed, Pinnacle Award-winning designer Martin de Blois, our European Country Series wine cabinets evoke the timeless elegance of European furnishings. Architectural details such as crown and base molding, paneled sides, hardwood French doors and hand-carved accents showcase fine wine collections with a sense of luxury and style. Sealed seams, premium insulation and tinted double-paned glass provide thermal and UV protection.

All wine cabinets from Le Cache (except credenzas) come with a choice of vent configurations (read our placement requirements), and all Le Cache wine cabinets come with a choice of CellarPro cooling units (read our cooling unit selection guide). These options are included in the price of your wine cabinet.

We offer an extended warranty with enhanced coverage for our wine cabinets and cooling units. Click here for more information about our extended warranty.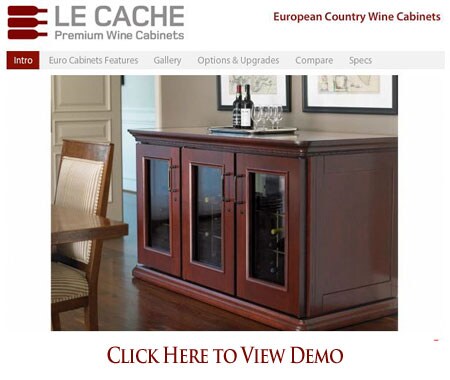 You must be logged in to add items to your Wishlist, Click here to login.
New customer? Click here to register
Premium Cherry wood veneer
Hardwood French doors
Crown and base moldings
Hand-carved wood trim
Hand-turned pewter pulls and security locks
Double-pane tinted glass
Foil-backed polyisocyanurate insulation
CellarPro wine cooling unit (made in USA)
Electronic Thermostat and Digital Display
Adjustable Humidity Control
Energy-Saver and Quick-Chill Modes
Audible and Visual Alarms
SB/0™ Technology - Flush against the Wall
Top-vent exhaust
High Performance Air Filtration System
All-wood Interlock racks
Universal racking fits oversized bottles
Low-heat interior light
Optional bottle probe
Five-year warranty on the cooling system
Two-year warranty on entire cabinet
In-stock items ship within 5-7 days
Click on the following pdfs to download more information about our wine cabinets:
Resources
Useful Information

Euro 2400 Chocolate Cherry Review
Michael W.
Ponte Vedrea Beach, FL
2/22/2010
Really Exceeded Our Expectations
The cabinet arrived safe and sound just before Christmas.  Setup was easy and the delivery co.  did a good job.  I have had it operating for the last 2 weeks  and it is working perfectly. Since the cabinet was a 2nd....it really exceeded our expectations.  The finish and workmanship is exceptional. 
Bob R.
Lake in the Hills, IL
1/28/2010
The cabinet looks great and works wonderfully
We received the wine cabinet and are enjoying it very much.  The installers did a great job of putting it together, and wow, were they fast.  They did bring to our attention that their was some scratches/dents in the rear of the cabinet from the shipping process.  We looked at them before installation, and felt they were not a big deal.
 
The cabinet looks great and works wonderfully.

We congratulate your company on a great product.
 
Many thanks.
MariaElena H.
Newton, MA
4/14/2009