Le Cache Euro 1400 Wine Cabinet Provincial Cherry, #745

(7)
NOW EVEN QUIETER! Perfect for apartments and small spaces, our Euro 1400 maintains optimal conditions for storing and aging fine wines.

Le Cache Euro 1400 Wine Cabinet Provincial Cherry (P/N 745). Designed by acclaimed, Pinnacle Award-winning designer Martin de Blois, our European Country Series wine cabinets evoke the timeless elegance of European furnishings. Architectural details such as crown and base molding, paneled sides, hardwood French doors and hand-carved accents showcase fine wine collections with a sense of luxury and style. Sealed seams, premium insulation and tinted double-paned glass provide thermal and UV protection.

All wine cabinets from Le Cache (except credenzas) come with a choice of vent configurations (read our placement requirements), and all Le Cache wine cabinets come with a choice of CellarPro cooling units (read our cooling unit selection guide). These options are included in the price of your wine cabinet.

We offer an extended warranty with enhanced coverage for our wine cabinets and cooling units. Click here for more information about our extended warranty.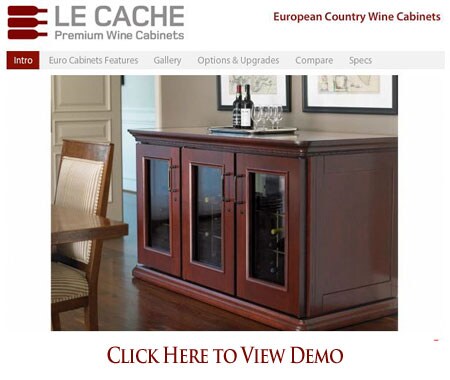 You must be logged in to add items to your Wishlist, Click here to login.
New customer? Click here to register
Premium Cherry wood veneer
Hardwood French door
Crown and base moldings
Hand-carved wood trim
Hand-turned pewter pull and security lock
Double-pane tinted glass
Foil-backed polyisocyanurate insulation
CellarPro wine cooling unit (made in USA)
Electronic Thermostat and Digital Display
Adjustable Humidity Control
Energy-Saver and Quick-Chill Modes
Audible and Visual Alarms
SB/0™ Technology - Flush against the Wall
Top-vent exhaust
High Performance Air Filtration System
All-wood Interlock racks
Universal racking fits oversized bottles
Low-heat interior light
Optional bottle probe
Five-year warranty on the cooling system
Two-year warranty on entire cabinet
In-stock items ship within 5-7 days
Click on the following pdfs to download more information about our wine cabinets:
Resources
Useful Information

Euro 1400
Frank K
Fort Worth, Texas
7/8/2014
Just like the pictures on the website!
Euro 1400 looks just like the pictures on the website!
Joe G.
San Diego, CA
3/23/2009
Loving it
Loving it. Delivery and setup went great. It looks great. Thanks.
Andrew R.
Rancho Palos Verdes, CA
1/6/2009
Works perfectly
I am very satisfied. The cabinet is beautiful and works perfectly. It arrived in great condition and the delivery team was terrific.
Dan J.
Columbus, OH
7/16/2008
Beautiful accent to a room
Not only has great utility to store wines, but is a beautiful accent to a room.
Rob W.
Phoenix, AZ
3/3/2008
Excellent product
The fit and finish of the cabinet is truly furniture grade quality and we are very happy with our decision to spend the additional money on the Euro style cabinet. You make an excellent product and I greatly appreciate your personal interest in our complete satisfaction.
Steve C.
Redwood City, CA
7/30/2007
Looks great
The wine cabinet looks great in our home.  We hope to have many years of use and gain a new level of appreciation because we can properly cellar our wines.  We frequently travel to Europe and California. and having our Le Cache will (I'm afraid!) encourage us to bring back great wines and great memories.
Michael M.
Eagle, ID
6/15/2007