BILD 1400 Wine Cabinet Black, #7367

(0)
Read Reviews




BILD 1400 Wine Cabinet Black (P/N 7367). With clean lines designed to fit in any environment, our BILD series wine cabinets are perfect blends of function and value. These wine cabinets feature durable, easy-to-clean melamine laminates on all exterior surfaces, double-pane tinted glass windows for thermal and UV protection, and advanced wine cellar refrigeration by CellarPro Cooling Systems. All panels are framed and insulated with high-density foam, and metal wine racks are efficiently sized to accommodate oversized bottles.

BILD 1400 racks are designed to rack up to 170 bottles of wine. Our wine racks include 13 shelves for Champagne-size bottles (12 bottles per shelf, double deep). If desired, 3 shelves can be used to store magnums (8 bottles per shelf). Additional bulk storage space for up to 14 bottles is included at the bottom of the cabinet.
Price: $1,595.00
Curbside Delivery - $300 Flat Rate
Availability: On Backorder


Usually Ships w/i 3-5 Days


Back in stock: 10/9/2015
BILD 1400 wine cabinets, packed and shipped flat, offer tremendous value and savings with many of the same features as our more expensive Le Cache wine cabinets.
Choice of Melamine finishes
Stainless bar pull and security locks
Choice of CellarPro wine cooling unit (made in USA)
Electronic Thermostat and Digital Display
Adjustable Humidity Control
Energy-Saver and Quick-Chill Modes
Audible and Visual Alarms
SB/0 Technology - Flush against the Wall
Choice of top or rear-vent exhaust
High Performance Air Filtration System
Universal metal racks fit oversized bottles
Low-heat interior light
Optional bottle probe
Five-year warranty on the cooling system
One-year warranty on entire cabinet
In-stock items ship within 2-3 days
Cooling Unit and Placement Requirements
We offer a choice of cooling units and configurations with your BILD 1400 wine cabinet. The cooling unit can be vented with top-exhaust, which will allow the cabinet to be placed flush against the rear wall, but requires 18 inches of clearance above the cabinet in a non-enclosed space. Alternately, the cooling unit can be vented with rear-exhaust, which means that the cabinet will require 4-5 inches of clearance behind the cabinet in a non-enclosed space.
Doors must be locked to ensure an airtight seal.
BILD wine cabinets require assembly. All assembly hardware is included with your purchase.
We offer a choice of cooling units with your BILD wine cabinet, which should be selected based on the peak temperature in the ambient environment, as follows:
Ambient Temp
Less than 85°F
85°F to 95°F
Garage / Commercial
Recommended Cooling Unit
CellarPro 1800 QTL
CellarPro 1800 QT
CellarPro 1800 XT

BILD wine cabinets should not be placed in environments that exceed 95°F or fall below 50°F.
1800QTL cooling units are 3-4 decibels quieter than 1800QT cooling units, and 1800QT cooling units are 3-4 decibels quieter than 1800XT cooling units..
1800XTS cooling units also can be used inside BILD wine cabinets for an additional charge. Please call us for more information.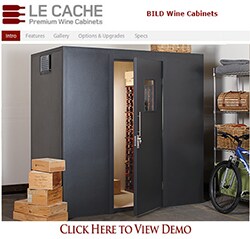 Capacity:

170 Bottles

Sizing:

noinfofound

Size:

24 1/2w x 28 1/2d x 71h (in)

Weight:

400

lb

Power/Rating:115V AC / 60 Hz
Running / Startup Amps (compressor)
- CellarPro 1800QTL: 3 Amps / 14.2 Amps
- CellarPro 1800QT: 3 Amps / 20.1 Amps
- CellarPro 1800XT: 3 Amps / 20.1 Amps
SKU:

noinfofound

UPC:

noinfofound

Click on the following pdfs to download more information about our BILD wine cabinets:

Resources



Useful Information